The growing movement to require the U.S. government to examine visa seekers' social media activity now includes a large group of Democratic senators, who are pressing the Obama administration to expand background checks in the wake of the San Bernardino terror attack.
The 22 lawmakers sent a letter to Homeland Security Secretary Jeh Johnson Tuesday, urging him to have his agency immediately begin reviewing applicants' social media accounts.
"We believe these checks, focused on possible connections to terrorist activity, should be incorporated into DHS's vetting process for visa determinations, and that this policy should be implemented as soon as possible," the letter says.
"Ensuring that the screening processes for our nation's visa programs are rigorous and comprehensive must be a top priority, as these programs are critical to our security, our economy, and for our bilateral relationships with nations around the world."
The letter follows revlalations that the two San Bernardino attackers, Syed Rizwan Farook and his wife, Tashfeen Malik, had been radicalized even before they met online in 2013 and before he successfully petitioned for her to move to the United States on a so-called "fiance visa."
Malik, a Pakistani national, passed two background checks before she was admitted to the United States in July 2014, and a third last summer, when she was given a green card.
But only after the Dec. 2 attack, in which she and Farook killed 14 people, did investigators find that she had discussed violent jihad on social media prior to her visa approval, officials say.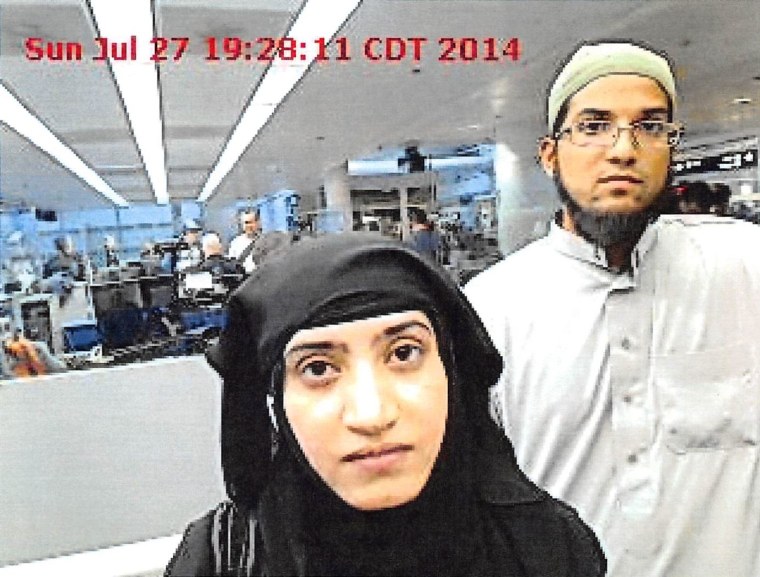 Reforming the visa screening process has become a priority in Washington, where the Department of Homeland Security and the State Department have both said they are considering tighter scrutiny of applicants' social media activity.
Virginia's Rep. Bob Goodlatte, Republican chairman of the House Judiciary Committee, said Monday his panel is drafting a bill that would mandate social media checks. On Tuesday, Arizona Republican Sen. John McCain introduced legislation requiring the Department of Homeland Security to include social media in reviews of people who plan to enter the United States from foreign countries.
McCain accused the Obama administration of "purposeful refusal" to review social media activity as part of its regular screening processes for foreign nationals.
"It is unacceptable that Congress has to legislate on this, and that it wasn't already the Department of Homeland Security's practice to take such commonsense steps when screening individuals entering this country," McCain said in a statement.
The Obama administration has said that it was already checking social media activity on a limited basis, and that there was no need for legislation, since tighter protocols were already on their way. They have also pointed out that social media is not foolproof: people can easily mask their identities and their activity.
"I'm not sure why any specific legislation would be required," White House spokesman Josh Earnest said in response to McCain's announcement.
Also on Tuesday, the House debated a bill that would require the Obama administration to evaluate and report on terrorists' use of social media, and come up with ways to disrupt it.
"We need to find a way to deal with this challenge on social media without violating free expression or privacy concerns," Democrat Rep. Eliot Engel of New York said. "It's going to require creative thinking, but I am confident that we can do it. We have to do it. We don't have a choice but to do it."