LONDON — If 2018 was supposed to be the year that the #MeToo campaign finally changed women's experiences for the better, it got off to a bad start in Britain.
Only days after Oprah Winfrey declared that the "time is up" for men who abuse their power, hundreds of millionaires and corporate executives sat down to a boozy, all-male charity dinner at which female hostesses say they were objectified and groped.
The event was organized by a panel of business leaders called the Presidents Club, and the 130 hostesses were required to wear short skirts, high heels and black panties.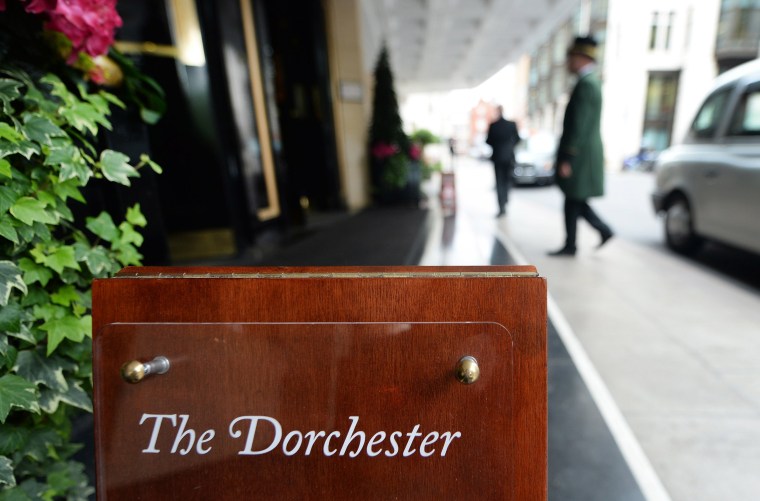 But some of the women were undercover reporters for The Financial Times, and they later described how they were subjected to harassment, lewd comments and sexual propositions. One elderly attendee asked a hostess if she was a prostitute.
The Presidents Club Charitable Trust was shut down within hours of the FT story being published amid widespread dismay, but its anachronistic existence has shone a light on a pervasive culture of workplace sexism in London's macho financial district, known as "the City."
Prime Minister Theresa May said Thursday that she was "appalled" by the reports. "What worries me is it's not just about that event," she said. "It's about what it says about this wider issue in society about attitudes to women."
London still has some historic men-only club rooms — venues such as the Garrick Club and the Travellers Club, which is popular with diplomats — whose members have repeatedly vetoed attempts to admit women.
Britain's elite education system has also produced some unofficial all-male gatherings, such as the Bullingdon Club for Oxford University undergraduates whose past members including Boris Johnson, the foreign secretary, and ex-Prime Minister David Cameron. Its boorish antics, such as trashing restaurants, were depicted in the 2014 film "Riot Club."
The annual Presidents Club dinner was something else.
Billed as being from an "esteemed" group from the world of business, sports and entertainment, attendees bid on a charity auction whose lots included a trip to Soho's Windmill strip club and free plastic surgery at a private clinic with the promise to "take years off your life or add spice to your wife."
"Welcome to the most un-P.C. event of the year," the host announced at the start of the charity auction.
Names on the guest list included Tim Steiner, a former Goldman Sachs banker; Makram Azar, a vice chairman of investment banking at Barclays; Richard Caring, a restaurant tycoon; and junior government minister Nadhim Zahawi. All denied seeing anything untoward, although a government spokesman said Zahawi attended "briefly" and "felt uncomfortable."
Most of the attendees were business owners or self-made entrepreneurs, particularly in property investment, but one table was registered in the name of advertising giant WPP.
Madison Marriage, one of the undercover reporters, said she and "numerous other hostesses" supplied by a recruitment agency were groped. She said the women were told to wear skimpy black outfits with matching underwear and high heels, and that they could drink alcohol while working.
"They've paid a lot of money for their tickets and it seems they felt they had bought these women and were entitled to put their hands where they wanted"
They were asked to sign a five-page nondisclosure agreement upon arriving at the Dorchester Hotel, where the event was held, and also had to handover their cellphones.
The Dorchester Hotel said Wednesday that it was "deeply concerned" and was investigating the groping allegations.
Although lavish corporate parties were reined in after the 2008 credit crunch, there are still reports of a sleazy after-hours environment even in companies where women have broken the glass ceiling.
An account manager at Standard Chartered, a major City bank, told an employment tribunal in 2009 that she was passed over for promotion because of a culture where business meetings ended up in strip clubs; despite describing "late-night drinking and cigar smoking" from which women were excluded, she lost her case.
A $100,000-a-year City trader at BNP Paribas — one of Europe's biggest banks — told another tribunal that a manager had told her to wash the dishes after a company dinner.
Samantha Mangwana, a partner at law firm Slater Gordon who specializes in employment law and was involved in the BNP Paribas case, said the Presidents Club scandal was "pretty sickening."
"It feels like there's some sort of complacent assumption of entitlement to carry on this way," she said. "They've paid a lot of money for their tickets and it seems they felt they had bought these women and were entitled to put their hands where they wanted."
Mangwana added: "There are people who pay lip service to diversity and respect for all members of society but in fact either go to events like this or they know it's going on keep quiet. They're not calling it out."
The lawyer said there had been "a huge cultural change" in the City, particular among U.S. investment banks who "have really done an awful lot to clean up," yet sexism still existed.
In part, it is due to the collision "of money and power," she said.
"In sexual harassment cases there is often a huge imbalance of power between the victim, who might be young, pretty and female, and a senior well-paid individual who feels entitled to subject them to quite horrible conduct, and we do see that power dynamic in the City."
She also observed that while the credit crunch and a 2010 law limiting the use of entertainment in business deals had reduced the role of lap-dancing clubs, such venues still exist. "They seem pretty recession-proof," Mangwana said.
Carolyn Fairbairn, director general of the Confederation of British Industry (CBI), said the episode underscored the way women in business were excluded from many corporate events because they were held in the evenings or at weekend sports events.
"The fact is that many more men go to black-tie dinners than women, even proportional to the leadership teams in business, because of the choices that women make and the priorities that they have and the juggling that they are doing around family life," she told The Guardian. "We need to find ways of making the social side of business much more inclusive."
Anna Meyer, who ran the inaugural #NastyWoman campaign and is now a director at the creative agency Common Industry, said a "pack mentality" is behind some of the unacceptable behavior.
"Despite the strides made last year with #MeToo and #TimesUp, there are still considerable problems," she said. "If we want to change our business culture, we need to encourage more diversity in the workplace, not dissuade them by endlessly repeating how little they will get paid in comparison to their male counterparts, or that there is rampant sexism in the tech industry. That will do nothing but perpetuate this negative cycle."
The Presidents Club said it has raised around $28 million for charities over the past 33 years, although a children's hospital announced it was returning previous donations in the wake of the FT's revelations.
In a statement, the Presidents Club said the behavior reported by The Financial Times was "totally unacceptable" and would be "investigated fully and promptly and appropriate action taken."