Warplanes carried out Sunday air raids on two villages in northern Syria as Russia said a northern town held by a predominantly Kurdish militia came under fire from the Turkish side of the border.
The air raids came on the second day of a cease-fire brokered by Russia and the United States, the most ambitious effort yet to curb the violence of the country's five-year civil war. The truce has been holding since it went into effect at midnight Friday despite accusations by both sides of violations.
The Britain-based Syrian Observatory for Human Rights said the airstrikes hit the villages of Daret Azzeh and Qobtan al-Jabal. The group did not say whether the warplanes were Russian or Syrian.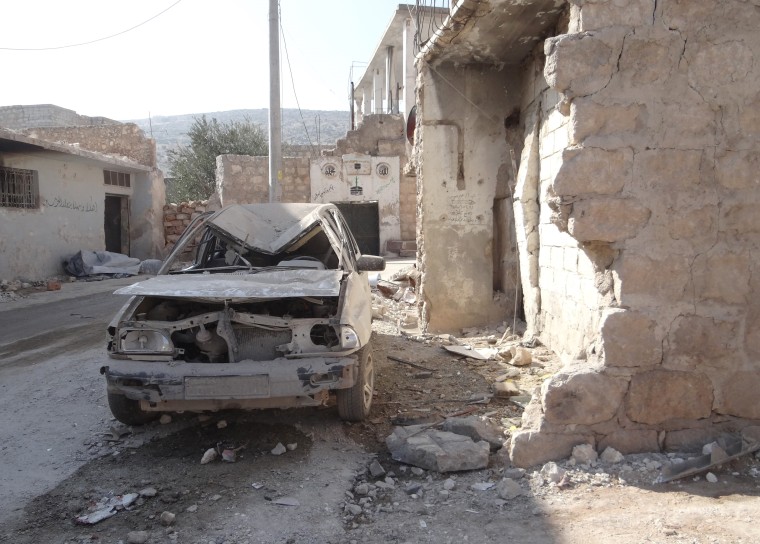 The Local Coordination Committees said the warplanes were Russian.
It was not immediately clear if the warplanes struck areas controlled by al-Qaeda's branch in Syria, known as the Nusra Front. Both the Nusra Front and the Islamic State group are excluded from the truce.
Opposition activists and state media also reported clashes between troops and members of ISIS mostly in the northern province of Aleppo.
Salem al-Meslet, the press officer for the Syrian opposition High Negotiating Committee told NBC News that the HNC intended to send letters to UN Special Envoy for Syria Staffan de Mistura, UN Secretary General Ban Ki-moon and the International Syria Support Group (ISSG) to complain about violations of the agreed cessation of hostilities in Syria.
Meanwhile, the Russian military operating in Syria said it has information about an attack on the Syrian border town of Tal Abyad from Turkish territories with the use of large-caliber artillery and has asked the United States for an explanation.
In Turkey, President Recep Tayyip Erdogan said the cease-fire aiming to reduce the violence in Syria is only being partially implemented.
Erdogan expressed hope that "today or tomorrow this cease-fire will be secured and calm prevails in Syria" after noting that it is only being adhered to "in about one-third" of Syrian territories.
Erdogan made the remarks at a news conference in Istanbul prior to embarking on a trip to Africa.
The Syrian conflict has killed 250,000 people, displaced half the country's population and triggered one of the worst refugee crises since World War II.