MOSCOW — Syrian and Russian jets halted bombing in Aleppo on Tuesday, the Kremlin said, preparing the ground for what it said would be a "humanitarian pause" later this week allowing militants and civilians to leave the city.
Russian Defense Minister Sergei Shoigu said the airstrikes ceased at 10 a.m. local time (3 a.m. ET), paving the way for an eight-hour break in its bombing Thursday.
Shoigu said this would "guarantee the security of six exit corridors for civilians and prepare the evacuation of the sick and injured in eastern Aleppo."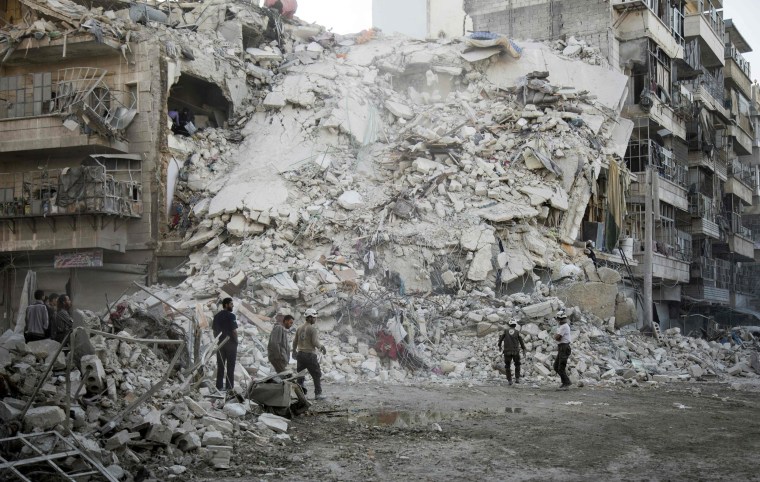 Russian officials said that as well as the civilian routes, two corridors would be opened to militants — including those from Jabhat Fateh al-Sham, al Qaeda's former Syrian branch — to exit the city into ISIS-held territory.
The Britain-based Syrian Observatory for Human Rights reported intensive bombing on eastern Aleppo in the early hours of Tuesday. It was not clear if those raids continued after Shoigu's announcement.
The White Helmets rescue volunteers said at least 40 people were killed in airstrikes Monday and another 49 on Sunday.
Moscow move is an attempt to capitalize on an offer earlier this month by Staffan de Mistura, United Nations special envoy for Syria, who volunteered to escort 1,000 of the Islamist fighters out of the city in exchange for a truce.
Mistura's proposal was rejected by the rebels, citing mistrust of the Syrian government. Russia has also vetoed a U.N. Security Council resolution mandating an immediate cease-fire.
Related: Dangling Boy Rescued From Bombed Building in Aleppo
Russia, the U.S. and other powers involved in the conflict said during a meeting this weekend that they would attempt to separate Jabhat Fateh al-Sham from more moderate groups.
Alexander Smith reported from London.