Turkey reportedly ordered the detention of 42 journalists Monday amid a crackdown following last week's failed coup that has targeted more than 60,000 people.
The arrests or suspensions of soldiers, police, judges and civil servants in response to the July 15-16 putsch have raised concerns among rights groups and Western countries, who fear President Tayyip Erdogan is capitalizing on it to tighten his grip on power.
Erdogan has declared a state of emergency, which allows him to sign new laws without prior parliamentary approval and limit rights as he deems necessary. The government has said these steps are needed to root out supporters of the coup and won't infringe on the rights of ordinary Turks.
NTV reported that among the 42 journalists subject to arrest warrants was well-known commentator and former parliamentarian, Nazli Ilicak.
State-run Turkish Airlines fired more than 100 employees, including management and cabin crew, Turkish media reported.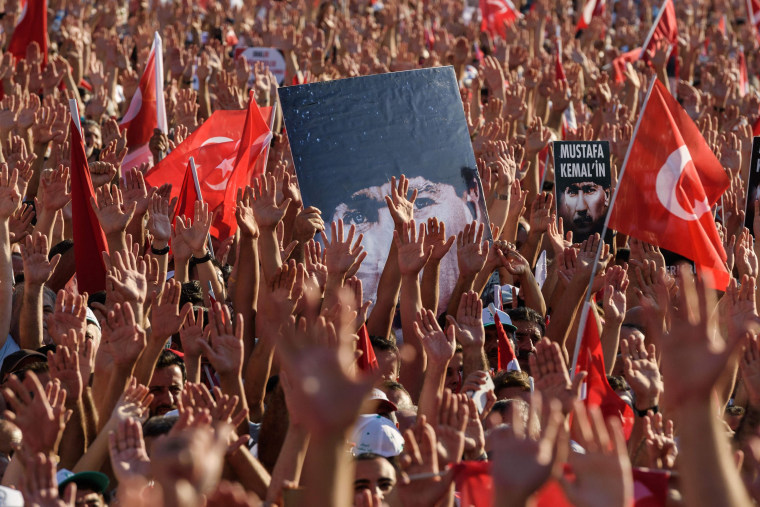 Erdogan has accused U.S.-based Muslim cleric Fethullah Gulen, who has many followers in Turkey, of masterminding the coup plot. In his first decree since the state of emergency was declared, Erdogan ordered the closure of thousands of private schools, charities and foundations with suspected links to Gulen, who denies involvement in the coup.
Turkey wants the United States to extradite the cleric. Washington has said it will do so only if there is clear evidence.
Prime Minister Binali Yildirim said Saturday that authorities had taken around 13,000 people into custody over the coup attempt, including 8,831 soldiers. He promised they would have a fair trial.
Rights group Amnesty International said it had received credible evidence of detainees being subjected to beatings and torture, including rape, since the coup attempt.
Ankara is increasingly expressing frustration over what it says in the lack of solidarity from Western partners in the aftermath of the coup.
Western countries pledged support for democracy in Turkey, but have also expressed concern over the scale of subsequent purges of state institutions.