DONETSK, Ukraine — Around 100 pro-Russian protesters stormed the regional government building in the eastern Ukrainian city of Donetsk on Sunday and hung up a Russian flag in defiance of Kiev's pro-European government.
Dozens of protesters also stormed the offices of the state security service in nearby Luhansk and three people were injured, two protesters and a police officer, a Ukrainian television channel reported. Police declined to comment.
Mainly Russian-speaking eastern Ukraine, including Donetsk, the hometown of pro-Russian former president Viktor Yanukovich, has seen a sharp rise in tensions since his ouster and the installation of a pro-European government in Kiev.
Branding the new Kiev government illegitimate, Russia has annexed Ukraine's Crimea region citing threats to its Russian-speaking majority, a move that has sparked the biggest standoff between Moscow and the West since the end of the Cold War.
More than 1,000 people protested in a main square in Donetsk, an industrial city, before breaking into the regional administrative building where they hung a Russian flag from a second floor balcony, a Reuters witness said.
The protesters outside cheered and chanted "Russia!"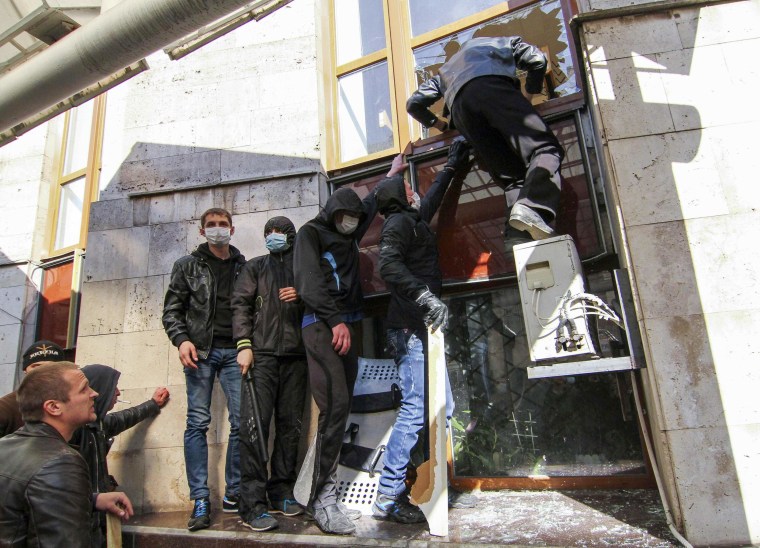 "Around 1,000 people took part (in the storming of the building), mostly young people with their faces covered," said Ihor Dyomin, a spokesman for Donetsk local police.
"Around 100 people are now inside the building and are barricading the building."
The protesters inside the building used chairs, tables and metal railings to barricade the entrances, the Reuters witness said, while hundreds of police stood by.
Ukrainian television showed images of hundreds of people outside the state security services building in Luhansk and a policeman in riot armor being carried away on a stretcher.
The news announcer said the Luhansk protesters wanted a referendum on the status of their region, similar to the vote carried out in Crimea which paved the way for the region's annexation by Russia.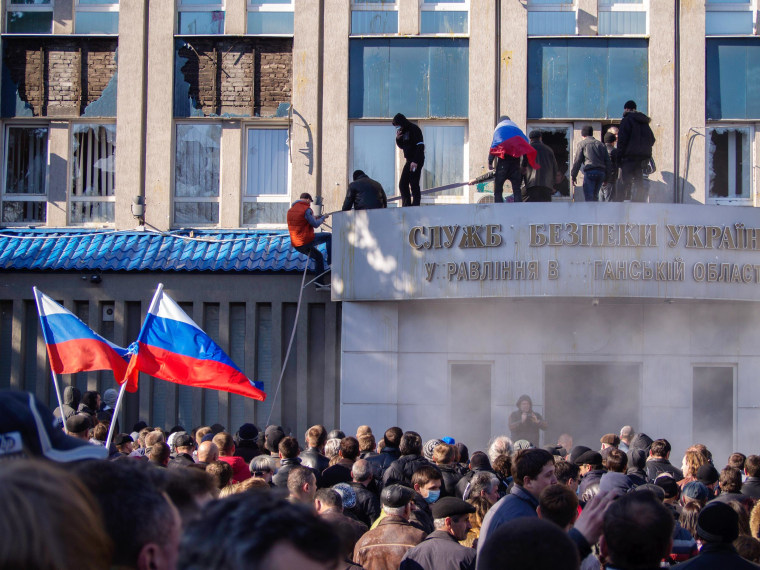 They also demanded the release of people detained by security services in recent days. "We don't want to join the EU, we don't want to join NATO. We want our children to live in peace," an unnamed woman told Ukraine's Channel Five in Luhansk.
Ukraine's state security services said on Saturday they had detained 15 people in Luhansk suspected of planning to overthrow the authorities and had confiscated hundreds of rifles, grenades and petrol bombs.
Pro-Russian demonstrators have held rallies in eastern Ukrainian cities in recent weeks, not far from the border with Russia, where Moscow has assembled tens of thousands of troops.
— Reuters