Three pro-Russian separatists were shot dead after 300 colleagues attempted to attack a national guard base in eastern Ukraine, the country's interior minister said.
Arsen Avakov said in a Facebook post that 63 of the 300 separatists were detained after attempting to seize the base in Mariupol, according to a translation by Interfax Ukraine.
According to Avakov, the protesters hurled Molotov cocktails and opened fire on Ukrainian personnel, who fired warning shots in response. After further warnings the Ukrainian troops used deadly force, he said.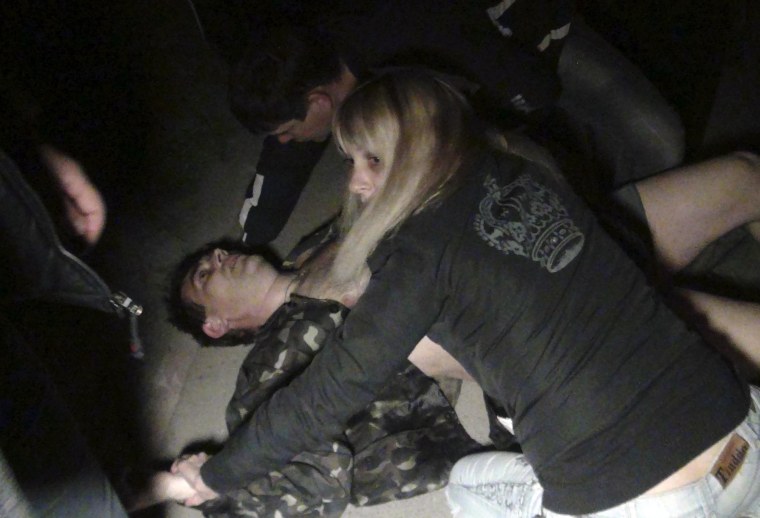 The translation of Facebook post was confirmed by Reuters.
"No casualties have been reported among the Interior Ministry servicemen," Avakov said, according to Interfax Ukraine. "The preliminary information available suggests that three of the militants were killed, 13 were injured and 63 were detained. Weapons, communication equipment and mobile phones were confiscated. The identities of the detained persons are being established."
In response to the raid, the national guard conducted an overnight operation to "contain the gang," Interfax Ukraine reported.
Tensions in eastern Ukraine have been on a high since Pro-Russian separatists occupied buildings across at least 10 towns and cities last week.
Heavily armed and dressed in unmarked battle fatigues, the militiamen say they want to emulate Crimea and have a referendum to join Russia. They say the new Western-backed Kiev regime will not represent their views. The U.S. and Kiev governments, as well as the majority of Western analysts, say the movement is being backed by the Russian secret service.
On Thursday, Secretary of State John Kerry is due to meet with his counterparts from Russia, Ukraine and the European Union. It will be the first time that the Russian and Ukrainian foreign ministers have met since Russia took Crimea.
Reuters contributed to this report.
- Alexander Smith