Since fatally shooting a black man in South Carolina in April 2015, life has been "a nightmare," a white former police officer testified Tuesday.
Speaking for the first time, Michael Slager told the court that he had been living a happy life before his encounter with Walter Scott, who he pulled over for a traffic stop in North Charleston that ended with Slager killing Scott as a bystander's camera rolled.
Video of the deadly shooting stunned the nation. Slager has been charged with murder and faces 30 years to life in prison if convicted.
"It's been a nightmare," Slager, 35, told the defense, getting emotional. "My family's been destroyed by this. Scott's family has been destroyed by this."
Related: Evidence Missed, Untested, Investigator Says at Trial of Ex-S.C. Cop Michael Slager
Slager claims he pulled Scott over for a broken taillight. The incident escalated, he said, when Scott wrestled away his Taser and fled.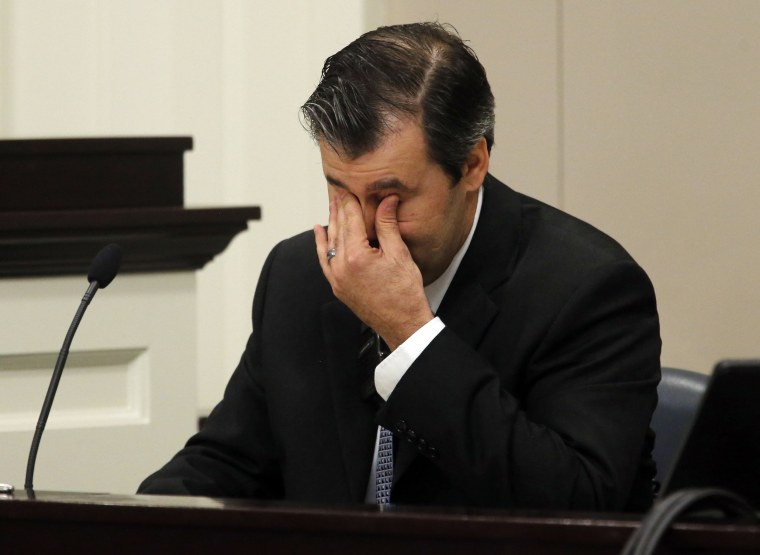 The video shows Slager opening fire as the unnarmed Scott, 50, ran away. Scott was struck multiple times in the back.
Slager held back tears several times while on the stand Tuesday, including as he spoke of not being able to attend the birth of his first child — who he and his wife had struggled through two rounds of in vitro fertilization to conceive — because he was in jail awaiting trial.
Jail was torturous, he said. Slager was housed in a cellblock next to accused Charleston church shooter Dylann Roof, who is charged in the deaths of nine black parishioners.
"I can't sleep. Nightmares. When I was in jail, the only thing they wanted to do was give me medicine," Slager testified. "I remember the doctor who was in charge of mental health came into my cell and said, 'I'll give you whatever medicine you want.' It was a roller coaster."
Slager told the court he remembers little about the actual incident.
"My mind was spaghetti," he said.
But he said he did recall firing his Taser three times at Scott to no avail. Scott then took control of his stun gun, he said, and he felt "total fear that Scott didn't stop."
"I saw that Taser coming at me and I knew I was in trouble," he said. "I knew I was overpowered."
When Scott ran away, Slager said he did what he was trained to do: fire at Scott "until the threat was stopped."
"That's what police officers do. That's our job," he said.
He conceded he could have handled it another way.
"Things could have been different," he said.