SANTA ROSA, Calif. — Carlos and Daysi Torres lost everything.
The explosive wildfires that have devastated Northern California, killing at least 29 people, eviscerated their house in Coffey Park, a cozy tree-lined suburb that now looks like a ghostly wasteland.
"Everything was on the floor," said Carlos Torres, 42. "It was ash."
The flames incinerated the Torres family home, leaving behind little more than a rickety foundation. The simmering remains of the house were hot to the touch when Carlos returned earlier this week to sift through the wreckage.
Across this city, longtime residents confronted a hellish landscape on Wednesday afternoon. All that remained in some lots were scorched washing machines, melted cars, and heaps of soot.
A gray pallor seemed to hang over every block. The air was thick with smoke, and some longtime residents wore dust masks as they approached a police checkpoint that kept much of the once-idyllic neighborhood off-limits.
Manuel Flores, 51, came back to see the gnarled ruins of his home. But he was turned away at that police checkpoint, he said.
"The policeman said, 'There's nothing to see,'" said Flores, a medical assistant who finished paying off his home in April.
Flores' son had come from Las Vegas to help start cleaning up — something Flores said he wanted to do immediately.
"I wish I could go now and start to construct something new," he said.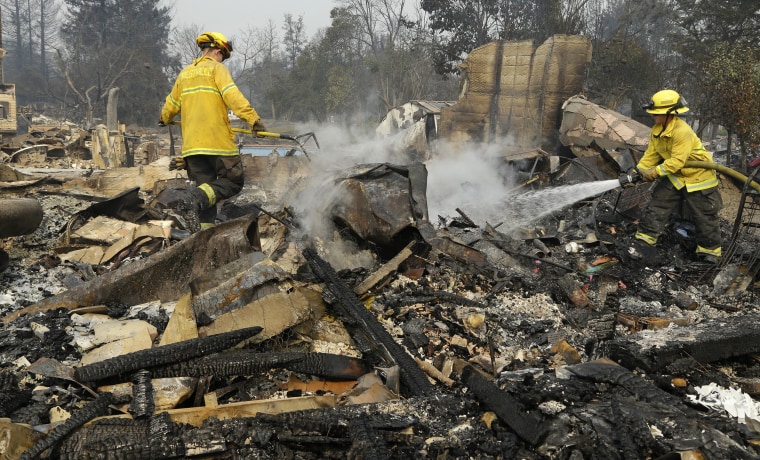 Stacy Henderson, 51, another resident whose home was nearly torched, said she knew 12 families whose houses and possessions were charred and mangled beyond recognition. Few have been able to return or know what comes next, she said.
"They're still in shock," she said.
Stacy's husband, Kevin Henderson, 60, said the area appeared to have been devastated, reduced to near-apocalyptic rubble.
"There's nothing there," he said. "It's like an atom bomb hit it."
Photos: From Above, California Wine Town an Ashy Wasteland
Authorities grappled with containing the 21 firestorms raging simultaneously across the state's wine country, including Napa and Sonoma counties, where fierce winds and months of dry weather helped to kindle the flames. About 3,500 homes and commercial structures have been destroyed.
Officials with the California Department of Forestry and Fire Protection, or Cal Fire, said at least 191,400 acres had burned so far — almost the size of New York City. Firefighters from across California and Nevada were called in as reinforcements.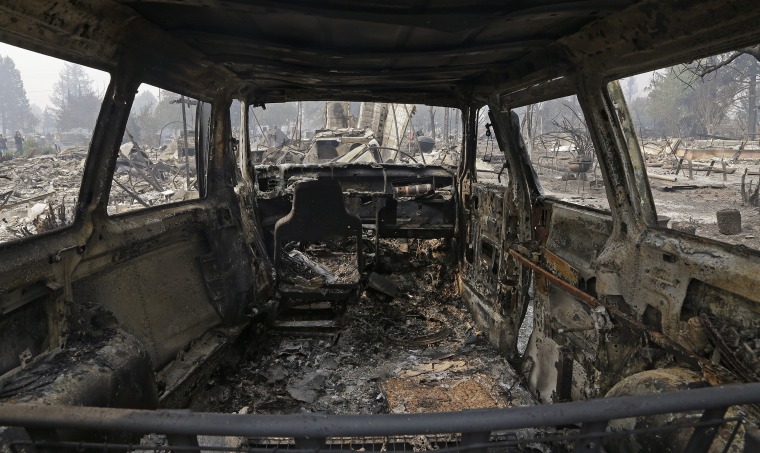 Napa County Fire Chief Barry Biermann said at a news conference Thursday that some of the fires have combined, and "until we get them contained, they're all going to be a problem."
But gusty winds of up to 45 mph and dry air were making it harder for firefighters to make any significant gains as many of the infernos continued to burn out of control.
Sonoma County Sheriff Rob Giordano said there remained more than 460 active missing persons reports, although some could be duplicates. He told reporters Thursday, almost four days after the fires began raging, that investigators are moving into a "recovery phase" that involves rebuilding.
Carlos Torres, who has lived in Coffey Park for a decade, said he was grateful to be alive, but he felt frustrated that his family had not gotten an evacuation order or alerts from authorities.
His 17-year-old daughter, Ashley Carreno, said she heard people in the neighborhood honking their car horns, trying to wake people up early Monday. But no word came from officials, they said.
"They didn't say how bad it was going to be, that we'd need to evacuate," Carlos Torres said. "We saw cars leaving, but we didn't know why. ... Nobody told us what was happening."
Virtually everything the family owned — furniture and appliances and baby photos — was burned to a crisp. One of the few items to survive was a record album whose cover art Carlos' daughter planned to use on the invitations to her upcoming quinceañera celebration. Torres said he saw the album's title, "Back Home Again," as a sign.
"I think of it as a message," he said. "We got to keep going."
Tim Stelloh reported from Santa Rosa. Daniel Arkin reported from New York.