Thousands of firefighters are battling wildfires across California, after one of their own was killed and hundreds of residents were displaced from their homes.
More than 9,000 firefighters were trying to tame 24 large fires across California Saturday, state Department of Forestry and Fire Protection spokesman Daniel Berlant said. The state is in its fourth year or a historic drought, and dry conditions are feeding the flames.
On Friday morning, searchers found the body of U.S. Forest Service firefighter David Ruhl near the so-called Frog Fire in the Modoc National Forest, about 100 miles south of Oregon. Ruhl, an engine captain from South Dakota's Black Hills National Forest, was on a temporary assignment in California when the 800-acre fire started, and went missing Thursday.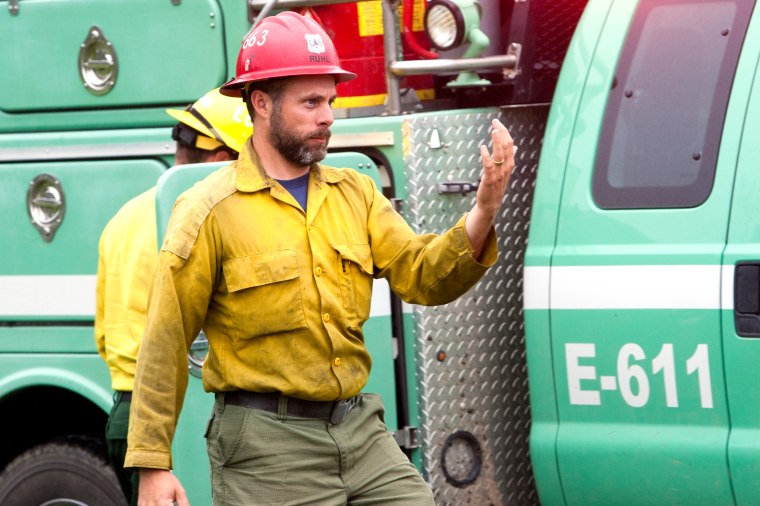 "This loss of life is tragic and heartbreaking," Forest Supervisor Amanda McAdams said in a statement.
A spokesman for the Forest Service said the death is still under investigation. Ruhl was last known to be driving in a vehicle while responding to the fire, spokesman Ken Sandusky said. Winds were making the fire very erratic at the time, he said.
""He was a great husband, a great father and a great employee," said Scott Jacobson, Ruhl's co-worker and a spokesman for the Black Hills National Forest in South Dakota told The Associated Press. "He was loved by everybody."
RELATED: Firefighter Dies Battling Wildfire in California
California Gov. Jerry Brown ordered flags at the state capital in Sacramento lowered to half-staff in honor of Ruhl, a married father of two. The 14-year Forest Service veteran formerly served in the Coast Guard, Brown said.
"Anne and I were saddened to learn of the tragic death of U.S. Forest Service Firefighter Dave Ruhl, who left his home state to help protect one of California's majestic forests," Brown said in a statement. "Firefighter Ruhl will be remembered for his service and bravery and we extend our deepest condolences to his family, friends and colleagues with the U.S. Forest Service."
Brown declared a state of emergency as the fires raged on Friday. The California National Guard has been mobilized, and it sent two C-130 air tankers and nine helicopters to assist in firefighting efforts, Berlant said.
Berlant said cooler temperatures this weekend would help firefighters, but he said a chance of thunderstorms could bring lightning strikes — which in recent days have sparked dozens of new fires, being fought as one large "complex."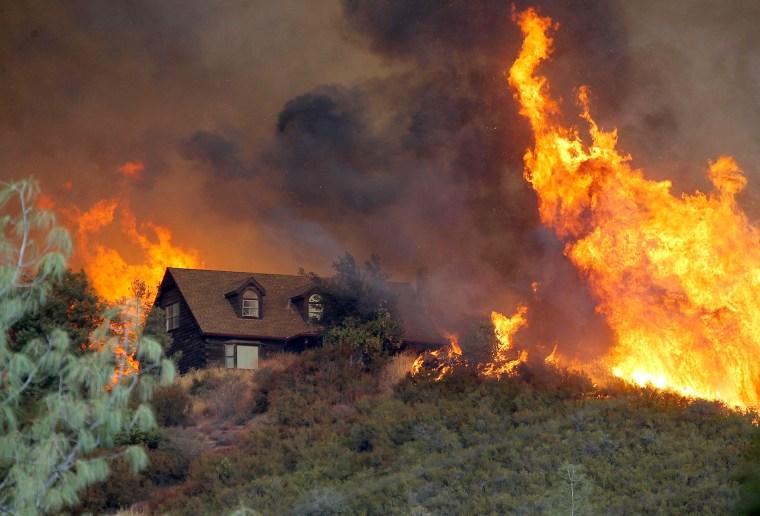 One of the largest is the Rocky Fire in Lake County, northwest of Sacramento. At just 5 percent contained, it covered 22,500 acres Saturday, Cal Fire officials said.
It forced at least 650 residents to evacuate after it burned three houses, the AP reported. An evacuation advisory was put in place Saturday for 5,000 homes near the fire, Cal Fire said.
RELATED: Wragg Fire Wreaks Havoc on California Wine Country
"We saw it behind our house. We saw the smoke pouring over. So we just started collecting stuff and we left to find out later that everyone was evacuated out here," resident Julie Flannery told the AP.
Elsewhere, a woman was in custody for a 200-acre fire near Groveland, 20 miles from the entrance to Yosemite National Park. Lisa Ann Vilmur was arrested Thursday night for recklessly causing a fire and held on $100,000 bail.