It's hard to make anyone cover up in Miami Beach, even with the threat of Zika. But Monica Neumann is trying.
"This is actually the first time that I've gone out in short sleeves and shorts in a while," Neumann, 34, says, looking down at her shorts as she walks her dog on a muggy day at the open-air Lincoln Road Mall. "But I'm always wearing bug spray no matter where I'm going, pretty much."
Florida's health department reported two more local Zika cases in Miami Beach Wednesday. So far, 158 people have been infected with Zika in Florida, and another 721 travelers from other Zika-affected places have shown up with the infection.
"I'm always wearing bug spray no matter where I'm going, pretty much."
Doctors are keeping tabs on 141 pregnant women in Florida infected with Zika. If their babies become infected in the womb, they risk a range of birth defects from brain damage to vision problems and joint deformities.
Related: Full NBC News Coverage of Zika
Zika has spread explosively across parts of Latin America and the Caribbean and Miami was a natural place for it to take at least temporary hold, with so many travelers coming and going. Much of Florida is home year-round to the Aedes aegypti mosquitoes that spread Zika. The virus can also spread sexually.
Neumann knew that Zika-infected mosquitoes had been trapped nearby. Even before that, she and her husband had been taking precautions
"We made efforts to go to more indoor places. We loaded up on bug spray," she said.
"It sucks. But it's better than contracting Zika," she added. "My husband and I, we're wanting to start a family soon so it's what we have to do."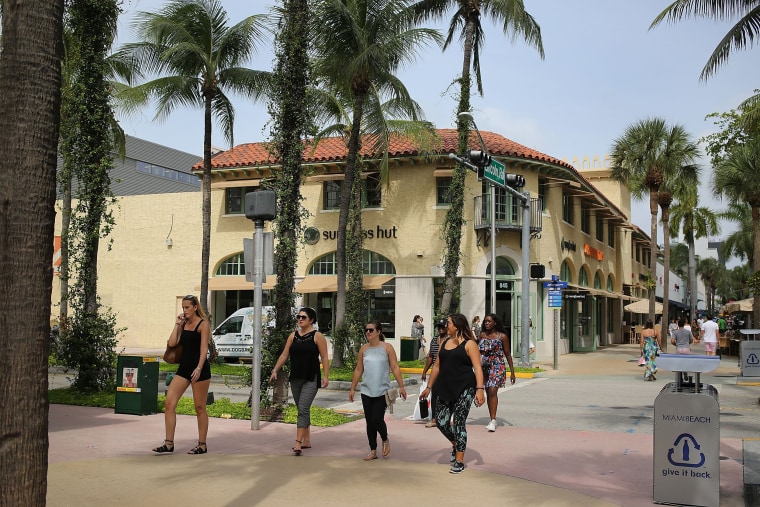 Others strolling in the popular shopping area were less concerned.
"It sucks. But it's better than contracting Zika."
"I've only heard a little about it… but honestly I wasn't that concerned about it coming here," said Jairah Miguel of Vancouver. Her cousin, Delianne Narvaez of Las Vegas, said she researched Zika virus before booking the vacation and decided it wouldn't be an issue.
"I don't think I'm going to plan on having kids any time soon," said Narvaez, who is 24.
Related: Miami's Zika Search Turns Up Dengue, Too
Ernest Williams said he worried about Zika virus when he first arrived from California three months ago.
But the 28-year-old has gotten into the habit of wearing repellent. "I still leave my skin exposed. I just wear a lot of Off," Williams said.
It's worked – he says he is getting bitten less often.
"I don't think a scare is going to scare people away from South Beach," he said.
Some Miami beach residents protested against the use of sprayed pesticides to control the mosquitoes. The Centers for Disease Control and Prevention says they're the best way to control the disease-spreading insects, and says spraying brought an outbreak in the nearby Wynwood neighborhood under control.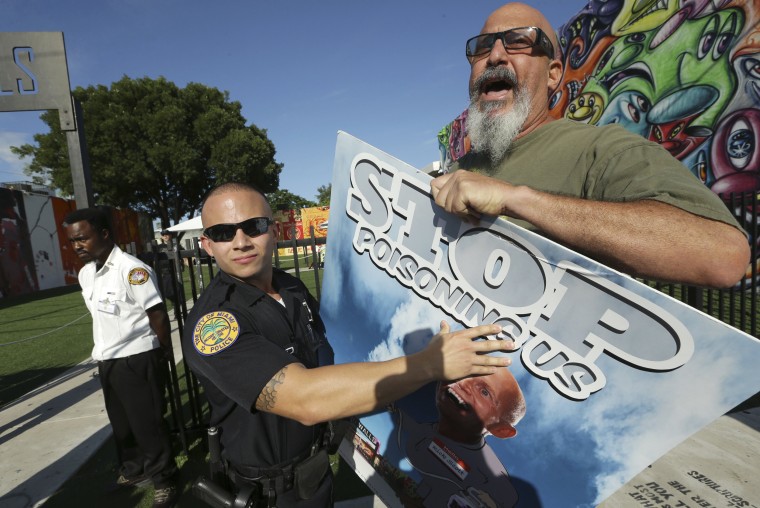 Mindy Acosta-Leon, 51, of Kendall, Fla., said people should protect themselves, as well.
"It does worry me, I just think the public has to be informed so we can take precautions," she said. "I do think that the more we know, the more we'll take precautions."