Apple was unable to restore the cellphone recovered in a boat belonging to two Florida teenagers who vanished at sea last summer, one of the boy's parents said.
The iPhone 6 was considered invaluable for the potential data it held inside — and the families of friends Perry Cohen and Austin Stephanos, both 14, shipped the device to the tech giant in hopes that it could be forensically analyzed.
But the phone — which did not have a case and could have spent eight months waterlogged in the capsized boat — was not salvageable, said Austin's father, Blu Stephanos. He said he got the crushing news from his attorney on Tuesday night after speaking with Apple.
"Unfortunately, Austin's iPhone could not be restored to working order," Stephanos said in a statement. "They also told him that the phone is currently in several pieces, since testing required them to disassemble it in order to run the diagnostics, clean and restore components and perform a chemical workup."
Related: Families Cling to Hope That iPhone Holds Clues to Florida Teens Lost at Sea
The phone belonged to Austin but was also used by Perry — which led Perry's family to challenge Stephanos in court to ensure the device was being properly preserved. Ultimately, the families agreed to have Apple handle it.
"It's our understanding that Apple had a team assigned to the iPhone around the clock, and for that we are truly grateful," Stephanos said.
Stephanos added that the family is disappointed that the phone, which was found in a compartment on the boat, could not be revived. They lost call logs, text messages, pictures and other information that could have led to clues to help find the boys, who are officially classified as missing.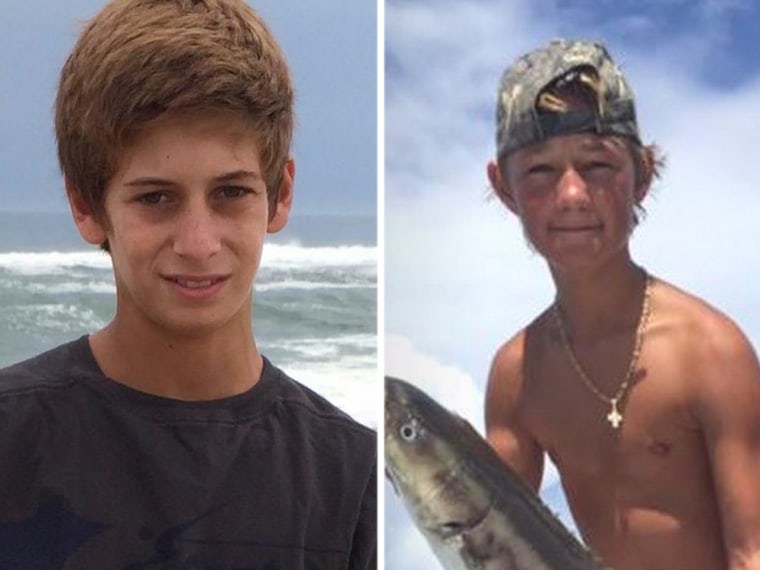 The phone was found in the teens' 18-foot, single-engine Seacraft vessel, which was discovered in March by a Norwegian supply ship about 100 miles off the coast of Bermuda. The body of the two teens — experienced boaters — were not found.
The pair had set out on a fishing trip on July 24 from the Jupiter Inlet, just north of West Palm Beach, as severe weather approached.
Their disappearance led some family members to suggest the possibility of foul play.
Related: Foul Play Possible in Florida Teens' Disappearance at Sea
Perry's stepfather, Nick Korniloff, had contacted the FBI and the state to voice his concern that the boys may have been abducted, according to a Florida Fish and Wildlife Conservation Commission report.
Stephanos, meanwhile, said not being able to open the phone "doesn't diminish" the value it still holds — because it doesn't mean he has forgotten Austin.
"It's a small piece of him; something he used to call me at night when he needed to talk to someone, something he put his stickers on and carried with him every day," Stephanos said. "As any parent would understand, to me, it's not a broken phone, but a memory of my son that I will hold close to my heart and treasure for the rest of my life."