Google wants to help people visit businesses when they are least busy — good news for anyone who has cringed while pulling into an overflowing Trader Joe's parking lot.
Now, for "millions of places and businesses around the world," when users do a Google Search for a location on their phone, they will see a chart showing how busy the place is during every hour of the day.
Google unveiled the feature on Tuesday in a Google+ post (yes, the service still exists, even if the man in charge of it thinks it's "confusing").
The chart is pretty easy to understand. Search for the oft-packed Pink's Hot Dogs in Los Angeles and click on Google's information card in the results. Below the hours and phone number, it shows a chart with bars that represent how busy hours are in relation to each other. (Fun fact: People reaaally want chili dogs between 10 p.m. and 11 p.m. for some reason).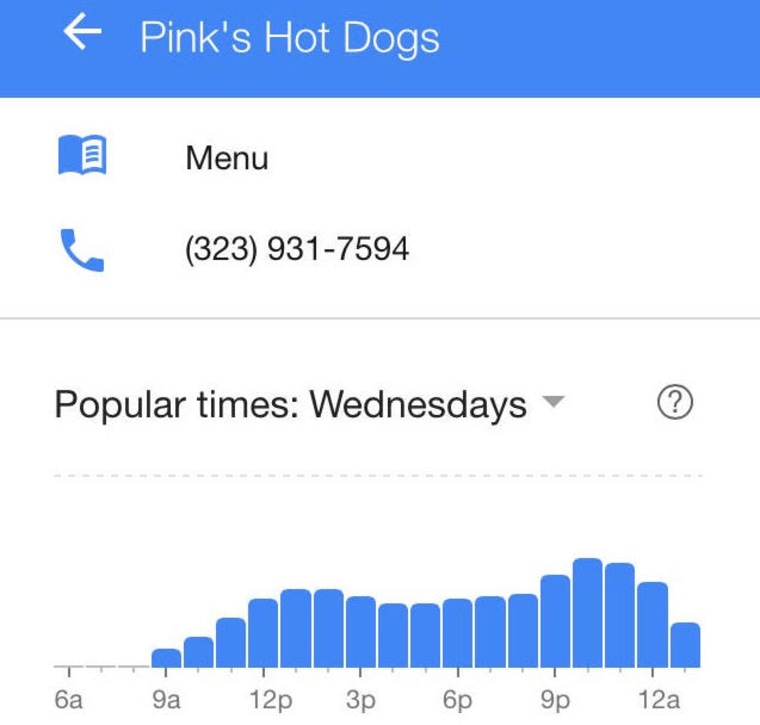 Users can even swipe left or right to see how crowded their favorite business is during other days of the week. Of course, some places are just perpetually busy, so good luck with that, Shake Shack customers.