If you thought Thanksgiving leftovers were bad, spare a thought for astronauts of the future.
NASA has whipped up a calorie-laden bar that astronauts may be forced to nosh on during future deep space missions - and it looks downright gag-worthy.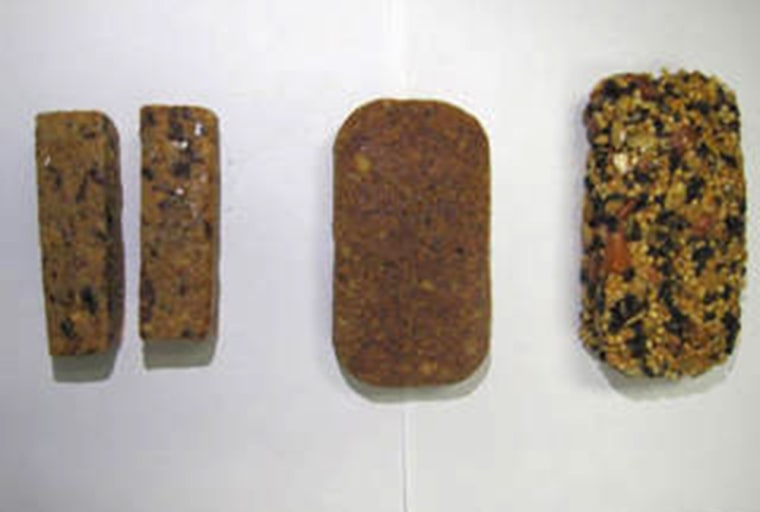 Related: This Is What it Feels Like to Plummet Back to Earth in a Russian Spacecraft
At the International Space Station, astronauts have 200 meal options to choose from, bringing plenty of variety into their space diets.
But feeding a crew on deep space missions, such as to Mars, presents a unique challenge for NASA.
Astronauts will be traveling inside NASA's Orion spacecraft. Since they won't be able to receive additional cargo deliveries or dispose of trash, they'll have to take only what they can carry. That means a calorie-laden breakfast bar may be the perfect choice for saving room.
"When you have 700 to 900 calories of something, it's going to have some mass regardless of what shape it's in, so we've taken a look at how to get some mass savings by reducing how we're packaging and stowing what the crew would eat for breakfast for early Orion flights with crew," Jessica Vos, deputy health and medical technical authority for Orion said in a statement.
"When you think about multi-week missions in Orion, having just one package for breakfast items for crew will help us limit the space we need to store them," she said.
The bars are currently a work in progress and NASA is working on getting the taste just right since the space agency knows food choice can be a big influence when it comes to morale.
The food bars have been taste tested by humans inside HERA, a three-story habitat at Johnson Space Center where NASA is exploring the impact long term isolation, such as a trip to Mars, would have on humans.
So far, NASA said they've received feedback on the "flavor, texture and long-term acceptability of the bars that food scientists are using to hone the range of options available."
Aside from the bars, NASA is also exploring ways for astronauts to grow part of their food supply on long-haul missions. During his year in space, Scott Kelly tended to a space garden and even had a chance to dine on "Outredgeous" red romaine lettuce that he grew in space.
NASA's first Orion test mission with crew is set for 2021.