Toddlers hoping to add a new dimension to games of peek-a-boo need to look no further than a high-tech blanket under development in Canada. It's full of sensors that help it monitor  anything wrapped inside of it, and even create a real-time 3-D model of its bearer.

The IM Blanky contains 104 tilt sensors that look like flower petals and a host of conductive threads to create a pattern that looks as stylish as a traditionally embroidered blanket, but updated for the 21st century.

These sensors communicate wirelessly with a computer that models the entire blanket's shape.

The project gives the blanket "a renewed purpose and relevance in increasingly networked environments," Rodolphe el-Khoury, co-director of the Responsive Architecture at Daniels at the University of Toronto, told me Monday via email.

He and his colleagues created the blanket for an exhibit that invited artists and designers to project traditional embroidery and stitching practices into the 21st century.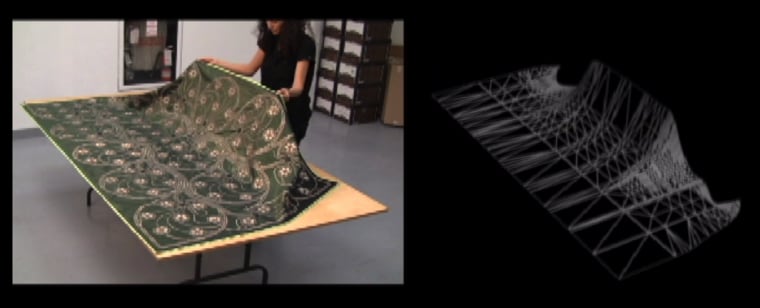 Outside of a gallery, the design team envisions their blanky finding a home in hospitals where, for example, doctors could use it to monitor patients with sleep disorders.

Different versions of the blanket outfitted with different types of sensors could "relay a wealth of biometric data about users without requiring invasive or cumbersome probes on the body," el Khoury said.

For more technical details on the blanky, check out the lab's webpage on the project. 

--Via Gizmag

In additionto el-Khoury, project members include Carol Moukheiber and Christos Marcopoulos with Valentina Mele, Sebastian Savone, Yie Ping See, Jonah Ross Marrs, Samar Sabie, and Dina Sabie

John Roach is a contributing writer for msnbc.com. To learn more about him, check out his website and follow him on Twitter. For more of our Future of Technology series, watch the featured video below.