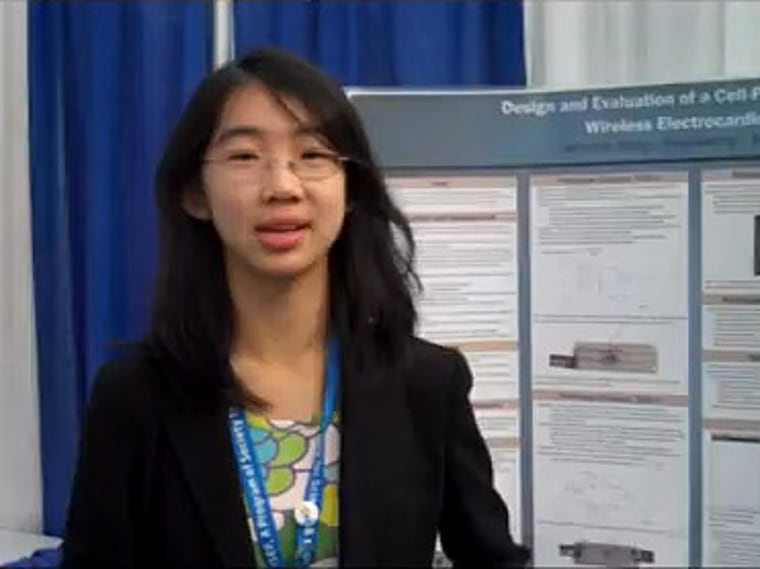 The estimated 2 billion people in the world who lack access to basic health care may be heartened to hear about a 17-year-old girl from New Jersey who invented an inexpensive and portable electrocardiogram that transmits data via cellular networks.
An electrocardiogram, also called EKG or ECG, is a routine test run at hospitals around the world that records the heart's electrical activity. Electrical signals set the rhythm for the heartbeat. Doctors look at the readout of an EKG to determine heart health.

The problem is that the medical equipment typically used to perform the test is expensive and bulky, making it impractical for people who lack money and access to hospitals.
Even the growing field of telemedicine, which allows doctors to examine patients remotely via computers and the Internet, is impractical for many people in developing countries who need care the most, according to Catherine Wong, who invented the portable EKG test.
"What these patients do have, perhaps surprisingly, is cellphones," she said in the video above describing her project that took top honors in Joe's Big Idea, a video contest run by NPR science correspondent Joe Palca. "In fact, in India today, more people have access to cellphones than have access to toilets."
Wong worked with her high school physics teacher to understand the electrical engineering and Java programming components needed to build a prototype EKG that connects to a cellphone via Bluetooth. The heartbeat rhythm is displayed on the cellphone screen thanks to a Java applet.
The data is sent to an offsite doctor for analysis. 
"The implications for this are huge," Wong said. "The prototype successfully showed that it is possible to make a fully cellphone compatible EKG prototype. For patients in third world countries, the device puts the possibility of examination in the h ands of almost any cellphone owner."
Eric Topol, a cardiologist at the Scripps Research Institute in La Jolla, Calif., who reviewed the video for NPR, agreed. "Just the kind of technology that 'flattens the Earth' for better medical care," he told Palca.
Wong's device was also a finalist in the second annual Google Science Fair. Top honors there went to Brittany Wenger for an artificial brain that detects breast cancer. If these innovations from tomorrow's leaders continue apace, our future health care looks to be get in good hands.
Here's Catherine explaining her project in a video from Cogito.org, an online community for exceptional students, founded by the John Templeton Foundation, with Johns Hopkins University Center for Talented Youth and eight other partners.
John Roach is a contributing writer for NBC News Digital. To learn more about him, check out his website. For more of our Future of Technology series, watch the featured video below.