A San Diego man was arrested for using his phone to take video of a citation being issued to him after a police officer said phones "can be converted to weapons," and the man refused to surrender the device.
The incident has drawn national attention from the National Press Photographers Association, which has filed a protest with city officials, and the San Diego Police Department says it is now investigating the altercation.
Last Saturday, Adam Pringle and some friends were being cited for smoking cigarettes on a beach boardwalk (against the law in San Diego), and Pringle decided to record the officer's actions using the camera on his phone. After about a minute of filming, the officer asked Pringle to put the phone away. When Pringle said it was his right to record the encounter, the officer said that phones could be converted to weapons, and insisted he put it away or hand it over. When Pringle refused, the officer then forcibly took it and arrested Pringle for obstruction of justice.
In a second video shot by Pringle's friends, the officer explained that they are trained to consider phones as possible weapons, citing the existence of stun guns and .22 handguns made to look like phones.
The blog Photography is Not a Crime, which first reported the incident, noted that the same reason was used by Florida police in March to justify taking a man's camera and deleting video he had been shooting.

Mickey Osterreicher, general counsel for the National Press Photographers Association, told NBC News Thursday that "it doesn't surprise me that I'm hearing this new wrinkle of a cellphone being a weapon. These are just pretextual arguments that police officers are using to prevent people from exercising their First Amendment rights."

The San Diego Police Department could not be reached for comment by NBC News, although police lieutenant Kevin Mayer gave a statement to the U-T San Diego. Mayer declined to get into details of the case, saying in part:
Our Internal Affairs Unit is conducting an investigation into the incident and they have reached out to the person who was arrested for his statement. Each person involved in this incident is entitled to due process. The best way to ensure this is by completing a thorough, complete and impartial investigation. We take all complaints seriously.
The proliferation of cameras on phones has resulted in more documentation of police actions in general, and especially of the police's reactions to being recorded and filmed — reactions that are often illegal or unwarranted. So much so that the federal Department of Justice recently indicated its interest in such cases by issuing a statement (PDF) regarding another case where police detained a journalist for recording them.
"The United States is concerned that discretionary charges, such as disorderly conduct, loitering, disturbing the peace, and resisting arrest, are all too easily used to curtail expressive conduct or retaliate against individuals for exercising their First Amendment rights," reads one early portion. It also urges that courts uphold clear examples of free speech and assembly such as peacefully recording police in a public place.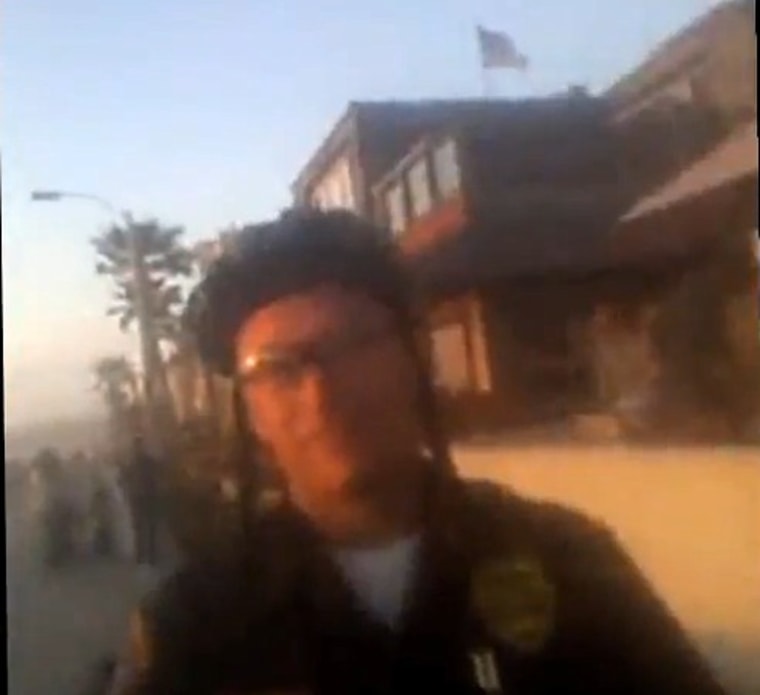 Pringle is scheduled to appear in court in late May — but such "discretionary charges" seldom hold up, Osterreicher said. "The charges are almost always dismissed."
The constant presence of cameras everywhere around us is still a relatively new phenomenon, and although the legality of recording police in public has been established in many cases, the attempted suppression of such activities is likely to continue for awhile.
As Osterreicher put it: "You can either comply with the unreasonable request of an officer, or you can risk arrest or injury, and that's just something everyone has to decide for themselves."

"Boy scouts taught me to stand up ... to people who are wrong," Pringle wrote on his Facebook page Thursday.
Devin Coldewey is a contributing writer for NBC News Digital. His personal website is coldewey.cc.