Nasty turbulence hit a commercial flight from Singapore to London after breakfast was served, causing an altitude drop that sent passengers into the ceiling and loaded meal trays flying into the aisles.
Twitter and Instagram are abuzz with photos of the aftermath posted by passenger Alan Cross, a Canadian music broadcast personality onboard the Singapore Airlines flight. The photos show coffee and cornflakes splattered on the cabin ceiling. The aisles were littered with trays, empty food packages, and cutlery. One of Cross's neighbor's breakfast sausages sat on a pillow; he said he retrieved it after it fell down the back of his shirt in the flying fracas.
After breakfast was served, the fasten seat belt sign came on and the captain announced that the flight was in for some bad turbulence and for passengers to please return to their seats, Cross said. Minutes later, the captain came back on the pa system and announced meal service would have to be suspended until the turbulence was over.
Everything seemed pretty routine to Cross, then suddenly the captain's voice came back, this time quite stern. "Cabin crew, please take your seats immediately!" Cross said he heard the captain order.

When the turbulence hit, "It was similar to being in an elevator and having the cable cut," Cross told NBC News. "Anything and anyone not tied down immediately shot up with quite a bit of violence."
There was a collective "whoa," and then a stunned silence, followed by nervous laughter.
The crew immediately began checking passengers for injuries. Cross said he saw passengers with bumped heads and bloody noses. The crew then began cleaning up the mess, which involved laying down passenger blankets in the aisles to soak up the spills. Not longer after, the cabin was back to normal, Cross's photos show.
Eleven passengers and one crew member sustained minor injuries, Singapore Airlines spokesman Nicholas Ionides told NBC News. Ionides confirmed flight SQ308 experienced severe turbulence en route from Singapore to London on May 26.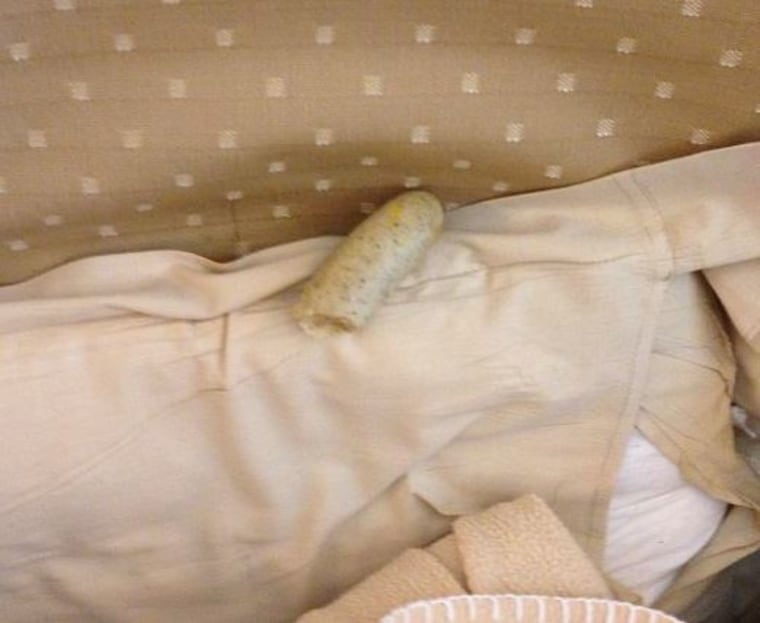 Seat belt signs were on at the time the turbulence hit the Airbus A380, a Singapore Airlines spokesperson told NBC News, and meal service had been suspended.
Upon arrival at London's Heathrow Airport, medical personnel attended to the passengers, Ionides said. As passengers disembarked, reps from Singapore Airlines met them at the gate and distributed boxes of chocolates, said Cross, who said he is now laughing off the experience and dealing with the global media interest in the story.
"What was really quite nice all these strangers began helping each other out when it came to cleaning up," said Cross, adding that he "can't say enough for the cabin crew, they were brilliant."
The experience hasn't changed his mind about flying with the airline again. "Absolutely still my favorite airline in the world," he said.