October is almost upon us, which means Halloween is on our minds -- or at least on the minds of retailers.
Over 157 million Americans will take part in Halloween this year and total spending is expected to reach $6.9 billion, down from $7.4 billion last year, according to an annual survey by the National Retail Federation (NRF). Those celebrating plan on spending an average of $74.34, also down from last year's average of $77.52.
Kathy Grannis Allen, a spokeswoman for the retail group, said the declines are attributable to higher Halloween spending in recent years.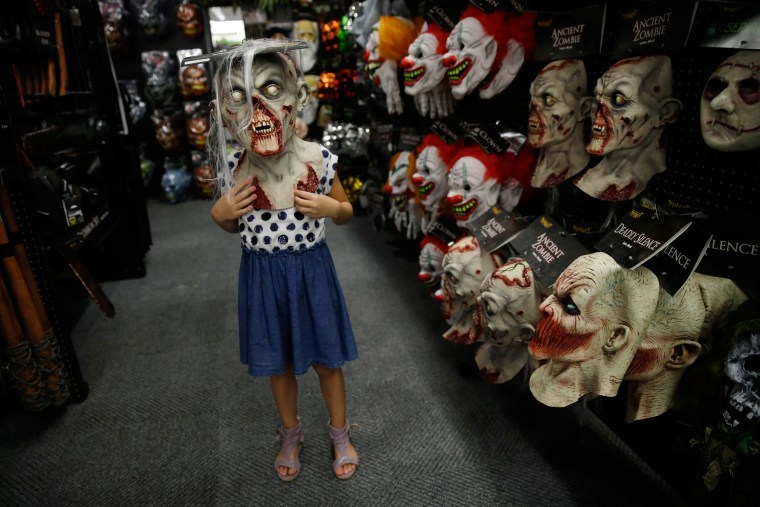 "Halloween has been on the upswing in terms of the number of people celebrating and what they're spending, so we've reached a point where people have been stocking up for several years now," she said. "The average person is content with the amount of merchandise they already have."
Even so, the average family will spend $27.33 on costumes this year and, with 68 million folks dressing up, total spending on costumes is expected to reach $2.5 billion, according to the NRF.
Caitlyn Jenner Halloween Costume Sparks Outrage Online
"We expect those celebrating Halloween this year will look for several different activities to do with their family and friends," NRF president and CEO Matthew Shay said in a press release. "Consumers are ready to take advantage of promotions on candy, decorations and costumes, and retailers are ready to serve them."
Americans are eager to get started on their Halloween shopping, and 34.1 percent say they will hit the stores before Oct. 1, more than the 32.1 percent who planned to shop early last year.
Millennials take Halloween the most seriously with 70 percent planning to dress up and 48 percent planning to throw a party.
"Young adults have everything at their fingertips," Allen said. "They can get ideas in an instant with Facebook, Pinterest and other social media platforms."
Pinterest has become a popular destination to find fun and unique costume ideas. More than 13 percent said they planned to turn to the image-collecting site for inspiration, nearly double the percentage from three years ago.
"Pop culture is going to play a major role this Halloween, which is what that particular age group is interested in," Allen said.
Millennials aren't the only ones dressing up. Popular costumes for pets include ensembles from "Star Wars" and "Minions." Pinterest's top pet costumes include Kitty Potter and Batman Dog.
See Some of the Most Popular Halloween Costumes for Pets
"Halloween Costume Pins are up 260 percent since July 1 with DIY pet costumes taking an early lead," said Christine Schirmer, consumer communications for Pinterest.The 20 million owners dressing up their pets are expected to spend $350 million on costumes.