Got kids? You may be less likely to splurge on your own mom this Mother's Day.
A new survey by DealNews found that people with children are actually less inclined to buy gifts for their parents on Mother's Day: 44 percent of parents will buy their mom a gift this Mother's Day, as opposed to 56 percent of consumers sans kids. Consumers showed similar thinking when it came to Father's Day: 28 percent of people with children will buy a gift for their dad, compared with 39 percent of consumers without kids.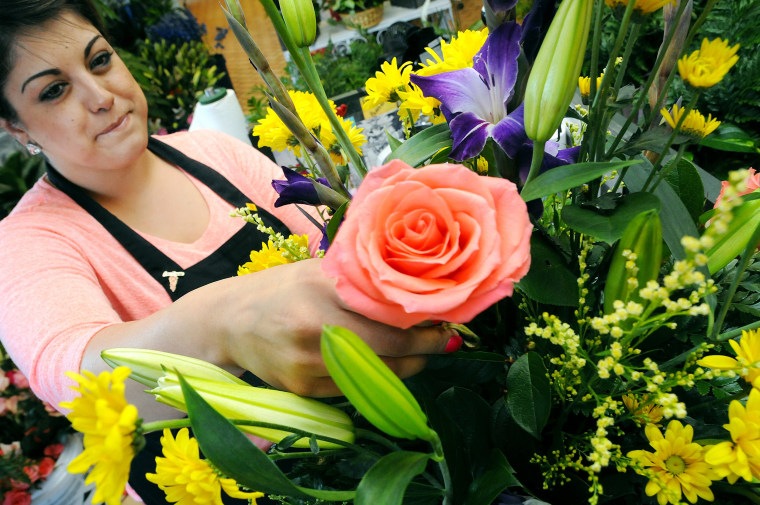 The survey consulted 650 DealNews readers. Fifty-one percent were male, 47 percent were female, and 2 percent did not disclose their gender, Heather Lovett, a spokesperson for DealNews confirmed to NBC News.
"We were struck by the clear division in behavior between those with children and without," said Benjamin Glaser, features editor with DealNews. "It's not surprising at all when you think about it, it's just a stark difference in the numbers."
Love Ya Mom, But We've Got Our Own Kids to Handle
Glaser reasons that when you have kids of your own, your attention shifts from your parents to them. And practically speaking, "there may not be enough time, money, or focus to get a gift and/or plan a Mother's Day celebration for both the mother of your child, and your own mother."
Anna Lane, author of the blog Misadventures in Motherhood and the mother of two young kids, still gets the moms in her life a gift for Mother's Day — but it's definitely become less of a priority.
"In the days before I had kids, I spent a lot of time carefully picking out individual personalized gifts for all the mothers in my life, but that was back when I had the luxury of time for things like showering and driving to 10 different stores in search of the perfect ecru-colored vase," Lane told NBC News. "Oh, and I wasn't paying for preschool and food for two kids, so I had a heck of a lot more cash to spend on stuff like room spray and pajamas."
Mom Doesn't Want More Stuff
But it's not just time and money holding Lane back from splurging. She also has a more informed opinion of what her mom actually wants (or more pointedly, what she doesn't want), now that she herself is a mother.
"I have a new understanding of why my mom always told me she didn't need any more 'stuff,'" said Lane. "I spend half my time trying to get rid of all the clutter that clogs my house, so the last thing I need is more tchotchkes to dust or give away. This year I'm just going the easy route and buying every mom in my life a gift certificate to Drybar, because everyone loves a good blowout and it means Mom will get what she wants most of all: alone time."
Erin Zavala, a mother of two based in Los Angeles, has made a similar observation of her own mom and what she genuinely wants of the holiday.
Related: Guilt-Free Brunch Recipes for Mother's Day
"Before kids I would force a Mother's Day celebration on my mom," said Zavala. "She always says she wants sleep. Now I get it. I just want sleep too."
Rafael Lena, who has one young son and lives in New York City, has also stopping buying stuff for his folks on Mother's and Father's Day.
"I am much more inclined to [invest in] events — like dinner, a play, or a concert," said Lena. "Something that takes up a few hours and not much brainpower so that I don't really have to think about what to get, and can return to trying to remember to give my kid a second dose of amoxicillin."
Like Lane, Lena has also learned that his parents prefer quality time over gifted products.
"My mom usually gets a Mets game for Mother's Day, and my dad usually gets a play for Father's Day," said Lena. "It's the few hours of uninterrupted time that my parents prize rather than a physical gift at this point — and thankfully, that wish nicely aligns with my responsibilities as a dad."
For Some Parents, It's the Opposite
But there are those parents who, now realizing the challenges of raising children, are more inspired to make a big deal of these holidays — and put more effort into purchasing the ideal present.
"Something about being a mom now makes me understand the importance of the holiday, and, while I'm not big on material gifts, I like the idea of [my mom] having something useful that will make her think of me," said Simone Gorrindo, a new mom who lives in Washington. "I usually send her flowers or a card, but this year, I'm getting her a Fitbit, which I know she wants."
Juan Martinez is on the same page. The Brooklyn-based father said that he's more invested in Mother's and Father's Day since becoming a dad.
"I'm more inclined to shop for them now that I have a baby, to be honest," Martinez said. "I don't know where I'd be without their help. They've taken some of the incredible burden off of my shoulders by doing things like picking my daughter up from daycare when my wife and I work late, taking her overnight when my wife and I need a date night, even helping with housework whenever our apartment is a mess and we're too busy potty-training to tidy up. Nothing makes you appreciate your parents more than becoming a parent yourself."
Mindy Wells Hoffbauer, an Ohio-based mother of two grown kids dreams of the day when her children will finally accept that she "doesn't need anything else," and that they shouldn't stress over what to get her. All she really wants, she adds, is to have dinner with them. And as for her own parents? "I used to make a fuss about getting them something memorable, but now they're lucky if I think to send them something from Amazon (without a note)."
Affordable, Convenient Options for Mom
If you're one of those parents who wants to get something nice for your mom this Mother's Day, but are busy with your own kids, or merely tight on time and money, consider some tips from shopping experts.
Kendal Perez, saving experts for CouponSherpa, suggests buying a gift that mom can redeem after the holiday, when some of the chaos has died down.
"Since moms are busy on Mother's Day proper, a gift that's redeemable after Mother's Day will be appreciated," said Perez. "Plus, it gives moms something else to look forward to, essentially extending the Mother's Day festivities: Concert tickets, spa days and even restaurant reservations make for great post-Mother's Day gifts because you avoid holiday markups."
Perez also recommends scoping out the latest online deals geared at Mother's Day.
"Consider signing up for a free trial of Amazon Prime to nab two-day shipping on the Echo or latest Fire device, both of which are discounted just for Mother's Day," said Perez. "You can also shop Walmart's free two-day shipping-eligible items including gourmet gift baskets and beauty products."
If you want to take mom out on Sunday, check out some venues offering discounts for the holiday.
"On Mother's Day, get $5 off any family meal purchase at Boston Market for four or more with this coupon," said Courtney Jespersen, retail expert at NerdWallet. "At Mimi's Café on Mother's Day, get a free take-home gift and a free entree offer for use on your next visit with purchase. At Spaghetti Warehouse, get spaghetti and meatballs packaged to go with purchase of a Mother's Day meal."
Brent Shelton, online shopping expert at FatWallet, suggests poking through the latest deals on LivingSocial and Groupon, as well as signing up with eBates to get more bang for your buck.
"Ebates.com right now is pretty advantageous since they are coinciding their anniversary sale with Mother's Day and offering 15 percent cash back from more than 200 retailers," said Shelton.
And of course, you don't need to be a parent to enjoy these deals. After all, it's not just moms and dads who are keen on savings!