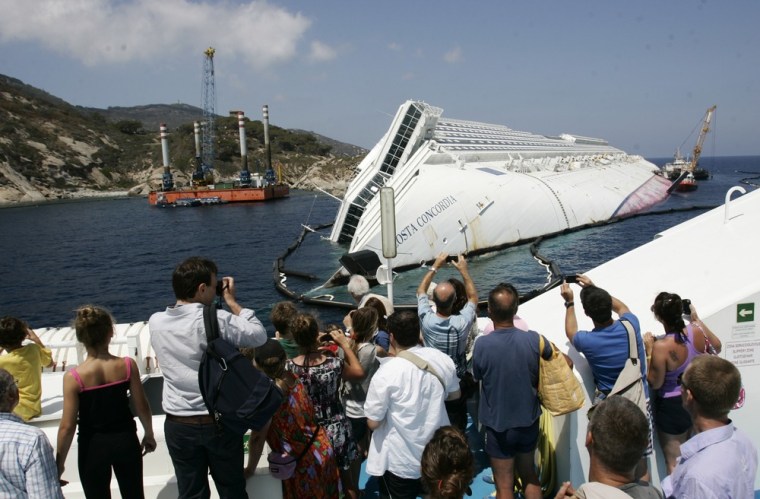 GIGLIO, Italy - Six months after it capsized off Italy's Giglio island, the Costa Concordia still lies on its side – a monument to what prosecutors say was reckless navigation.
The 122,000-ton, 1,000 foot long cruise liner, which hit a rock and partially sank on January 13, claiming the lives of 32 people including two Americans, has become part of Giglio's skyline.
For locals it has become an eyesore that stops them enjoying the view of the Tuscan shore. But for tourists it represents a perfect photo opportunity for their summer albums.
Every day, hundreds of tourists fill the regular ferries that connect the island from Porto Santo Stefano, the closest mainland port. It's an hour-long crossing under the scorching summer sun - the roof deck becomes so hot you could cook pizza on its white floor - and yet everyone heads for the open top.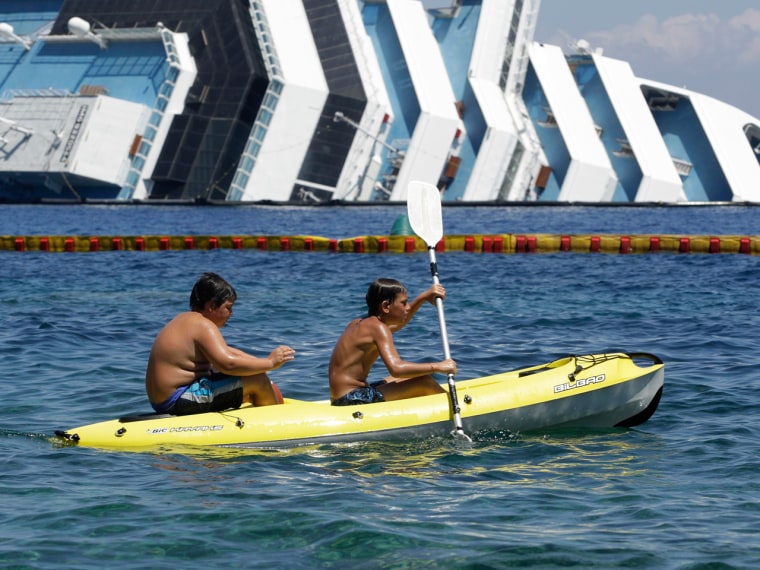 Armed with hats, sun cream and camera phones, they hope to glimpse the Costa Concordia even before they reach Giglio. "Can you see it from here?", a tourist from Naples asks, excited. Yes, he can. The stricken ship lies only a few hundred yards from the port entrance, and the ferry sails right past its bow.
Once on shore, tourists head to the dock for a picture opportunity. But islanders are growing tired of this shipwreck tourism.
87-year-old Cecilia Cavero was born on the island and has lived there all her life. While sitting in the shade of a palm tree of the tiny port beach, she gives the tourists an angry look. "Every day I come here and that thing is there", she says, pointing at the Concordia. "It's heartbreaking. And those tourists come here for the day, take a picture and then leave."
Costa Concordia captain admits he was 'distracted' by phone call
Her friend, Adele Ansaldo, 80, says she can't avoid seeing it every single day. "It lies right in front of my house. Every day I open my windows and I see it. It's sad to know there are still people in there," she said, referring to the bodies of the last two victims yet to be found. "It's heartbreaking".
But others are not so bothered by the new landmark: "It has now become a symbol of the island", fisherman Italo Arienti told msnbc.com. "But they forbid us to make souvenirs out of it".
Norwegian tourist Jan Moe agrees. From a rock overlooking the Concordia, he says he didn't even know it was there until he got to the island. But he doesn't mind. "It's good for tourism, isn't it?"
Before the Concordia tragedy, Giglio was a hangout for the rich and powerful. But the wreck happened right where luxurious yachts, too big to enter the tiny port, used to dock. The yachts have now been replaced by packed ferries of tourists looking for a quick snap and a bite to eat. 
Some businesses have benefited: restaurants have never been so full, especially for lunch, and shops are selling out of souvenirs. But some locals say that the exploitation of the Concordia tragedy has already gone one step too far.
"Someone tried to print the wreck on t-shirts and postcards, and at some point they tried to make sell models of it", Costanzo Basini, a former captain and souvenir shop owner, said. "It's shameful, especially towards the relatives of the victims".
The complicated process of removing the wreck has already started, but it will take at least 12 months before experts will be able to right the ship and tow it away.
On Friday, a memorial service will be held in the island's church in the presence of survivors and relatives of the victims, and a concert will take place at 9:42 p.m. local time (3:42 p.m. ET) - the exact time the ship struck the rocks, six months ago.
In the meantime, Concordia remains its side awaiting its final voyage.
More world news from msnbc.com and NBC News: