When Ron Levi, founder and COO of DogTV, initially pitched cable providers the concept for the first-ever channel for dogs, just about everyone thought he had lost his mind. But that did not deter the budding entrepreneur one bit.
"If you have an idea that you really believe in, it doesn't matter how crazy it is," says Levi. "Just go do it!"
Levi and DogTV CEO Gilad Neumann have since turned a "crazy" concept into one p-awesome business, generating millions of dollars in revenue and making millions of tails wag around the world.
"Twenty-four hours after we launched, it was on Good Morning America, David Letterman, Leno, and Fallon," says Levi. "It was flattering."
Helping dogs with anxiety one cable company at a time
DogTV offers 24/7, commercial-free programming aimed to alleviate the stress that many of our four-legged friends experience when their owners are away from home.
"We designed something that is not less than revolutionary to me," says Levi. "It could really help many dogs."
"Many suffer from separation anxiety and depression," says Neumann. "Many dogs are medicated and we're not medicine. But if we can help, 5 percent or 15 percent, then we've done a great thing for many dogs."
The content was developed after Levi and Neumann spent three years conducting international studies and gathering research. The pair also enlisted the help of leading pet experts to weigh in on content creation.
Building trust and credibility in business
Initially, cable providers didn't take the DogTV pitch seriously. Levi and Neumann knew they needed to add yet another dose of credibility to the brand, so they reached out to one of the most reputable, animal-focused non-profits in the country, the Humane Society.
"After being endorsed by the Humane Society of the United States, I think people started to look at us in a different light," says Levi.
The subscription-based service costs pet owners approximately $5 a month, and is available through cable providers. DogTV can also be streamed online, or on devices such as Roku and Apple TV.
The network plays a continuous loop of 3-4 minute videos, divided into three main categories: Relaxation, Stimulation, and Exposure.
Want to turn your pooch into a Zen master? Relaxation episodes are all about taking canines to a calm place. These videos depict beautiful settings and ethereal music, and dogs can be seen in moments of deep reflection and napping.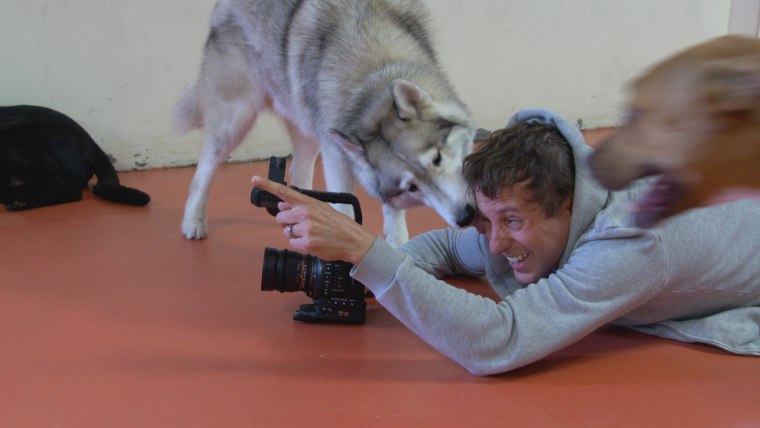 Zebras and giraffes also make appearances in this genre. Dogs are apparently wild for these wildlife members. "There's nothing scary about a zebra!" says Levi. "We have cinematographers who go to different safaris."
Stimulation episodes feature whimsical graphics, special sounds, and fun-filled adventures, like visits to the local dog park or a simple frolic in a lush field.
"They need mental and physical stimulation when they're home alone so they don't get bored," Levi says. "We have a lot of dogs running around, playing, and swimming to get dogs more in a playful mood."
From thunderstorms and vacuum cleaners to babies crying and fireworks, DogTV Exposure videos focus more on potential fears Fido might face in common environments. "We learned from studies that by exposing them to all these sounds and visual elements, they can actually over time overcome these fears," says Levi.
DogTV's new show for humans
Most recently, DogTV launched a series called "The Adoption Show," geared toward pet owners. Levi and Neumann teamed up with 120 shelters and rescue organizations for the show, in the hope of finding happy homes for rescues. "This is a great opportunity now to give back," says Levi. "We're happy to say that 30 percent of all dogs on that show do get adopted."
The journey building DogTV and a brand that at first glance can feel like a gimmick has meant Levi and Neumann must have unwavering determination — and a sense of humor.
"Pretty much every crazy idea can get to market, but do it right," says Levi. " Put years into it. Work with the best people in the world. Get great partners. Do all that, and people will take you seriously — eventually."
"Once we have time to talk about the science, the marketing opportunities, and business aspects," says Neumann, "then people understand that it's not funny any more."