A bill introduced late last week in Congress could open up a new chapter in how students get their textbooks — and it wouldn't come at a hefty price.
Studies show America's college students are already paying about $1,200 per year on books and supplies. But the Affordable College Textbook Act, which was proposed Thursday, seeks to ease that financial burden.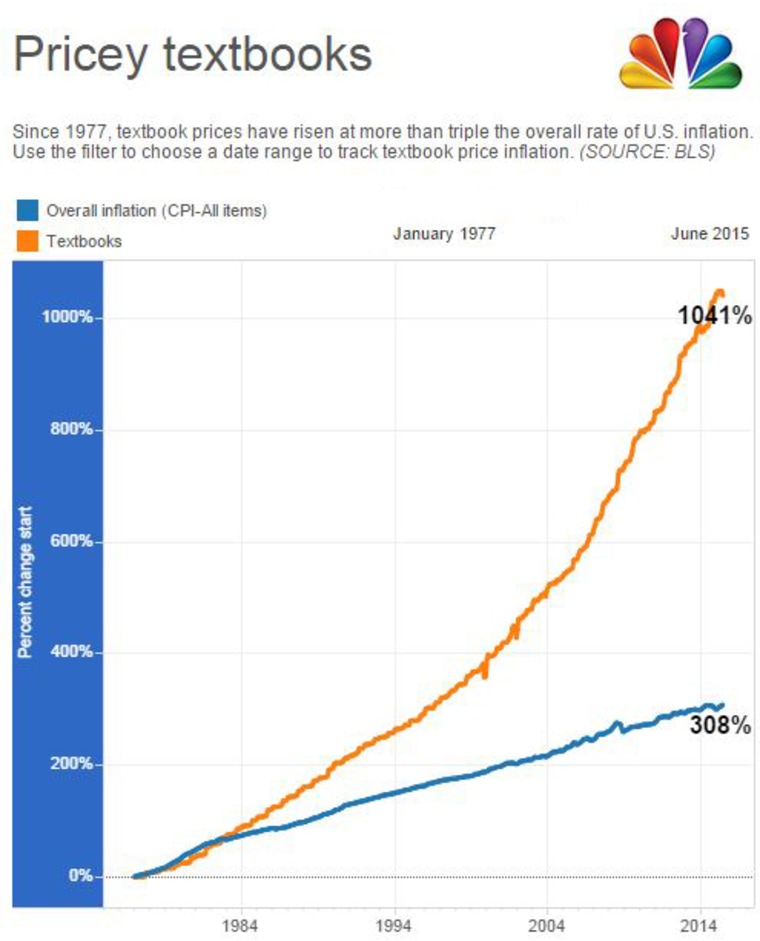 Related: How students are coping with higher textbook prices
The legislation would give institutions of higher learning grants so that they can make textbooks free and accessible online to students, professors, researchers and others.
Sen. Dick Durbin (D-Ill.) first introduced similar legislation in 2013, but it failed to catch on. He said in a news release last week, however, that he has been troubled by how the publishing industry creates new textbook editions with essentially the same information or that include the bundling of more materials as a way to drive up prices.
Ultimately, Durbin said, the act would "help pressure the traditional college textbook market to come up with cheaper alternatives and innovations."
A review of Bureau of Labor Statistics data by NBC News in August showed that textbook prices have risen over three times the rate of inflation from January 1977 to June 2015 — a 1,041 percent increase.
Related: NBC News Special Report: Get College Tips and Advice at the Freshman Year Experience
Bill co-sponsor Al Franken (D-Minn.) said that the rising cost of textbooks is needlessly adding to students' college debt, which piles up into the tens of thousands of dollars for the average student, so it's time for legislators to act.
"When it comes to paying for college, one thing that's often overlooked is the rising cost of textbooks and supplies," Franken said in a statement. "By expanding access to free online textbooks, our bill would help address this problem and allow students and families to keep more of their hard-earned money."