Every Friday afternoon, the hardworking men and women of Delray Beach Fire Rescue line up their gleaming red trucks, strap on their boots, and check their supplies of naloxone, the overdose reversal drug. These days they can barely keep it in stock.
In this small city at the heart of Florida's opioid crisis, Friday night means overdoses.
"The overdoses are everywhere," said Delray Beach firefighter Kris Scheid. "It doesn't matter what neighborhood, there's gonna be an overdose."
Scheid isn't exaggerating. On a recent Friday evening, before the sun had even set, Fire Rescue would respond to three overdoses in less than two hours.
At 6:19 pm, Fire Chief Todd Lynch saw an emergency call appear in pink on the screen of the laptop bolted to the dash of his vehicle.
Related: Florida's Billion-Dollar Drug Treatment Industry Is Plagued by Overdoses, Fraud
"That's an overdose," said Lynch. He turned on his siren and rushed south, flying past palm trees, to an industrial pocket of the city.
Delray Beach police, in black uniforms and flak jackets, had beat Lynch to the scene. They stood around a silver Mercedes stopped behind a Dumpster, a young man with a goatee and a white tee shirt unconscious behind the wheel. In the car console was a torn envelope that once held a paycheck.
Related: How to FInd a Good Drug Treatment Program and Avoid the Bad Ones
The man had overdosed next door to Royal Life Recovery, a drug treatment center. The center's employees had watched him drive into a telephone pole, reverse, and stop. A Royal employee was the first to arrive, and like many in the recovery business, he came prepared with naloxone, also known as Narcan. But despite several blasts of Narcan spray up his nose, the driver didn't wake.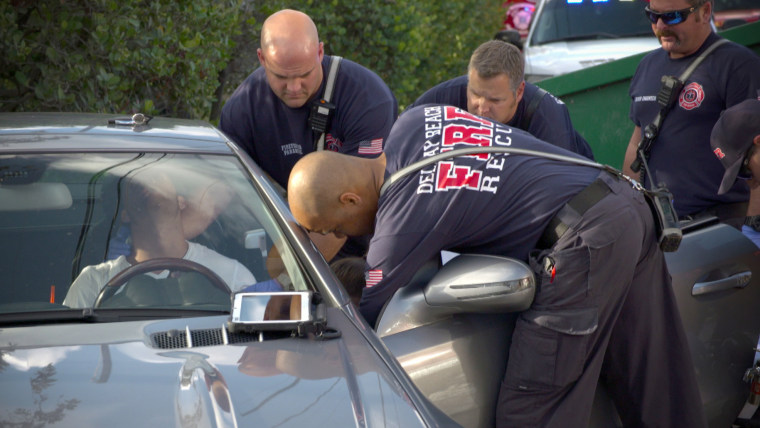 When the rescue truck arrived, his head was hanging back over the headrest and his mouth was open. The responders moved quickly, pulling his limp body from the front seat. He looked like a lost cause. But thanks to the naloxone sprayed up his nose, he had a pulse. As Fire Rescue hefted the gurney into the rescue truck, he began to stir.
Whether sprayed into the nose, injected in a vein or, in the most desperate cases, drilled straight into the bone, naloxone's sudden impact can be eerie to witness. Sometimes the all-but-dead sit upright, disoriented and ill, but alive.
And in pain. Naloxone blocks the body's opioid receptors, which can trigger immediate and painful withdrawal. It's not unusual for those who have just been saved to quickly use again to keep from getting dope sick. And so the cycle starts over.
As the rescue truck carted the Mercedes driver away, Lynch's dashboard lit up again — an overdose at a Shell gas station three miles east. A different Fire Rescue team took the call.
There were more than 4,600 overdoses in Palm Beach County last year. Delray Beach accounted for 600, even though its 66,000 residents make up less than 5 percent of the county's population. Delray's responders find people who have overdosed in restaurant bathrooms and on park benches, in private homes and while driving through busy intersections.
Towns across the U.S. have been gripped by the opioid epidemic. In 2015, drug overdoses, most due to heroin or opioid pills, killed more than 52,000 Americans. And addiction has become more deadly as potent synthetic opioids like fentanyl have become widespread.
The impact is being felt from wealthy Chicago suburbs to rural West Virginia to New York City. But officials in Delray Beach say the toll is especially heavy in their town because so many of the young people addicted in those faraway places come to Florida looking for help.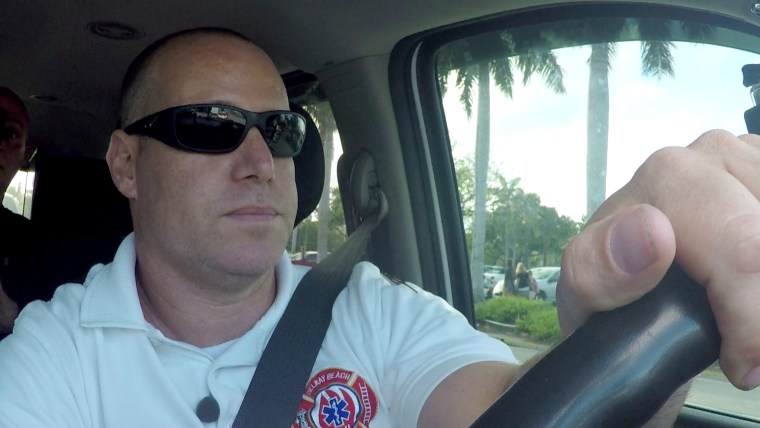 South Florida has long been a destination for people seeking drug treatment, with Delray Beach a common landing spot. But in the past few years, recovery has become big business — a $1 billion industry, according to a tally by the Palm Beach Post. There are more than 320 licensed drug treatment centers in South Florida, most in Palm Beach County. Addicts attending outpatient treatment generally live in the hundreds of "sober homes," or halfway houses, scattered throughout these beachside communities.
The good homes create accountability, structure, and a supportive community to help people stay clean. The bad are little more than flophouses that use their residents as a meal ticket. Unscrupulous operators take illegal kickbacks from the treatment centers for sending residents there, then evict struggling addicts when their insurance runs out. They often turn a blind eye while addicts use.
"What drug did you take today?"
Chief Lynch said it's not unusual for his team to respond to a sober home where multiple young people have overdosed on the same batch of drugs. "Somebody will have called 911 — but there's nobody there that's supervising or monitoring them," he said.
Delray Beach estimates the city spent some $3 million responding to overdoses last year, many at or near sober homes. When Delray Beach residents used to find someone unconscious, they'd call 911 to say someone fainted, said Interim City Manager Neal de Jesus. "If they find somebody unconscious now, they call in and say, 'Somebody overdosed.'"
Sometimes it takes as many as seven Fire Rescue personnel to respond to one opioid case, from revival to dropping the patient at a hospital. On a normal day, the department might respond to four. When a bad batch of heroin comes out, Fire Rescue can handle a dozen in a single shift.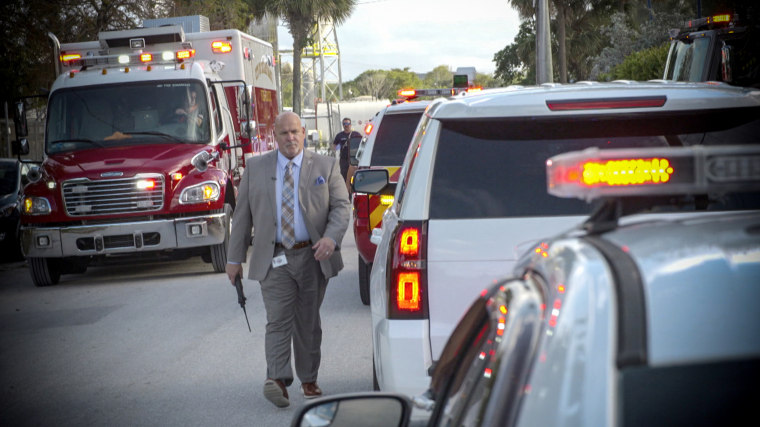 De Jesus, who took a break from his role as fire chief to step in as city manager, worries about the toll the crisis is taking on his community — and on the first responders on the front lines of this crisis.
"They're seeing more deaths that I've seen in my 34-year career," said de Jesus. Rookie responders have now become accustomed to carrying out bodies of people in their mid 20s, people the same age as they are.
He worries that they will start to think these deaths are normal, or become jaded after reviving someone in the morning only to revive them again that night.
Responders said no matter how many calls they get, some cases are hard to shake.
Friday night's first call had been a woman who had overdosed but was still conscious.
When Lynch arrived, the middle-aged woman, wearing shorts and a tanktop over her leathery tan skin, was already surrounded by his responders.
"Do you know what city you're in?" one asked.
"Delray Beach, Florida," she answered dreamily.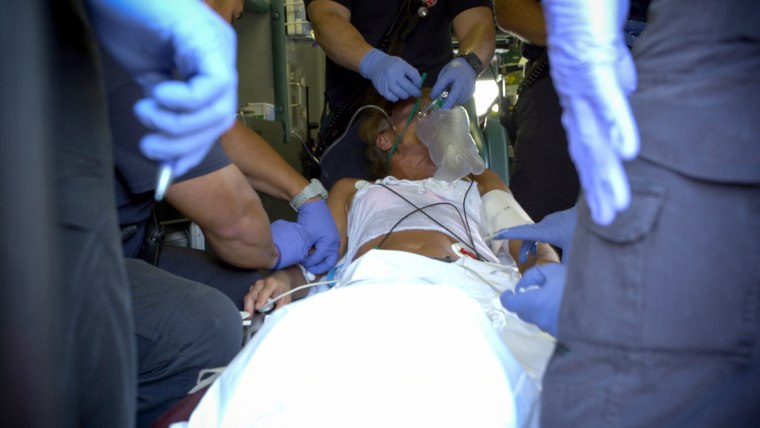 "Do you know what year it is?"
She laughed. "2017"
The responders helped the woman stand, guiding her onto the gurney. She babbled as they slid her into the back of the boxy rescue truck. Then she went silent. The overdose had begun to shut down her body.
Their blue-gloved hands worked efficiently. They pulled out a syringe of naloxone and shot the reversal drug into her arm. Another life saved. Then the IV went in. A second set of hands covered her mouth with an oxygen mask. A third responder looked into her pinpoint pupils.
Related: Moms Unleash Anger on Corrupt Florida Rehab Owner
"You got to tell me what you took today, I just want to help you," he said. "What drug did you take today?"
"I snorted," she answered.
"Cocaine?" he asked.
"Heroin," she said.
The truck pulled out, sirens blaring, toward the emergency room. Lynch doubted she'd stay long. Addicts often sign themselves out against medical advice within a few minutes of arriving. And if the IV is still in their arms, it makes it easy to get high again.
"She will be out of the hospital before they're done with their paperwork," said Lynch. "Once they wheel her into the hospital she'll get off the stretcher and walk out."