Mark Ysasaga, then 15, vanished on June 14th, 2012 while walking home from a friend's house in Lubbock, Texas.
The last images of Mark show him with his friends inside a Walmart that morning, according to the Lubbock Police Department. Investigators say Mark did not seem to be in any distress.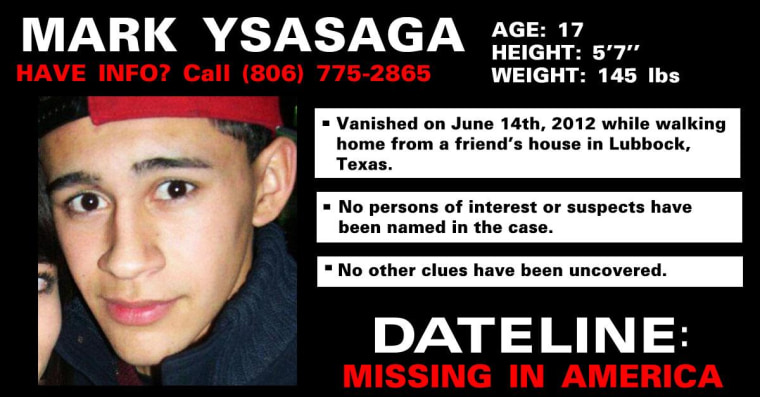 Although it's been more than two years since his disappearance, his mother, Anna Maria Ysasaga-Cuevas, refuses to give up hope. "This is my baby. Nobody is going to hurt my kids, and I'm going to find him no matter what," she told NBC affiliate KCBD. "I don't care if I'm 50 and I'm still looking for him. I will keep that hope up that he will show up, that we'll get answers soon."
The Facebook page, Missing: Mark Anthony Ysasaga, continues to post information about Mark's case as well as other missing person cases. There is a $4,500 reward offered by Crime Line of Lubbock for information that leads to finding Mark.
If you have any information about the case, please call Detective Jon House with the Lubbock Police Department at (806) 775-2865.