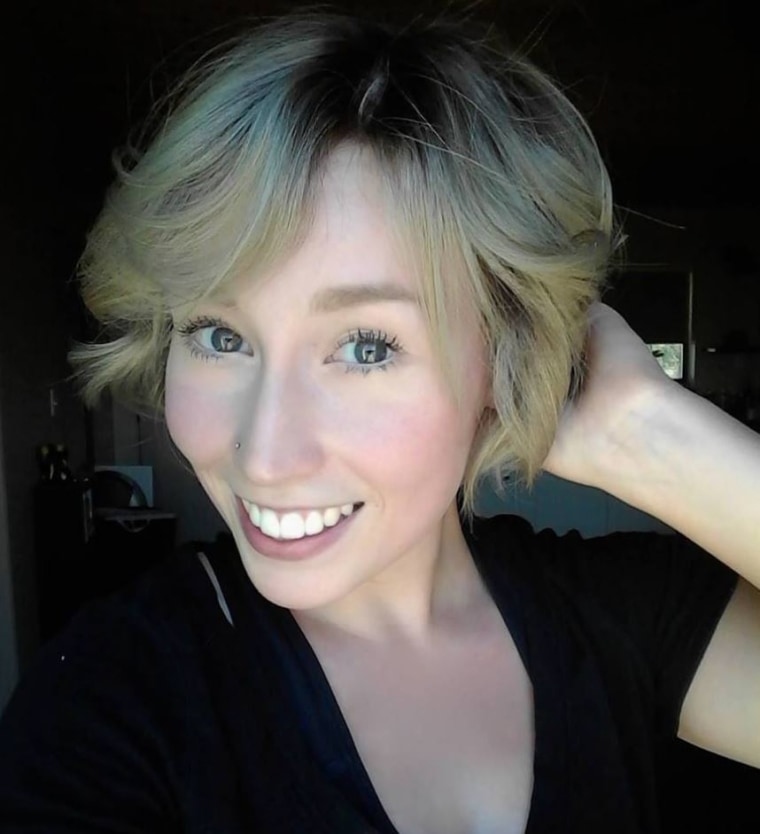 Everyone inquires about Zuzu's name.
"She would tease me, saying she should get a card to hand people who asked her," Glenn Verk, Zuzu's father, told Dateline with a little laugh. "But she really did grow up into what the name sort of stands for."
The name was one Glenn had wanted to give to a daughter ever since he watched the Christmas classic 'It's a Wonderful Life' years ago. It was the message of the movie, and the flower petals of little Zuzu, that helped him convince his wife Lori that their second daughter, their third child, should be named Zuzu.
Zuzu has filled their lives with laughter, joy and hope for 22 years now.
And for the past two weeks, that idea of hope has become a beacon for the Verk family, ever since Zuzu disappeared, pushing them in their efforts.
"It's like you go through the stages of both: having hope that she's OK, and grieving the unknown at the same time. It just tears you up inside," Glenn told Dateline.
Where is Zuzu?
Zuzu was finishing up the last semester of her junior year at Sul Ross State University in Alpine, Texas. After transferring from the University of North Texas, Zuzu landed on the path of studying conservation biology. It was a career route she discovered she had a passion for after interning with the Davis Mountain Preserve to help promote the area's hiking trails. Her most recent internship, this past summer, involved exploring remote areas of the nearby desert to tag and track the pronghorn antelope population near Alpine.
It was in that small Texas town the night of October 11, when Zuzu reportedly went on a date to the movies with an on-again, off-again boyfriend, according to authorities. The details of that night are hazy at best.
What is known is: Zuzu stopped responding to text messages and phone calls on Wednesday the 12th. Friends hadn't heard from her, and when someone checked her apartment, she wasn't there.
Her family knew something was amiss.
When her family realized Zuzu was missing, father Glenn drove the seven hours from their home in Keller, Texas to Alpine. His wife, Lori, and Zuzu's older brother, Miles, followed shortly thereafter on a private flight coordinated and donated by members of their local congregation.
"You just pace around and feel like you need to help -- to do something to help," he told Dateline. "To help with the search, or to spread awareness, or talk to people. Anything to help bring her home."
It was both heartwarming and heartbreaking, Glenn said, that when he arrived, every hotel he stopped at to try to get a room already had a missing person flier of Zuzu hanging.
Glenn describes his daughter as a "friend to everyone," a young woman whose wacky, yet understanding, nature helped her make friends easily. Those friends immediately plastered Zuzu's photo everywhere as soon as word spread that she was missing.
A massive investigation
Hundreds of volunteers have turned out in the nearly two weeks since Zuzu vanished, canvassing more than 400 miles on foot, horseback and ATV. Tips have poured in, officials say, and many people have been questioned. Various organizations, including Texas Equusearch, have turned out to offer whatever assistance they can.
Investigators have reviewed hundreds of hours of surveillance video obtained from local businesses, and have sent a request to the public for anyone who has video systems outside their home to check them. Ranchers were also urged to look for any unusual items left on their land that may be connected to the case.
The search for Zuzu is also reaching across to Mexico. The border is roughly 100 miles away from Alpine, and officials are coordinating with their counterparts there.
Just yesterday, authorities announced that evidence taken from the carpet of a white Mustang, reportedly belonging to a friend of Zuzu's boyfriend, Robert, had been sent to a forensic lab in El Paso for testing. Police wrote on Facebook that "investigators believe this vehicle is a key piece of evidence in this case," and asked for anyone who may have seen it the night of Wednesday, October 12 to call the police department.
The owner of the vehicle was questioned and released. He took to Facebook to deny having any knowledge of what may have happened to Zuzu.
Rumors and questions
While the official investigation pushes on, internet sleuths have latched on to the mystery.
Thousands of comments have been left on various postings about the case on social media. The mystery has taken a prominent position as the top thread in several crime groups on Facebook, with users debating the information police have released and weighing the rumors that are rampant.
Fueling those rumors seems to be the little-to-no comment from Zuzu's on-again, off-again boyfriend Robert. Authorities have not spoken about him by name, but his identity has been widely published online and has been confirmed by Zuzu's family members and friends. He's being called a "person of interest" in Zuzu's disappearance, officials say.
Related: Family of Zuzu Verk Plead for Boyfriend's Help
Alpine Police Chief Russell Scown spoke directly to Robert at a news conference on Friday, saying, "The investigators are waiting to talk to you." Zuzu's family members also urged him to come participate in the search efforts.
Liz Rogers, an attorney for Robert, said she had no comment at this time, but spoke briefly with local news station FOX4 last week stating her client is cooperating with police and had nothing to do with Zuzu's disappearance.
Bringing Zuzu home
All of these details, rumors and hearsay have been overwhelming for the Verk family. Their strength is unflagging and is fueled not only by their support for each other, but by the outpouring of love from those who have heard of Zuzu's case. "Groups, individuals and even people on the street reach out to us and care so much, even if they don't know Zuzu," her father Glenn told Dateline. "We couldn't be more grateful for that in such a horrible time."
Instead of focusing on the negatives of the case, they are choosing to keep hope alive by talking about what a wonderful young woman Zuzu is. They talk about her award-winning artwork from her high school years, her wacky sense of humor, and her love for the outdoors.
Her father specifically recalls his daughter's quiet intelligence and natural ability to be "good at just about everything."
"She's got this high voice and will give it right back to you. She's fearless. Zuzu is fearless."
Zuzu Verk is described as 5' tall, weighing 110 lbs. with newly-dyed blonde hair and hazel eyes.
Anyone with any information that can help in the search is urged to call the Alpine Police Department at (432) 837-3486. Callers may remain anonymous. There is currently a $100,000 reward offered by various departments and donations for information that leads to Zuzu's safe return.