Soccer coach Kaig Lightner, founder and director of the Portland Community Football Club (PCFC), recently decided it was time to share something deeply personal with his players. At a recent practice, where he talked to the boys, aged 8 to 17, about things like sportsmanship and confidence, he also shared something else: "I am transgender." His heartfelt disclosure was recorded and posted to YouTube, where it garnered nearly 90,000 views in just a week.
"It's nerve-wracking to talk about it, and I also wasn't sure it was really necessary for a while. It finally got to a point where my relationship with the kids and the families expanded to a place where they became a part of my own family." Lightner, 36, told NBC Out. "I also think it's a good time to be a visible transgender person in our country and make a statement of acceptance, inclusion and diversity. So I took that step."
PCFC is a sports club that offers a low-cost soccer program to youth in the Portland area. Lightner wanted to start an organization that was inclusive to those who normally could not participate in regular leagues due to cost. The club provides free uniforms, scholarships and other resources that players might need.
"We're based on four main pillars: inclusion, access to the sport, opportunity and leadership," Lightner explained. "We want to open the reach we have beyond just teaching kids soccer –- we want to really teach them about larger civic engagement, how to be leaders and how to have self-esteem and confidence."
The year-round soccer program takes about 50 to 75 kids each season, and it recently expanded to add a team for 6 and 7 year olds and a Junior Coaching Program, where older players get trained to be coaches.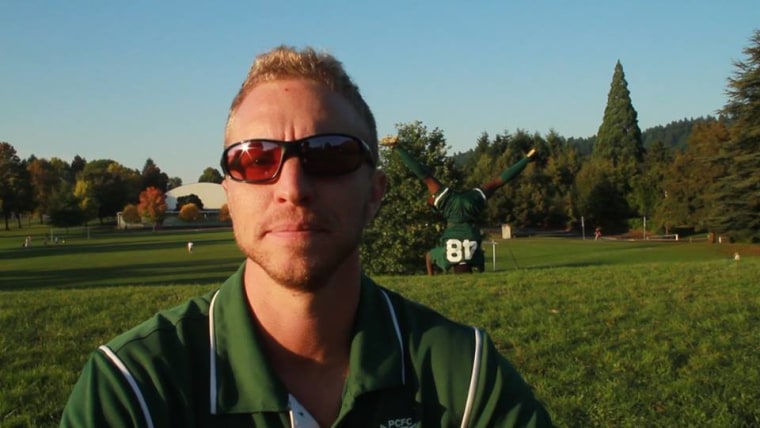 Lightner said had no idea what reaction he was going to get when he decided to come out to his players, but he is heartened by the feedback he has gotten so far. In the video, the first question a player asks is, "How old are you?"
"That's a perfect kid question. They ask me all the time how old I am, [so] that's not the first time I got that question," Lightner laughingly said. "The other questions I've gotten were all very straightforward. They're just trying to grapple with this concept that isn't discussed very often and is foreign to them. But it's been nothing but support and love from this amazing community."
Lightner hopes the publicity from his video helps people realize how important sports are in shaping children's lives. Lightner said he struggled throughout his childhood to fit into the stereotype of "being a girl." He turned to sports and found confidence and purpose. His background in coaching and social work led to the founding of the PCFC
"We're really trying to get these opportunities out there for these kids. Not only to have a really good soccer program, but to also have the opportunity to be leaders."