A transgender candidate in Virginia has defeated a lawmaker who sponsored a bill that would have restricted what bathroom she could use.
Democrat Danica Roem defeated incumbent Republican Bob Marshall, 73, on Tuesday having campaigned on a platform of social inclusion as well as local issues, such as building up infrastructure and job creation.
The 33-year-old former journalist is set to make history as the first openly transgender candidate to be seated in a U.S. state legislature.
Roem said her victory against Marshall — one of the state's longest serving and socially conservative lawmakers — showed that her message of equality had resonated in Virginia's 13th district.
"You can champion inclusion, you can champion equality and equity and you can win," she told MSNBC's Lawrence O'Donnell following her election victory.
Roem is the first transgender candidate to be elected to Virginia's state legislature and is set to be the first openly transgender state legislator to be seated in U.S. history.
In 2012, Stacie Laughton was voted to the New Hampshire House of Representatives but never took up her seat after it emerged that she had been sentenced to prison for conspiracy to commit credit card fraud in 2008 — when she was still known as Barry Charles Laughton.
Althea Garrison from Massachusetts was also elected to the state legislature in 1992 and served one term, but never self-identified as transgender.
Roem — who sings in a metal band, according to the Associated Press — openly discussed her gender identity throughout the campaign but said it was not her focus. Instead she focused on what she described as "the core quality of life issues," such as jobs, schools and particularly traffic congestion.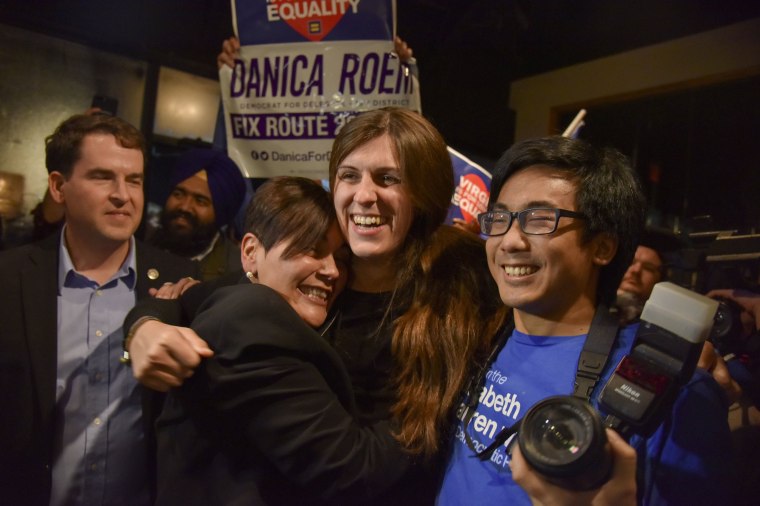 The campaign, which pitted two starkly different candidates against one another, was one of this year's most high profile races, attracting international attention.
During Marshall's time in office he sponsored the Physical Privacy Act, which proposed that transgender people should use restrooms that correspond with their "original birth certificate" rather than their gender identity.
On the campaign trail, Marshall and other Republicans repeatedly misidentified Roem's gender, the AP reported.
Asked by MSNBC what it was like campaigning against a man who wanted to stop transgender people using their bathroom of choice, Roem said she would not attack one of her own constituents and explained that starting next year Marshall would be just that.
"Attacking your constituents, signalling them out, stigmatizing them and trying to make people feel bad about themselves, that's not our Virginia," she said.
In a statement posted on his Facebook page Tuesday, Marshall said: "For 26 years I've been proud to fight for you, and fight for our future. Though we all wish tonight would have turned out differently, I am deeply grateful for your support and effort over the years."
'Historic Victory'
Roem's election victory was followed by an outpouring of support by LGBTQ advocacy groups.
"Danica Roem's historic victory is a clear warning to anti-equality lawmakers across the country that the days of attacking LGBTQ people to scare up votes are over," Human Rights Campaign President Chad Griffin said in a statement.
Aisha Moodie-Mills, president of LGBTQ political action committee Victory Fund, called Roem a "trailblazer."
"Danica's victory is a historic milestone in our continued march toward equality," Mills said. "Danica has inspired trans leaders across the country, and it is inevitable more will follow in her footsteps and become powerful voices for our community."
Following her election victory Tuesday night, Roem shared an inspirational message to an ebullient crowd of her supporters.
"To every person who has ever been singled out, who has ever been stigmatized, who has ever been the misfit, who has ever been the kid in the corner, who has ever needed someone to stand up for them when they didn't have a voice of their own …This is for you."
In another win for the LGBTQ community Tuesday, Jenny Durkan became the first openly lesbian mayor of Seattle and the city's first woman mayor since 1920.
Durkan, who was appointed as the first openly gay U.S. attorney by former President Barack Obama, defeated another woman, Cary Moon, in the mayoral race.