Drug and alcohol-fueled blackouts were once a constant in Jason Arsenault's life. Now an out recovery coach at the nationally renowned Mountainside Treatment Center in Connecticut, Arsenault is helping others in the LGBTQ community get sober.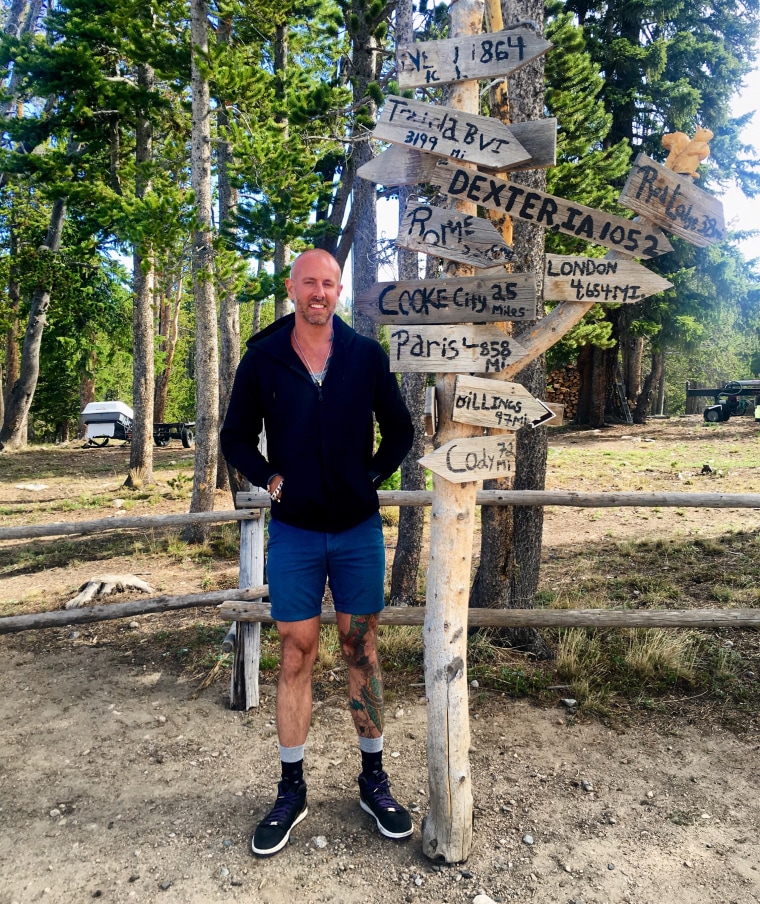 "Whenever there was a client up in treatment at Mountainside who was maybe struggling to connect, particularly gay men, I would always get a call from the director," Arsenault told NBC Out. "If you're the only gay man in treatment, you don't feel like you're connected to the community, so I was able to be that liaison."
Mountainside, which treats about 1,700 patients from across the United States, joins a growing number of rehabilitation and treatment centers that are integrating LGBTQ-sensitive programming and services, a spokesperson told NBC Out in an email. Arsenault volunteered as an event organizer at the treatment center before becoming a full-time recovery coach and LGBTQ liaison there.
"I realized I have something that I need to give away, which is the ability to connect with others," he said.
According to the Centers for Disease Control, people in the LGBTQ community are more likely to suffer drug and alcohol addictions than the general population.
"It's because of all of the shame and the inability to connect [with other LGBTQ people], and also the way gay people socialize in general. It's all circled around bars and clubs," Arsenault explained.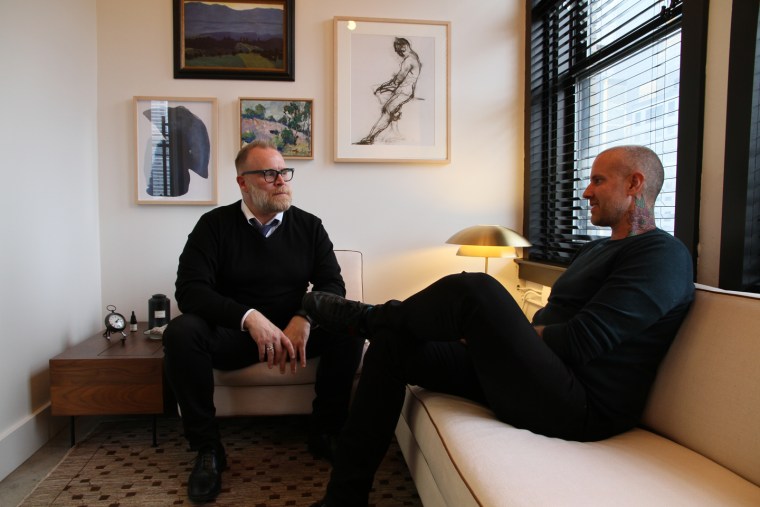 A former fashion stylist who suffered homophobic bullying throughout high school, Arsenault started using drugs and alcohol at a young age. He said he felt no real sense of belonging in the suburbs of New Jersey where he grew up.
"It was awful," he said. "Who wants to go to school when you get picked on or people trip you in the hallway? It's like you feel like sh—t. You're not worthy of anything. No one is your friend."
The then-17-year old would escape in his car to New York City on the weekends, where he found his way into the gay club scene. Arsenault said it was there that he started making friends for the first time.
"I was able to be myself there," he said. But it's also where the bullied teen was introduced to alcohol and party drugs like ecstasy.
"I basically used alcohol as a social lubricant in order to feel comfortable with myself and my sexuality," Arsenault recalled.
"It feels like I'm making a difference, and I have purpose now ... It's something I never felt I really had before I got sober."
Arsenault's alcohol and drug use continued into his 20s when he moved to New York City to work in high-end fashion after college. For the first time, he had his own apartment and a close-knit circle of gay friends. But he still felt an overwhelming need to be accepted. He started using crystal meth, which he described as a very "sexual" drug.
"I was a little overweight at the time, and it was a way for me to feel confident with my body, and be able to have sex with other guys without being self-conscious of what my body was like," he explained.
In 2001, he was diagnosed hepatitis C and HIV. The diagnoses seemed like a death sentence to Arsenault, then in his mid-20s.
"That's when the using really took off, because of all the shame and resentment. I didn't think I'd live until now," the 41-year-old said.
By his late 30s, Arsenault had lost a lot of his bodyweight. It was becoming difficult for him to hold a steady job. He blacked out regularly from drinking and grew increasingly isolated. After a close friend died from an AIDS-related illnesses, a devastated Arsenault went on a two-week binge where he did nothing but drink and take drugs.
"I woke up on my bed one morning, and I was done," he said. On the recommendation of a friend, he enrolled at Mountainside Treatment Center. Surrounded by nature in the New England countryside, Arsenault began to receive therapy for the first time. He got sober and was determined to stay that way.
"Recovery became the biggest thing in my life," he said.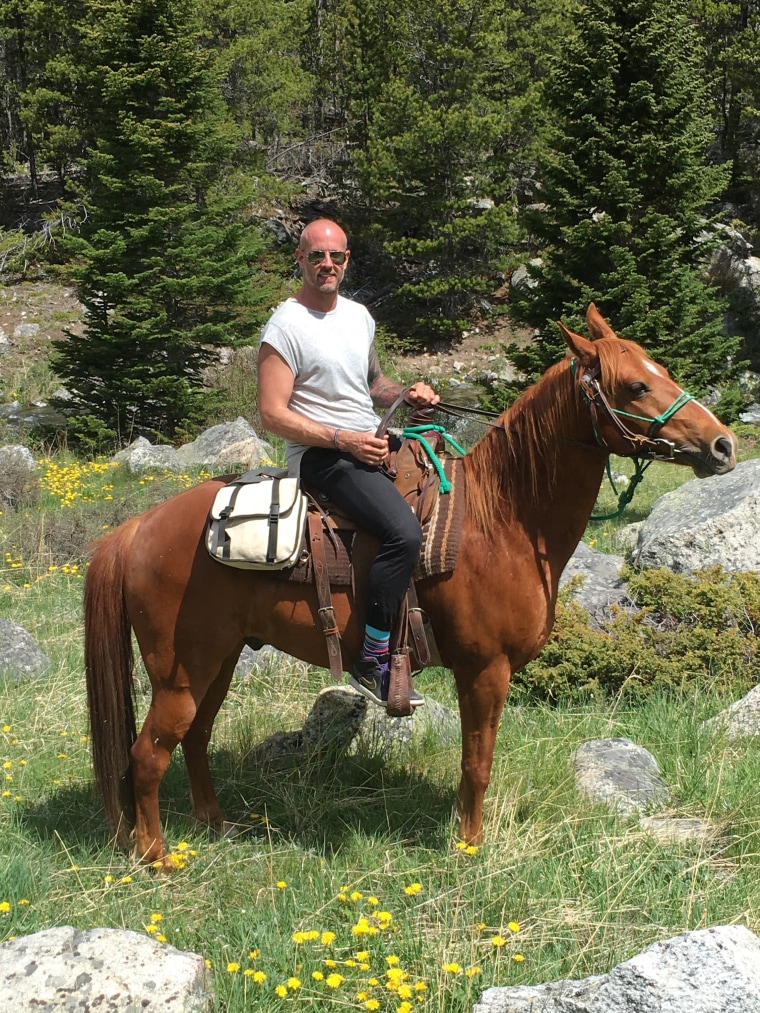 The recovery coach said it's important for LGBTQ people to find a community outside of bars and clubs. He said they can connect with their local LGBTQ centers, which have social activities that don't involve alcohol. He said joining non-LGBTQ organizations can also provide a sense of community.
"I really encourage my clients that I work with to get involved in the community and not just LGBTQ-specific [organizations], because I think that's also a little bit isolating," he said.
After joining Mountainside, the sobriety coach launched a number of programs and events to help the center's LGBTQ clients feel at home, including LGBTQ sensitivity training for staff. He said getting sober and helping others do the same have given him a sense of belonging for the first time.
"It feels like I'm making a difference, and I have purpose now," Arsenault said. "It's something I never felt I really had before I got sober."
OutFront is a weekly NBC Out series profiling LGBTQ people who are making a positive difference in the community.