Eleven cities across the U.S. scored a zero — out of 100 — on the sixth annual Municipal Equality Index (MEI), which evaluates municipalities based on the level of LGBTQ inclusion found in their municipal laws, policies and services.
The Human Rights Campaign Foundation, the educational arm of the nation's largest LGBTQ civil rights organization, and the Equality Federation Institute assessed 506 cities and towns for the MEI, including all 50 state capitals and the country's 200 largest cities, based on 44 different criteria. The criteria included citywide nondiscrimination protections, policies for municipal employees, city services and city leadership's relationship with the LGBTQ community.
The average MEI score was a 57, with 68 municipalities scoring a perfect 100 and 11 coming in at zero. Those 11 cities are Sitka and Wasilla, Alaska; Monroe, Louisiana; Southaven, Mississippi; Jefferson City, Missouri; Moore and Stillwater, Oklahoma; Clemson, South Carolina; Mitchell and Pierre, South Dakota; and Sheridan, Wyoming.
Clemson, Monroe, Sheridan and Southaven all scored zero on last year's MEI, too. Jefferson City, Mitchell, Moore, Pierre and Stillwater all scored 12 on last year's MEI, but their scores have since decreased, because they failed to report 2014 hate crime statistics to the FBI.
Xavier Persad, legislative counsel at the Human Rights Campaign and author of this year's MEI, told NBC News there is a general trend among the cities that received the lowest possible score.
"The 11 cities that scored zero points on this year's MEI all come from states that have no LGBTQ-inclusive statewide nondiscrimination protections," Persad explained. "These cities also do not have local ordinances that safeguard LGBTQ residents and visitors from discrimination in the workplace, in housing and in public spaces."
Persad said he hopes this data will help inform LGBTQ individuals and advocacy groups, policy makers and business owners.
"The MEI serves as a tool for residents to know what protections exist in their city and as a tool for pro-equality advocates to identity what specific work remains to achieve full inclusivity," he explained. "It also serves as a key tool for business leaders who are looking for welcoming cities to relocate or expand their businesses."
Troy Stevenson, executive director of LGBTQ advocacy group Freedom Oklahoma, has in fact used the MEI to keep track of issues in Oklahoma and to aid the group's advocacy work.
"There is definitely a lack of protections at the moment," Stevenson said. "But I've noticed an uptick in cities wanting to do better on this index in particular and taking these issue seriously."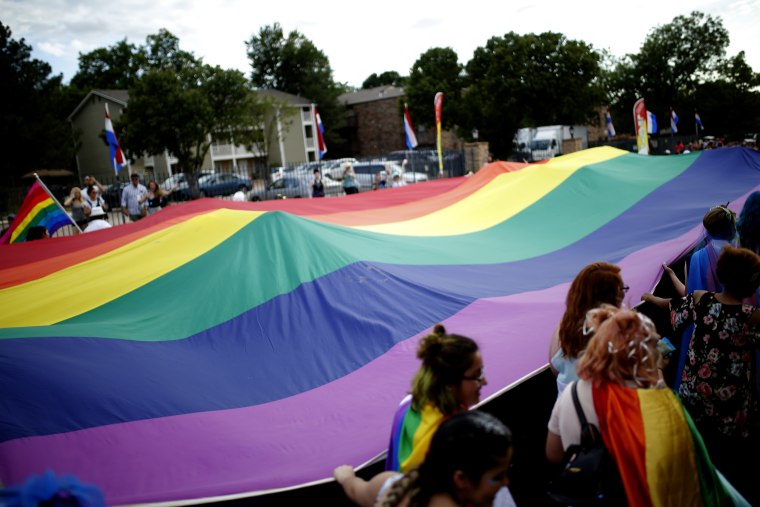 Stevenson added that Freedom Oklahoma is working with the municipal governments of Tulsa, Oklahoma City, Norman and other cities throughout the state to educate them about how to improve their LGBTQ inclusivity and, as a result, their MEI scores.
"Freedom Oklahoma will be working diligently to ensure not just scores in Stillwater and Moore, but across all municipalities, increase," Stevenson said.
Despite the 11 cities that that scored a zero on their LGBTQ inclusivity evaluation, Persad still believes this year's MEI featured increasingly positive results that document cities' efforts to improve their laws and policies. For example, a record 68 municipalities scored a perfect 100 this year — up from 60 in 2016, 47 in 2015 and 11 in 2012, the first year of the MEI.
"The MEI shows that municipalities from every corner of the country — no matter their size or political leaning — continue to strive to realize the fundamental American value that no one should live with the fear of being fired, evicted or excluded from public places simply because of who they are or who they love."