There may soon be another option for an Alzheimer's drug capable of slowing the progression of the devastating disease.
An experimental Alzheimer's drug from drugmaker Eli Lilly helped slow cognitive decline in patients in the early stages of the illness, according to the results of a late-stage clinical trial. Side effects of the drug, called donanemab, however, were serious in some cases, and included brain swelling and brain bleeds.
Lilly representatives presented the results at the Alzheimer's Association International Conference in Amsterdam on Monday. The research was published simultaneously in the Journal of the American Medical Association.
The results come on the heels of the Food and Drug Administration's approval of another Alzheimer's drug, Leqembi, from Japanese drugmaker Eisai and Massachusetts-based drugmaker Biogen. Leqembi is the first fully approved drug that aims to slow the progression of the disease.
Both drugs are monoclonal antibodies that work by targeting amyloid in the brain, considered a hallmark of Alzheimer's disease. (Another drug, Biogen's Aduhelm, works in a similar way, but has fallen out of favor after a congressional investigation found serious flaws with its approval process.) 
The thinking goes that by targeting amyloid, disease progression could be slowed. 
"This is something we have hypothesized as a field for a long time but Lilly has now demonstrated this in a robust fashion," said Donna Wilcock, director of the Center for Neurodegenerative Disorders at the Indiana University School of Medicine. "I am very impressed by the results." 
About 6.7 million adults ages 65 and older in the U.S. have Alzheimer's disease, according to the Alzheimer's Association.
The success of donanemab and Leqembi are yet another pivot on the long road of Alzheimer's research. Last year, leading scientists thought it was time to shift the direction of research, after several amyloid-targeting drugs had failed.
In Lilly's phase 3 clinical trial of 1,736 patients with mild cognitive impairment or early-stage disease, donanemab slowed the progression of Alzheimer's by 29% after 18 months compared to a placebo. The results were similar to what was seen with Leqembi, which led to 27% decline over the same time period, though experts note that the results are not directly comparable because both drugs weren't studied together in a single clinical trial.
Patients in the trial received donanemab or a placebo once a month, intravenously.
Decline was measured using the clinical dementia rating scale, which focuses on how well patients performed in six categories: memory, orientation, judgment and problem solving, community affairs, home and hobbies, and personal care.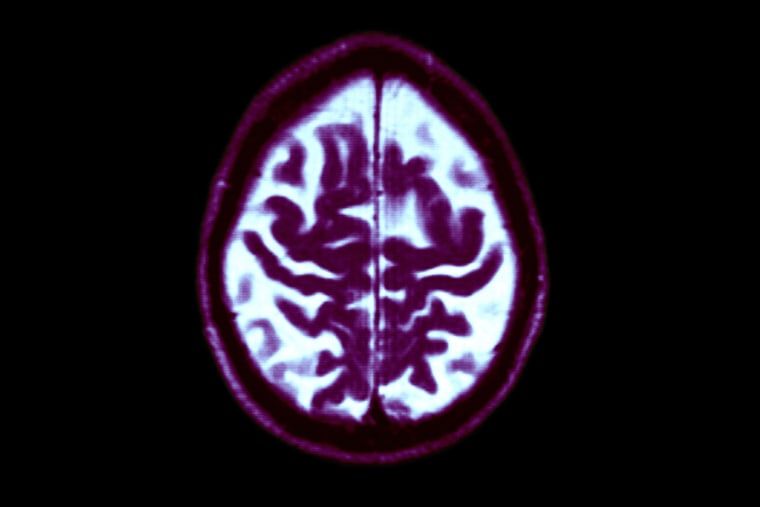 Patients in the placebo group scored, on average, 2.42 on the scale after 18 months. Those who got donanemab scored, on average, 1.72, a 0.7 difference or about a 29% slower rate of decline. 
"While this is not a cure, we're not done evaluating whether this could have even greater efficacy as you go earlier in the disease to the point where people have amyloid and no symptoms," Dr. Mark Mintun, Lilly's vice president of pain and neurodegeneration research and development, said during a presentation at the conference. Earlier Monday, however, a study published in the New England Journal of Medicine reported that a different amyloid-targeting monoclonal antibody called solanezumab failed to slow the progression of the disease in patients with preclinical Alzheimer's disease.
When Lilly excluded a subset of patients with higher levels of a protein called tau in the brain — which is more difficult to treat —  the drug performed even better, slowing progression by 36% to 48%. In practical terms, those patients had an additional seven and half months before they reached the same level of cognitive decline as people on a placebo, according to Lilly.
Lilly's drug "doesn't stop the disease, it doesn't make people better, but it delays the progression of the disease," said Dr. Ronald Petersen, a neurologist at the Mayo Clinic in Rochester, Minnesota.  "I think that's clinically meaningful to patients." 
Almost half of the patients who got donanemab did not show signs of cognitive decline in the first year.
The benefits of the treatment appeared to continue over the course of the trial, Mintun said, even though many patients had stopped taking the medication about 6 months to a year after the amyloid in their brains had disappeared.
Petersen, who has consulted for Lilly in the past but was not involved with donanemab, said that's important because people may be able to temporarily stop taking the medication once the amyloid is gone, saving them money and reducing the risk of side effects.
What are the side effects of donanemab?
While Lilly's results and Leqembi's recent approval are a source of hope for patients and their families, the potential of these amyloid-targeting drugs is hampered by concerns about their potentially life-threatening side effects, which include brain swelling and brain bleeding.
In what came as a surprise to Eisai, the excitement over Leqembi's approval earlier this month was tempered by the FDA's decision to include its strongest safety warning label on the drug, called a boxed warning, which noted that these side effects could lead to seizures and death.
Lilly said it has filed for approval in the U.S. and hopes to hear from the FDA by the end of the year. If approved, Petersen said, it would make sense for the agency to include a similar boxed warning, since the rates of the side effects of donanemab are "as high or greater" than those of Leqembi. 
In Lilly's trial, about 37% of patients who got donanemab developed either brain swelling or brain bleeding, and about 6% experienced symptoms from the condition. Three patients died as a result.
The risk of side effects, coupled with what is expected to be a high price tag, may give many families pause about getting the drug for a loved one.
Because Alzheimer's is such a devastating disease, however, there are patients and families who are going to want the drug, despite the side effects, said Arthur Caplan, the head of the Division of Medical Ethics at NYU Langone Medical Center in New York City.
"There are going to be people who say, 'My loved one is doomed, and if they have a brain bleed, so be it,'" he said. 
Allan Fisher, a 68-year-old resident of Parkland, Florida, enrolled in the trial in March 2022, about nine months after being diagnosed with early-stage Alzheimer's disease. 
He got monthly infusions of donanemab, which continued until about a month ago when he completed the trial. (A spokesperson for Lilly confirmed Fisher was getting the drug, not the placebo.) He also got a PET scan and an MRI every six months to monitor for side effects and to see if the amyloid was disappearing. Aside from experiencing slight discomfort from the infusions, he said he did not encounter any side effects.
"I feel great," he said. 
While he is no longer on the medication, Fisher said he believes the medication allowed him to be able to spend more time with his grandson. 
His wife, Louise, said they are hoping he will be able to start the medication again in November, when a separate trial is set to start.
Follow NBC HEALTH on Twitter & Facebook.