Science may have been one of the biggest winners in Tuesday's elections. At least seven new members of Congress have science, engineering, math, technology or medical backgrounds and at least six kept their seats.
The Trump administration's skepticism about climate change, proposed changes to health care and attacks on abortion rights and environmental protections started angering many scientists from the beginning — anger that brought thousands to the streets in 2017 for the March for Science across the country.
But others decided to run for office, and a new crop will take their seats in January. Among them are Joe Cunningham, who used his background in ocean engineering to campaign against offshore drilling. Cunningham, a Democrat, beat ardent Trump supporter Katie Arrington and will represent South Carolina's coastal 1st District.
"We are pretty proud of these candidates," said Shaughnessy Naughton, a former drug researcher who founded 314 Action, a political action committee that trains and supports STEM candidates for office.
"Right now there are more talk radio show hosts in Congress than there are chemists and physicists," Naughton told NBC News.
She's hoping new senators and representatives can bring a bit more science into the political process, which she feels has been dominated too long by ideology that is not always based in fact.
Naughton is not sure how much they can accomplish. "As long as we have a president who denies the reality of climate change, it's hard to see how we'll get anything signed," she said.
Among the new winners:
Elaine Luria, an engineer and career naval officer who will represent Virginia's military-heavy Hampton Roads district as a Democrat
Chrissy Houlahan, who has a bachelor's degree in industrial engineering from Stanford and a master's degree in technology policy from the Massachusetts Institute of Technology (MIT) and who will represent Pennsylvania as a Democrat.
Lauren Underwood, a registered nurse nurse and former Health and Human Services Department adviser under the Obama administration who will represent Illinois as a Democrat.
Pediatrician Kim Schrier of Washington state, whose passion is healthcare and who herself has type 1 diabetes.
Sean Casten, an energy industry executive with an interest in renewable energy, who unseated climate change skeptic Peter Roskam in Illinois.
Jacky Rosen, a computer programmer and software developer who has been a member of the House for Nevada and who just unseated Republican Dean Heller to become Nevada's junior senator.
Jeff Van Drew, a dentist and New Jersey state senator who now heads to the House.
Three veteran physicians held their seats in the House – Republicans Michael Burgess of Texas and Andy Harris of Maryland and Democrat Ami Bera of California. Physician Joe Barrasso of Wyoming held his Senate seat.
Bill Foster, an Illinois Democrat and trained physicist, won re-election, as did pharmacist Buddy Carter of Georgia and John Moolenaar, a Michigan Republican with a chemistry background. Jerry McNerney, a mathematician and renewable energy specialist, held his California seat.
And the first registered nurse ever elected to Congress, Eddie Bernice Johnson of Texas, was re-elected and is poised to take over as chair of the House Committee on Science, Space and Technology. She'll replace fellow Texan Lamar Smith, a Republican who is retiring and who was detested by many critics for his efforts to limit research on the causes of climate change and for harassing government scientists.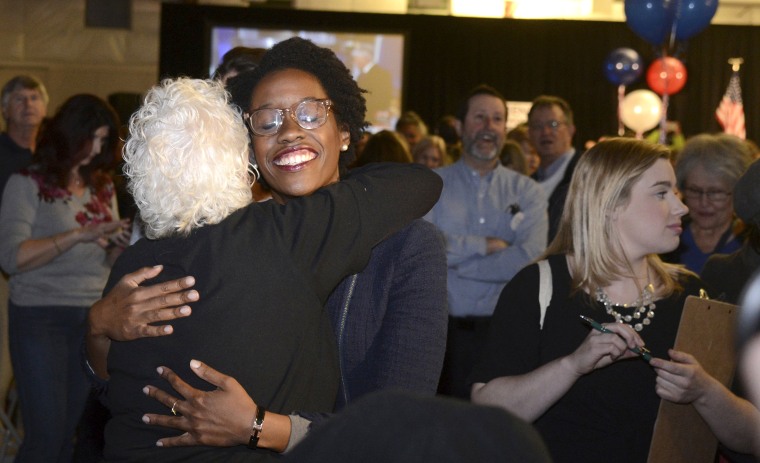 "We also had at least 31 state and local candidates win," said 314 Action's Ted Bordelon.
Not every STEM candidate won. Health care entrepreneur Phil Bredesen lost to veteran Congresswoman Marsha Blackburn in Tennessee's Senate race. Aerospace engineer Joseph Kopser lost to Chip Roy in Texas, who has denounced what he calls "hysteria" over climate change. And biochemist Randy Wadkins lost to Republican incumbent Trent Kelly in Mississippi.