Former President Donald Trump starts out with more than a 20-point lead over nearest rival Ron DeSantis among likely Iowa Republican caucusgoers, according to the first 2024 NBC News/Des Moines Register/Mediacom poll conducted by Iowa pollster J. Ann Selzer.
Trump's early advantage in the first nominating contest — which proved to be one of his toughest states the last time he faced a competitive race for the GOP nomination — is the largest Republican caucus lead recorded by the poll since the 2000 contest won by George W. Bush.
Trump is fueled by his standing among self-identified Republicans and evangelical Christians, as well as by the two-thirds of likely caucusgoers who don't believe he has committed serious crimes as he faces charges in multiple indictments.
In fact, the poll, which was conducted as Trump was hit with his most recent indictment in Fulton County, Georgia, finds that the former president's lead over DeSantis increased in the days immediately after the charges were filed.
"I think he [Trump] delivered on all of his promises. I think he's a problem solver. And I think that's what he did ... and I think he did a great job of it," said Iowa Republican Bob Siddens, 70, a poll respondent who is supporting Trump.
Yet the survey also shows that sizable numbers of likely Iowa Republican caucusgoers are strongly considering DeSantis and Sen. Tim Scott of South Carolina, suggesting a potential opening for those candidates and possibly others.
And a majority of likely caucusgoers say their minds aren't made up with five months to go until the Jan. 15 Iowa contest, although the bulk of Trump's supporters say they're firmly behind the former president.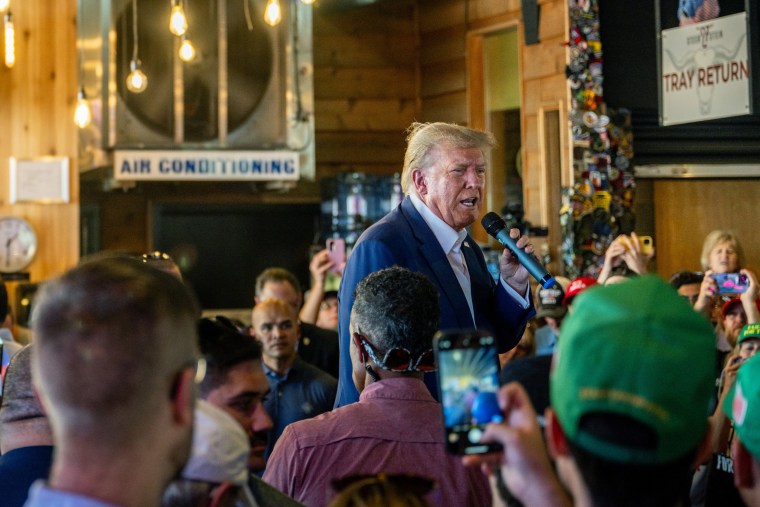 "I've been doing this for a long time," said Selzer, who has been conducting this Iowa survey over the last three decades. "We have had candidates who started low and ended up winning."
"Anyone can come to Iowa and win," she added. "Anybody."
The NBC News/Des Moines Register/Mediacom poll of Iowa was conducted Aug. 13-17 — after dozens of high-profile candidate visits to the Hawkeye State, amid Trump's fourth indictment in the past four-plus months and ahead of the Wednesday's first debate between the Republican presidential hopefuls.
Trump, however, will not attend the debate, according to two sources familiar with his thinking.
In the poll, 42% of likely Republican caucusgoers say Trump is their first choice out of 14 GOP presidential candidates, while 19% pick DeSantis, the governor of Florida.
They're followed by Scott, at 9%; former United Nations Ambassador Nikki Haley and former Vice President Mike Pence, both at 6%; former New Jersey Gov. Chris Christie at 5%; and entrepreneur Vivek Ramaswamy at 4%.
No other candidate gets more than 2% first-choice support.
Trump leads DeSantis among self-identified Republican caucusgoers (51% to 20%), among first-time caucugsoers (47% to 18%) and among evangelical Christians (47% to 20%).
But the two men are essentially tied among likely Republican caucusgoers who identify as independents (with Trump at 21% and DeSantis at 19%).
DeSantis is the top second-choice candidate in the poll, with 20% of likely Iowa caucusgoers choosing him as their No. 2 pick, followed by Scott (the second choice of 15%) and Ramaswamy (who was the second choice of 12%).
Additional portions of GOP caucusgoers say they're actively considering Scott (29%), Haley (29%) and DeSantis (22%). 
"I think he's done a great job as a governor of Florida," said John Grissom, 56, another respondent who is backing DeSantis as his first choice. "He's been right on a bunch of issues. He's stood up where he needs to stand up. And he's a very reasonable candidate. I mean, he's got a great track record."
Dennis McLaughlin, 54, whose first choice is Scott and second pick is DeSantis, added, "I'm looking for somebody who's reliably conservative, has a track record of it — and isn't certifiably insane."
Majority of caucusgoers say their minds aren't made up
Importantly, a majority of Republican caucusgoers in Iowa — 52% — say their minds aren't made up, and they could be persuaded to support another candidate.
That compares with 40% who say their minds are made up.
"The caucus is designed for people to keep an open mind," said Selzer, the Iowa pollster.
But Trump's challengers have a problem: The former president's backers are more hardened in their support for him. 
Two-thirds of caucusgoers who support Trump as their first-choice candidate say their minds are made up, versus just one-third who say the same of their support for DeSantis. 
Most caucusgoers don't believe Trump has committed serious crimes
The NBC News/Des Moines Register/Mediacom poll of Iowa also finds that 65% of likely Republican caucusgoers don't think Trump has committed serious crimes, as he faces multiple investigations alleging illegal efforts to overturn the 2020 election results or his mishandling of classified information.
Trump has pleaded not guilty to those charges.
By contrast, 26% believe he has committed serious crimes, while an additional 9% say they don't know.
"I think well over 90% of it — if not 100% of it — is all politically motivated," said Howard Andrews, 72, a poll respondent whose first choice is DeSantis and second choice is Scott.
In fact, the poll shows that Trump's lead over DeSantis grew after his most recent indictment in Fulton County, which took place the evening of Aug. 14.
According to the survey's interviews from Aug. 13-14, Trump's advantage over DeSantis was 18 points, 38% to 20%. 
But his edge increased to 25 points in the interviews conducted after the indictment, 43% to 18%.
Other key findings
Fully 65% of likely Republican caucusgoers say a presidential candidate who comes closest to them on the issues is more important to them, versus 29% who say they prize more the candidate with the best chance of beating President Joe Biden in November 2024.
Trump's favorability rating among likely GOP caucusgoers is 65% favorable, 33% unfavorable — higher than his rating when he first ran for president during the 2016 election cycle, according to poll.
DeSantis (66% favorable, 29% unfavorable), Scott (59% favorable, 17% unfavorable) and Haley (53% favorable, 26% unfavorable) also enjoy high net ratings.
Pence (42% favorable, 53% unfavorable) and Christie (28% favorable, 60% unfavorable) have two of the lowest scores.
And the most popular figure in the poll is Republican Gov. Kim Reynolds (81% favorable, 18% unfavorable).
The NBC News/Des Moines Register/Mediacom poll was conducted Aug. 13-17 of 406 likely Republican caucusgoers, who said that they will definitely or probably attend the 2024 caucuses. It has an overall margin of error of plus or minus 4.9 percentage points.