Two men were stabbed outside a London gay bar Sunday night in what police are investigating as a "homophobic attack."
The victims, one in his 20s and the other in his 30s, were treated at a local hospital and have since been released, according to a statement by London's Metropolitan Police released Monday. Police did not name the victims nor disclose their sexual orientations.
Authorities are still trying to locate the suspect, who ran away after the incident, police added.
"We are acutely aware of the shock this attack will cause members of the LGBT+ community and I want to reassure people that an urgent investigation is ongoing to locate the person responsible," Detective Inspector Gary Castle said in the statement. 
The incident occurred outside The Two Brewers, a South London gay bar that has been open for over 40 years, according to the bar's website. In a statement on their Instagram account, the bar said it was "assisting the police as they carry out their investigation regarding the unprovoked attack that took place at our venue."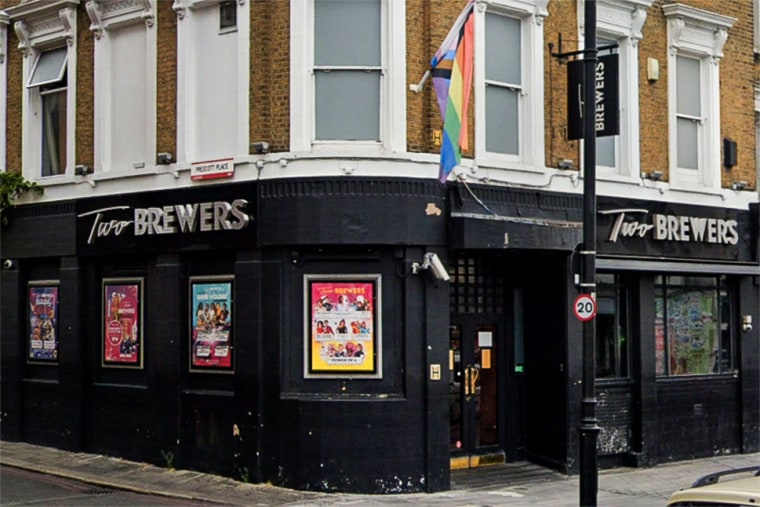 In a series of tweets shared Monday, London Mayor Sadiq Khan called the attack a "horrific hate crime" and said his "thoughts are with the victims and with the LGBTQ+ community." 
"For those who stoke up hate and vilify LGBTQ+ people for your own agenda, you're part of the problem too. Your culture war has real-life consequences," the mayor wrote in his thread on X, formerly Twitter. "Let me be clear: I will never quieten down my allyship. I'll never stop fighting for the safety, rights and dignity of the LGBTQ+ community. I am committed to stamping out hate crime in our city."
The London stabbing comes amid a surge in reported hate crimes against LGBTQ Britons in recent years. From 2017 to 2022, hate crimes based on sexual orientation rose in England and Wales by 41%, according to data released by the British government last year. Hate crimes against transgender Britons rose by 56% during the same time period, the data showed. 
The British LGBTQ advocacy group Stonewall — the largest LGBTQ advocacy group in the U.K. — condemned the stabbing and called on the British government to address the rise in hate crimes. 
 "It is unacceptable for LGBTQ+ people to live in fear," the group wrote on X.
"Despite these alarming statistics and a string of violent, and in some unfortunate cases deadly, attacks, the UK Government has sat idle and there has been no hate crime strategy in place in England for over three years," the group added.
Leading British LGBTQ activist Peter Thatchell also rebuked the Sunday night stabbing.
"This is why we still need Pride & why the battle for LGBT+ rights is not over," Thatchell tweeted Monday. "LGBTs everywhere are vulnerable to potential violent attack."
The attack took place just weeks after the fatal stabbing of a 28-year-old gay man in New York City that made headlines in the United States. 
O'Shae Sibley, a professional dancer and choreographer, was stabbed to death July 29 after dancing to music by Beyoncé at a Brooklyn gas station. A 17-year-old male has been arrested in connection with Sibley's death and charged with murder as a hate crime. 
Sibley's death sparked national outrage among LGBTQ advocates in the U.S. and prompted several celebrities, including Beyoncé, Whoopi Goldberg and Ellen DeGeneres, to speak out about the crime.