Fans gathered for a glimpse of K-pop group BTS — some having waited for hours and some for days — at Rockefeller Center Friday. For a large portion of a segment with "Today," they interacted with the crowd, sending overwhelmingly positivity vibes the group is now known for. But BTS is hardly representative of some kind of strictly filtered fantasy life. Fans also appreciate the raw honesty they offer in their message and music.
The band fully embraces the highs and lows of the last seven years in their newest album, "Map of the Soul: 7," which came out Friday. It balances the elements of music and dance that define the K-pop genre while also exploring the pressures of fame. In this latest album, BTS has build upon its exploration of mental health and relationships — topics that are foundational for the group's bond with its fans, the self-described BTS Army.
That connection was clear Friday, as the seven-member group highlighted their fanbase's energy and support. When asked about why maintaining their upbeat messaging was so critical, the group said that it was a direct response to the fans.
"It's all because of ARMYs that have always given us the positive energy and batteries," Kim Nam-Joon, or RM, told "Today."
BTS' newly released album is about accepting both "shadows and light" in their past and future, the group said Friday. With songs like "Black Swan" and "00:00 (Zero O'Clock)" that center around anxiety and finding happiness despite inexplicable feelings of sadness, it's clear that BTS is sticking to its messaging about being true to yourself.
"The most important thing is, you know, that music truly transcends language and nationalities, right," RM told "Today."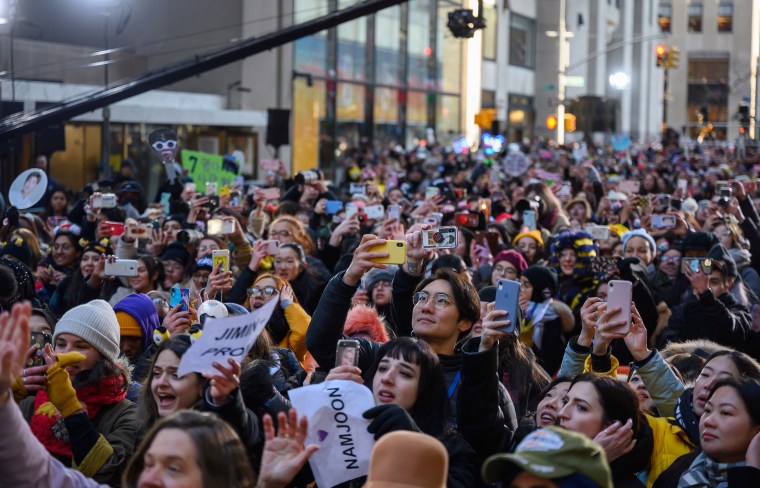 The BTS Army took over Twitter early Friday morning after the album dropped and had the album's songs and lyrics trending prior to the band's interview. One particularly trending topic came as fans repeatedly tweeted a line from "We are Bulletproof: the Eternal," a song off the new album dedicated to the BTS Army.
"We were only seven, but now we have you," the English translation of the song said. "After seven winters and springs."
Yaji Torres, 24, has been a fan of the group since 2017 and said she never pictured herself waiting in the cold just to see a band speak. But Torres told NBC Asian America that the group's social conscious messaging has connected her to BTS in a way she didn't have with another artist, even as teenager.
"I definitely think that's what's made them stand out from other groups in the industry, is that they're kind of able to break the mold with what kind of topics they want to delve into with their music," Torres said. "That's what attracted them to me when I first started listening to them a couple of years ago."
K-pop singers are conventionally referred to as idols because they were always expected to display fantasized images to their audiences, according to Stephanie Choi, a Ph.D candidate in ethnomusicology at University of California, Santa Barbara. But BTS is part of a new generation of K-pop where idols are more open to express their own anxieties and concerns.
"BTS has opened a comfortable space for its fans to talk about mental health which is often deemed as a negative topic in public," Choi told NBC Asian America. "The fact that BTS is beloved on a global scale means the youth around the globe today face similar issues."
The group managed to find commercial success in the U.S. after they were named Billboard's Top Social Artist in 2017. It was that jaw-dropping performance at the 2017 American Music Awards later that turned them into a household name as they were booked onto talk shows such as "Jimmy Kimmel Live!" and "The Ellen Show."
But last year, in the middle of a groundbreaking world tour, the group made an unusual move by announcing they would be taking their first vacation since their debut in 2013. K-pop idols rarely take breaks for anything other than injury, Choi said.
"The idol market in Korea is so saturated that taking a break directly results in a loss of fandom," Choi said. "But I believe it was a wise decision for BTS to take a rest."
Although BTS has built a brand on social conscious messaging and promotion of mental health issues, the K-pop industry is often criticized for its high pressure stakes and toxic conditions.
The suicide deaths of two K-pop stars in late 2019 highlighted some of the darker sides of the industry. Record labels in South Korea take would-be stars, call them trainees, and put them through rigorous coaching until they're deemed ready to become full-blown idols. But the constant churn of idols has put tremendous pressure on the singers who can often feel replaceable.
BTS' broader audience has afforded them the ability to take small breaks without the fear of being replaced the same way many idols in Korea feel, Choi said.
"I hope this could also become a new convention for the K-pop industry," Choi said.
Katie Mohlmann, 17, started following BTS since they appeared at the Billboard Music Awards in 2017. Mohlman said that she wants the band to have the support from their label to take breaks and to know that fans will still be there for them.
"They're always focusing on self-care, so it's like they're doing the same thing with themselves," Mohlmann said at Rockefeller Plaza. "And they know that it's what we want for them too."
Sunah Syed, 23, who has been a part of the BTS Army since 2014, said the group's vacation was incredibly well deserved. Music and mental health have always gone hand in hand for Syed, which is what helped her feel connected to BTS in the first place.
"They're willing to practice what they preach," Syed said. "That they're willing to take care of themselves just as they're telling everybody to take care of themselves. Whether it's mental health or it's taking a break, being with their families."