EL SEGUNDO, Calif. — In corners of the fifth floor of an office building, boxes full of plush Hello Kitties in an array of outfits, squishy plastic renderings of a cartoon egg yolk, vinyl toiletry bags and other assorted baubles sit waiting for judgment about whether they live up to the Sanrio motto: "Small gift, big smile."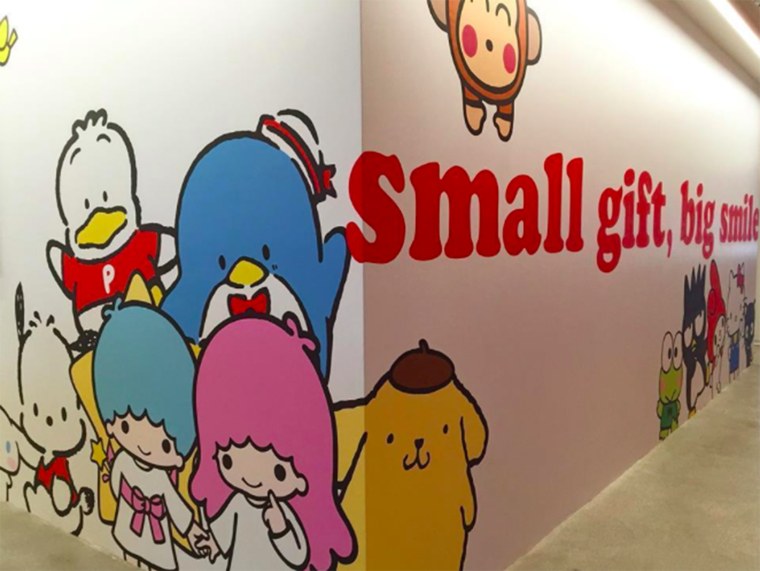 It's a philosophy memorialized on the mural greeting visitors when they exit the elevator to the sprawling 29,000-square-foot North American headquarters of Sanrio Inc., where every Sanrio-licensed product sold in the U.S. and Canada is designed, marketed and reviewed for quality.
The tradition of "gift-giving" has its roots in the Japanese hospitality tradition, "omotenashi," roughly translated as the idea of serving a guest and anticipating her needs, according to Sanrio chief operating officer Craig Takiguchi.
"You ask anyone who goes to Japan, the two things they will recognize, it's always, 'Wow, the service elements are amazing' and 'When I get something, it's packaged so delicately,'" he said.
For Sanrio in North America, it all started with a coin purse featuring the red-bowed cat and the words "Hello," that went on sale in 1975. Over the decades, Hello Kitty — and some 400 other characters in the Sanrio catalog, according to Takiguchi — have been emblazoned on almost every product imaginable, from guitars and lunchboxes to wines and toilet seat covers.
But the brand has seen a downturn in revenue in recent years. Parent company Sanrio Co., Ltd., reported annual sales of about 62 billion Japanese yen in fiscal year 2017 (approximately $567 million as of May 2018), down 13 percent from the year before. Takiguchi attributes this to the changing nature of retail: In 2017, more than 215 million Americans shopped online, a number projected to grow to 230 million by 2021 and making the U.S. one of the biggest markets for e-commerce, according to market research company eMarketer.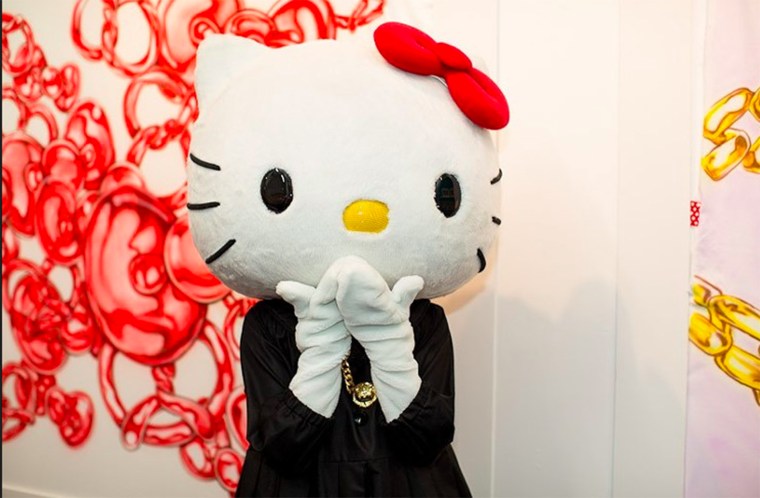 So in recent years, Sanrio has branched out beyond products and into launching pop-up businesses and other experiential opportunities, many of them tied to food — and primed for sharing on social media, Takiguchi said.
In 2014, the brand launched a Hello Kitty Cafe Truck at Hello Kitty Con in Los Angeles to celebrate its 40th anniversary; the truck, which sells desserts and merchandise, and has now been in other U.S. cities.
The following year, the Hello Kitty Cafe Pop-Up Container was set up at the Irvine Spectrum, an outdoor mall in Southern California. What was supposed to be a one-year residency to cover up renovations is now a permanent fixture. A similar, albeit temporary, café launched this month in San Diego.
Being in the food space is not new for the almost 60-year-old company: The first Sanrio food product it ever sold was Hello Kitty gum in the 1970s. But immersive food and social media-driven experiences, according to Takiguchi, are now a part of Sanrio's larger strategy to connect with millennial and younger "Gen-Z" customers who may not grow up discovering their favorite characters inside a brick-and-mortar store.
"A lot of it is through what we find out our fans are interested in through social media. Food subjects are the number one interest on Instagram for our customers," Takiguchi said. On the photo-driven social media platform, the character account for Hello Kitty alone has almost one million followers.
The brand has partnered with restaurants like Curry House, which debuted a menu featuring a character, and even local, family-run farms like Orange County-based Tanaka Farms, with whom Sanrio collaborated with last fall for a yearlong partnership.
The new retail landscape has also influenced how Sanrio introduces new characters from its universe, leading with content instead of coin purses. Two of its newest additions: Gudetama, an apathetic egg yolk and Sanrio's first gender-neutral character, made its debut via a short film in 2014, after a public vote for new characters based on popular Japanese foods. The character was introduced to the U.S. market in 2015.
The genderless cartoon food has its image on a range of office supplies (toilet paper, pencil toppers) as a testimony to its aversion to work. It also, somewhat ironically, adorns the cushions and tables of a communal area at the Sanrio offices.
Aggretsuko, a disgruntled red panda office worker who loves heavy metal karaoke, was first introduced to audiences in 2016 through a series of minute-long videos that aired on a Tokyo Broadcasting System Saturday morning program. In April, Netflix debuted an animated Aggretsuko series that touched on issues of workplace sexism, harassment and antipathy to positive reviews.
To coincide with the series, a pop-up store called the "Den of Rage" was set up in the Little Tokyo district of Los Angeles, complete with a replica of Aggrestuko's office cubicle and karaoke stage.
A digital-first strategy is both new and challenging for Sanrio, said Takiguchi, as are its new characters.
"The interesting debate is, 'Does this fit in this family-friendly representation of what Sanrio is?'" he said, adding that the success of both characters caught the team off-guard. "It's completely off-model for us because we don't really lead things with content. But that's what the new generation is looking for."
He added that Gudetama's gender non-binarism and Aggretsuko's animosity toward corporate culture speak appeal to attitudinal norms associated with millennials and younger fans.
According to Takiguchi, retail sales are still the company's bread and butter, hence its focus on "gift-giving." But, increasingly, social media-driven experiences, food and programming that immerse fans in the Sanrio universe are what's going to turn them into paying retail customers.
In North America alone, he estimates that food-related ventures currently make up 10 to 15 percent of Sanrio's revenue and anticipates that revenue stream to increase over the next five years.
With Sanrio marking its 45th anniversary in the U.S. in 2019 and with the Olympic Games coming to Tokyo in 2020, Takiguchi says fans can expect more products — but also more social media-ready experiences.
"Big picture-wise, we're really trying to understand our customers and the new ones coming in," said Takiguchi. "We want to do it in a uniquely Sanrio way."
Follow NBC Asian America on Facebook, Twitter, Instagram, and Tumblr.