Qatar played a central role in securing the surprise release Friday of an American mother and daughter held hostage by Hamas. Now that Judith Raanan and her daughter, Natalie, are free, the hope is that the release of more captives by Hamas "could lead to wider dialogue or mediation," aimed at averting a full-scale war, a diplomat with knowledge of the talks told NBC News on Saturday.
There were "ups and downs" during the discussions, said the diplomat, who spoke on the condition of anonymity because they were not authorized to talk publicly. Ultimately the American mother and daughter walked free because negotiators were able to convince Hamas that the unconditional release of two hostages could serve as a confidence building measure.
After the release of the two women, President Joe Biden thanked "the government of Qatar and the government of Israel for their partnership in this work," in a statement.
Mamoun Fandy, the president of the London Global Strategy Institute, a think tank based in the British capital, said the successful hostage negotiation with Hamas allowed Qatar to show it is "the hub of diplomacy in this crisis."
Follow live coverage from NBC News here.
The freeing of the two Americans is the latest in a series of diplomatic initiatives by the small, oil-rich Persian Gulf state. Qatar recently helped negotiate a prisoner exchange between the US and Iran, as well the release of four Ukrainian children from Russia.
It also hosted peace talks with the Taliban before the American withdrawal from Afghanistan in 2021. But Qatar's history of sheltering Hamas' political leaders could complicate its effort to present itself to Israel as a mediator.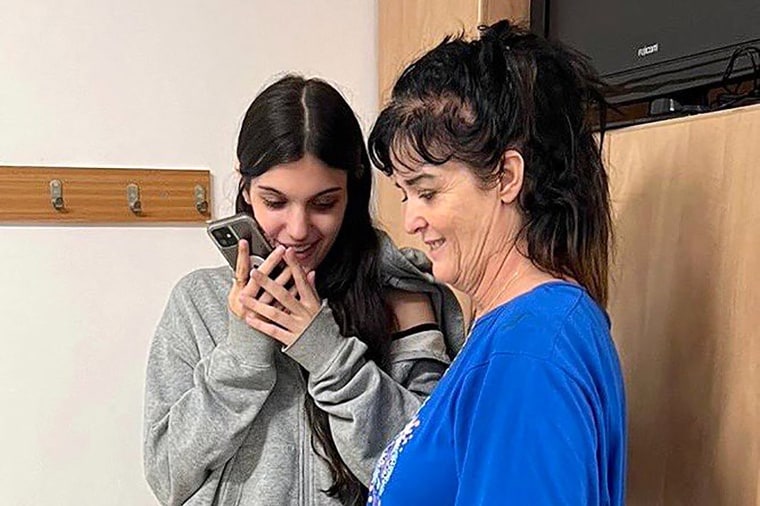 Judith and Natalie Raanan had been staying on a kibbutz called Nahal Oz, in southern Israel, before they were captured by Hamas in its massive terrorist attack on Oct. 7. After 13 days in captivity, the pair were greeted at the Gaza border on Friday by Israeli Brig. Gen. Gal Hirsch and taken to a military base where they were reunited with relatives. 
There are now hopes that if more hostages are freed, it could clear a path to wider talks about getting humanitarian aid into Gaza.
The diplomat said that Qatar has been urging Hamas to free its hostages. "The Israelis have been clear they are not willing to talk until all the hostages are released. So it may be better for Hamas to release them faster because that may lead to wider dialogue or mediation." 
But Eldad Shavit, a senior researcher at the Institute for National Security Studies in Tel Aviv, cautioned that the release of the two hostages was "probably a manipulation" by Hamas.  
"My assumption is that Hamas is conducting a military operation and also a political campaign," said Shavit, who has served senior roles in Israeli defense intelligence and the prime minister's office. He added that he thought Hamas was hoping to put pressure on both the international community and Israel "not to proceed with plans, military plans."
Whether that will be possible is doubtful, according to Michael Horowitz, the head of intelligence at Le Beck International, a security and risk management consultancy. Many Israelis, given the killing of more than 1,000 civilians by Hamas in the Oct. 7 terrorist attacks, will argue that a full-scale ground invasion that ends with the complete destruction of Hamas is the only acceptable outcome.
While Qatar was "proving to be a key ally of the U.S. and fending off criticism related to their decision to keep hosting senior Hamas leaders," Horowitz said the images and testimonies of the attack were too fresh in the memories of Israelis.
"The best shot everyone has to lower the flames is to push for two parallel tracks, namely the release of hostages on one hand, and on the other the entry of much-needed humanitarian aid in Gaza," Horowitz said. "This is a sensible strategy, though I would say the chances of avoiding some form of Israeli incursion are still low."