At the Kamala Harris campaign, Juan Rodriguez is steering operations as campaign manager. Chuck Rocha weighs in on a variety of issues as a senior adviser for Bernie Sanders. At Julián Castro's campaign, Natalie Montelongo is the national political director, while in Joe Biden's camp, Laura Jimenez oversees Latinx outreach and is one of five Latino senior staff members.
With some 32 million Latinos eligible to vote in 2020, there's an increased Latino presence in the campaign staffs of Democratic presidential hopefuls, not only in jobs focused on Latino media and voters but in some senior staffing positions.
It's a start, according to those who say past campaigns missed the mark on grasping the diversity and breadth of the Hispanic electorate and the experience and perspective that Latino staffers can offer.
"It's what so many of us have been striving for in this space for so long, to not be seen as just the brown people who do things with brown people," said Rocha, who took a break from his political consulting firm to work on the Sanders campaign.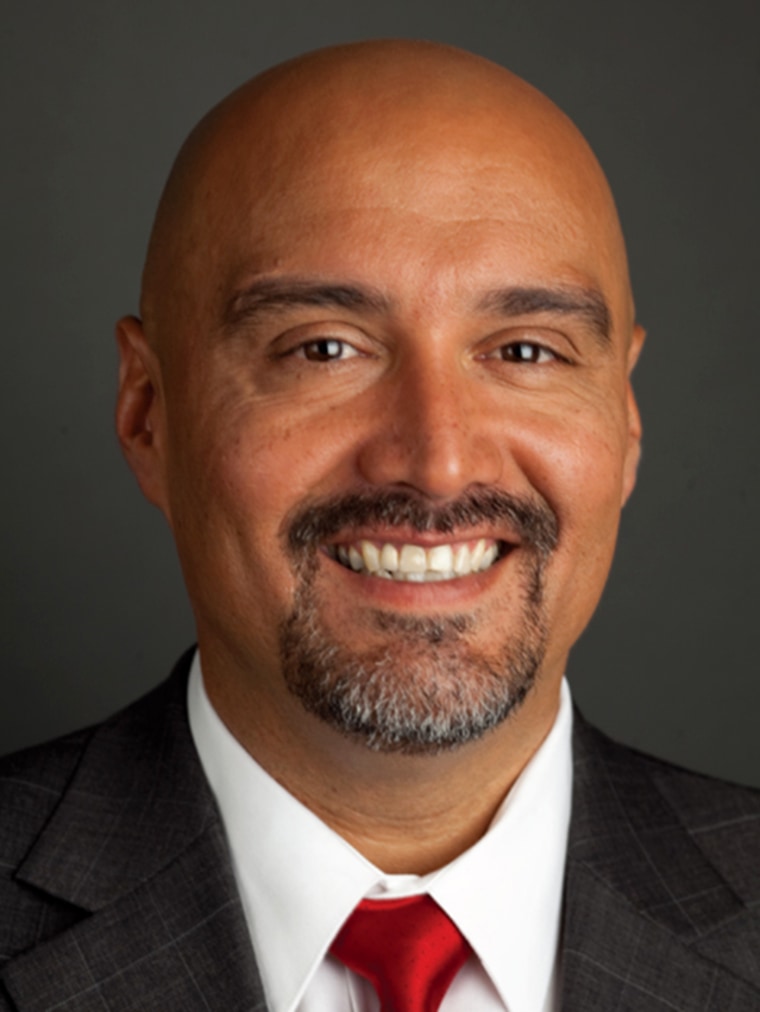 Amanda Rentería, the first Latina to serve as a chief of staff in the U.S. Senate and Hillary Clinton's national political director in her 2016 campaign, said campaigns are doing "absolutely better" in hiring Latinos in this cycle.
The numbers show that the Democratic Party's investment in training and efforts to get diverse voices in the arena are beginning to pay off, she said.
Another factor is the large number of candidates running, including several women and two African Americans. With so many campaigns recognizing the need to hire Latinos, campaigns have had to reach to the state level to hire staff, Rentería said.
Rodriguez was Harris' campaign manager for her Senate race in California. Cynthia Cano, who was Beto O'Rourke's road manager, now holds the title of senior adviser in his presidential campaign, said Claudia Tristán, director of Latinx messaging.
Montelongo, who headed up Nevada and Colorado operations for Clinton in 2016, is Castro's national political director.
"We are not even in the general election yet, and candidates are boasting about their Latino staff, which is a good sign," said Gabriela Domenzain, former deputy campaign manager for Martin O'Malley's 2016 presidential campaign and national director of Hispanic press for Barack Obama's 2012 re-election campaign.
"Usually, Latinos are hired in the last four months of the campaign, just to do the get-out-the-vote," Domenzain said.
Montelongo said Latinos in senior roles with the ability to hire are helping to diversify staff. "It's a trickle-down effect," she said.
Montelongo credits Emmy Ruiz, a senior adviser for Harris, with putting diverse staffers in bigger roles during the 2016 Clinton campaign. Ruiz served as Obama's Nevada state director in the 2012 general election and Clinton's Nevada and Colorado state director in 2016.
Montelongo had been an organizer in Nevada and quit her job to work on the Clinton campaign. By election time, she was Ruiz's political director, she said.
Expanding Latino outreach
The diversity can bring unique — and effective — approaches to campaigns' Latino outreach efforts. Montelongo and Vanessa Valdivia, communications director and deputy press secretary for Spanish language media on Sen. Cory Booker's campaign, harnessed their understanding of the role Latina mothers, wives and others play in influencing their families and communities.
In an office in Las Vegas, Montelongo and Valdivia started "Mujeres in Politics," a Latina-to-Latina tool to build support for Clinton in 2016 and turn out more Hispanic female voters. (Mujeres is the Spanish word for women.) In 2018, 43 percent of Hispanic women voted compared to 37 percent of Hispanic men, according to the Census Bureau.
The tool worked so well, the Clinton campaign used it nationally, and this year, the Democratic National Committee has adopted the model for its Latino outreach, dubbing it Mujeres Mobilize.
For this election cycle, Valdivia said, Latino outreach has included education campaigns in states like Nevada to explain caucuses, a process that has been historically more difficult than primaries for minorities, young people and non-English speakers, she said.
Belen Sisa, Latino press secretary for the Sanders campaign, said the campaign has more than 70 Latinos on staff at every level of the campaign, including some who have DACA status, the Obama-era program that allows young immigrants without legal status to remain in the country without fear of deportation.
Elizabeth Warren recently named Jonathan Jayes-Green, a DACA recipient and one of the co-founders of the UndocuBlack Network, as the campaign's Latinx outreach director.
The O'Rourke campaign said about 15 percent of its staff are Latino. Marisol Samayoa, deputy press secretary for Mayor Pete Buttigieg of South Bend, Indiana, said nearly 50 staffers "identify as Latinx."
Registered Latino voters polled after the September Democratic debate in Houston for Univision showed 21 percent planned to vote for Sanders at the time and 19 percent for Biden. Warren followed with 15 percent, Castro 13 percent and O'Rourke 11 percent. The rest were in single digits.
Among people polled in Spanish, Sanders and Castro did best, at 28 percent and 24 percent respectively. That sample was less than 100 people.
Keeping the pressure on
The differences in preferences of Spanish dominant and English dominant Latino voters haven't always received focused attention in campaigns.
Rosa Mendoza, head of analytics for Harris and a native of Venezuela, said some campaigns have or have had Latinos as their "tokenized Hispanic Spanish speaker," whose role is to review work after it was done.
But one-size-fit-all messages aimed at Hispanic voters miss the mark for a number of reasons, among them the marked cultural, regional, socio-economic and political differences among the nation's Latino voters.
Having initial input from bilingual and bicultural staffers from different Hispanic backgrounds and parts of the U.S. is key to a campaign's advertising, outreach and strategy when it comes to Latino voters.
At the Biden campaign, "it's been inspiring and touching to see so many Latinos be in a position of influence," said Jimenez, who emigrated from the Dominican Republic and worked in Florida for Clinton in 2016 as well as for Democrat Andrew Gillum's bid for governor.
But Latinos' increased visibility at the campaign level, say veteran strategists, is still a work in progress.
Mayra Macias, Latino Victory Fund executive director, said as campaigns add Latinos, they must equip them with the resources to succeed, as well as ensure Latinos are at the decision-making table or managing other employees and budgets. Latino Victory Fund progressive political action committee focused on increasing Latino representation in politcs and government.
Larry Gonzalez, a principal with the Raben Group lobbying firm in Washington, said his firm keeps tabs on Latino staffers and others working on campaigns, and he's also part of an ad hoc group of Latino lobbyists who press to boost the number of Hispanics on congressional staffs.
Early in his political career, Gonzalez was campaign manager for an Illinois state legislator, but he said that was a rare role for a Latino.
And while he said it is good to see more Latinos fashioning strategy and making crucial decisions for presidential candidates, Gonzalez said campaigns can do better at putting more Latinos in higher profile positions, such as campaign director or national treasurer.
"Often Latinos were only called into the room when they (campaigns) wanted to talk about how to reach Latinos," he said. "When we are part of that full conversation, not only the Latino stuff, that's when Latinos will be fully integrated into the campaign infrastructure."
Follow NBC Latino on Facebook, Twitter and Instagram.