LAS VEGAS -- Hillary Clinton told a group of Dreamers Sunday that without a new justice appointed to the Supreme Court to replace the late Justice Antonin Scalia, a court decision blocking deportation relief for millions of immigrants would stay in place.
"That was a bad decision. I disagreed with it. I don't think it was the right legal interpretation. I believe President Obama had the right to do what he did," Clinton said.
The two Democratic presidential candidates, Clinton and Bernie Sanders, have so-called Dreamers on their campaign staff. Many of the Dreamers arrived or stayed in the country without legal permission and have grown up here.
Clinton and Sanders are in Nevada this Valentine's Day weekend competing for support from Latino voters with just a few days to go before the state's Democratic caucus on Saturday.
Clinton said the 2016 election "just got more important" because of the death of Justice Antonin Scalia and explained to those gathered that his death could mean tied decisions on many cases, including one regarding whether President Barack Obama had the authority to create programs shielding millions of immigrants here without legal status from deportation.
After her introductory remarks, the press was asked to leave so Clinton could have a private discussion with the Dreamers and their families.
Many young Latinos who are Dreamers or children of immigrants have become involved in the campaigns, either as staff or as volunteers, pushing the immigration issue to the forefront.
After the press had left, Clinton wrapped up her remarks and asked for questions, which none of the attendees had at first. But then three young children sitting in the circle of people who met with her raised their hands.
One of them was Karla Ortiz, 10, of Las Vegas who came with her parents, who are not legally here. She told NBC News she had brought up to Clinton that her parents had deportation orders.
"I'm scared because I have asthma and my dad has gout and my mom has diabetes and it's more scary for me that my parents are gonna go somewhere else," said Ortiz. "I'm scared they are going to be suffering over there and it's going to be more hard for me," she said.
She said Clinton told her "she would put her best effort into it and she'd try everything she would."
"She hugged me, she gave me a big hug and I looked at her eyes and for me, I would believe in her and she would believe in me," Ortiz said.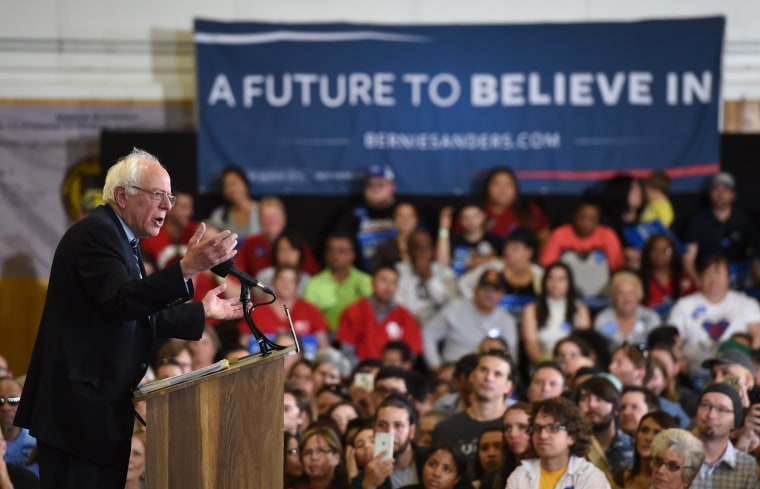 Hours before Clinton's meeting with Dreamers, Sanders held a rally at Bonanza High School in East Las Vegas. A line of supporters stretched outside the school and a site for tickets crashed a few times while people tried to get tickets.
Sanders' campaign also has Dreamers on staff. Cesar Vargas, who was a leader of a Dreamer advocacy group, said the campaign has plugged into a network of Dreamers to come to Nevada Thursday to canvass for Sanders.
Fourteen-year-old Oscar Herrera was in the line waiting to see Sanders. He said his parents were undocumented.
"Hearing a lot of candidates' plans (to grant legal status to immigrants), it would take so long," he told NBC News. He didn't feel that was the same with Sanders.
Hoping to go to college, Herrera said he likes Sanders' view on education. "He's just making sure Americans are getting a better education," he said.