MIAMI, Fla. -- Five young tech entrepreneurs from Cuba gathered in Miami for a discussion on emerging technology on the island, and they all have one thing in common – their desire to move the country forward.
The entrepreneurs told a packed audience at the Dec. 7 event sponsored by #CubaNow and TechWeek that the number one obstacle they have to circumvent on a daily basis is the lack of internet.
Cuba is one of the least connected and internet accessible countries. Though the government says about a quarter of Cubans have regular internet access, organizations like Freedom House estimate it can be as low as 5 percent. In July the government opened 35 Wi-Fi hotspots across the island, but apart from the fact it works sporadically, the $2 an hour rate is an exorbitant amount for people earning the monthly state salary of $20.
RELATED: Cuban Internet Usage: Public Wi-Fi Spots Are a Big Draw
Creating a tech platform without direct internet access is quite daunting. But as with everything else, Cuban tech entrepreneurs have become masters of invention and DIY tactics in order to get by.
Perhaps one of the most well-known tech platforms in Cuba is El Paquete Semanal or "The Weekly Package." It has garnered attention from the press in recent months because of the original and simplistic way in which it enables huge numbers of Cubans without internet access to get information.
RELATED: Digital 'Entrepreneur' Helps Quench Thirst for U.S. Pop Culture
The Paquete consists of one terabyte of digital material that includes the latest Hollywood movies, TV series, music, and magazines, among others. Each week, the selected content is compiled and delivered through a network of hundreds of distributers who take a hard drive to the door of the subscriber and copy the information to their computer.
Elio Hector Lopez, who was one of the creators of the Paquete, told NBC News "at the beginning we saw this as a way to make money - but after having penetrated the entire country we see it more as a responsibility."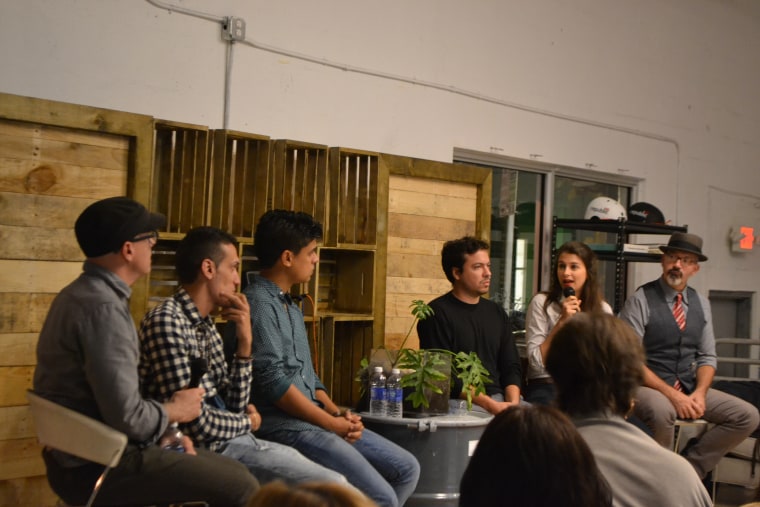 For one tech entrepreneur at the event, reaching users in Cuba became difficult after the classified website he co-founded, Revolico, was censored by the government. Afraid officials would uncover he was the creator and wanting to pursue a tech career, Hiram Centelles left for Cordoba, Spain, where he now lives.
Despite continued censorship, Centelles says Revolico has around 9 million monthly users including some in Cuba and others outside the island. He says those in Cuba use alternative methods such as proxies to log onto the site. Since all his work focuses on his home country, he's considering spending more time in Cuba, explaining "you can have more of an impact inside the island."
Along with Ubaldo Huerta, who also lives in Spain and was at the event, Centelles created a bill-paying platform called Fonoma, which allows Cuban cell phone accounts as well as the cards used to access Cuba's new public WiFi hotspots to be paid from anywhere in the world. He cited the lack of marketing in Cuba as a major obstacle. Centelles said "Although I left, I feel I have contributed to improving the country."
Yodainer Gutierrez, co-founded an app called AlaMesa,("tothetable") which serves as a directory for paladares or privately owned restaurants in Cuba. Gutierrez, who also works as a freelance web designer for companies around the world, says it's important to find solutions to problems with what they have - because that's the job of an entrepreneur.
Marta Deus created a cooperative that helps those who are self-employed to develop business plans, market their services, and deal with all the regulations and licenses required by the government. After spending 13 years in Spain where she received an MBA, she decided to move back to Cuba precisely to work with the burgeoning private sector. "Young people are always thinking about leaving but I think Cuba has a future," Deus said.
The event was moderated by Ted Henken, a professor at Baruch College and author of "Entrepreneurial Cuba: The Changing Policy Landscape." It took place at The Lab Miami, one of the city's first co-working spaces dedicated to encouraging entrepreneurial innovation.
Ric Herrero is executive director of #CubaNow, a U.S.-based organization that fosters increased communication and connections with the Cuban people. Herrero echoed the same optimistic feeling the entreneurs shared about Cuba's future.
"I think the future of technology in Cuba is very promising," said Herrero. "As we expand the flow of telecommunications [and] access to telecommunications and all sorts of digital tools, you're going to see incredibly innovative and wonderful things."