AUSTIN, Texas — Eleven months after the Trump administration separated him and his father, Byron Xol is with a family that had challenged a federal rule that kept him in custody despite having willing sponsors.
Byron, 8, was released from an immigrant shelter and is now living with Holly and Matthew Sewell and their two children in Buda, a bedroom community of Austin, Texas.
"We laughed and cried," Holly told NBC News on Monday. "We were just so relieved that he would finally be released."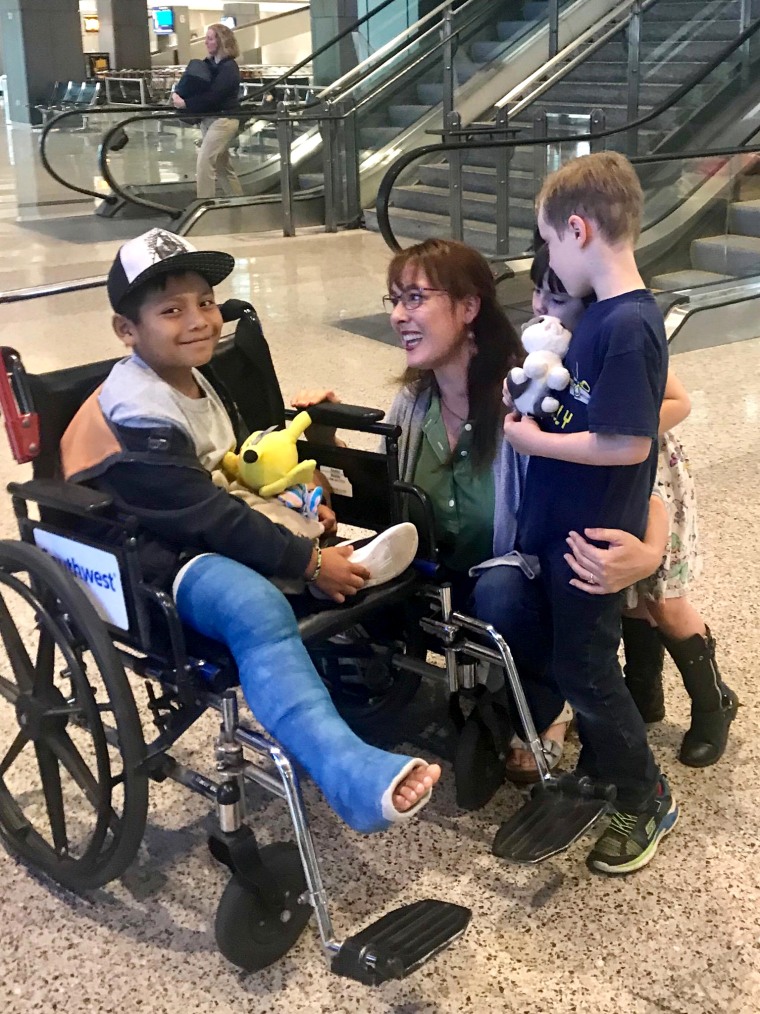 Byron was separated from his father, David Xol Cholom, in May 2018 when the two came to U.S. border at McAllen, Texas from Guatemala, as part of the Trump administration's zero tolerance immigration policy. His father was deported to Guatemala, despite requesting asylum, leaving Byron in the United States without any relatives or known sponsors.
Through a friend, the Sewells learned of Byron and began trying to act as a sponsor for him so he would not have to remain in federal custody.
But the Sewells were rejected by the Office of Refugee Resettlement, (ORR) the agency that has been taking custody of the separated children. Its policy requires that children be released to parents or legal guardians, immediate relatives or other adults who must be family friends or who had a relationship with the family before the child came to the United States.
The Sewells had kept in touch with Byron's parents through video chat, phone calls and apps and had their permission to foster Byron. They refused to give up and turned to a lawyer who filed a challenge on their behalf. A judge initially refused, but over the weekend the Sewells got news of Byron's release.
"We didn't take no for an answer. We just kept fighting and here we are — it worked," Holly told NBC News.
Byron's attorney could not be immediately reached for comment. The Office of Refugee Resettlement did not immediately respond to questions submitted by email.
Holly said Byron was last detained in Raymondville, Texas, near the Mexican border. He still is wearing a cast on his leg after breaking it in the shelter. Holly said he was initially treated for a hurt ankle and knee. Six days later he had a cast. Because he's still healing, Byron is using a wheelchair and crutches to move around, she said.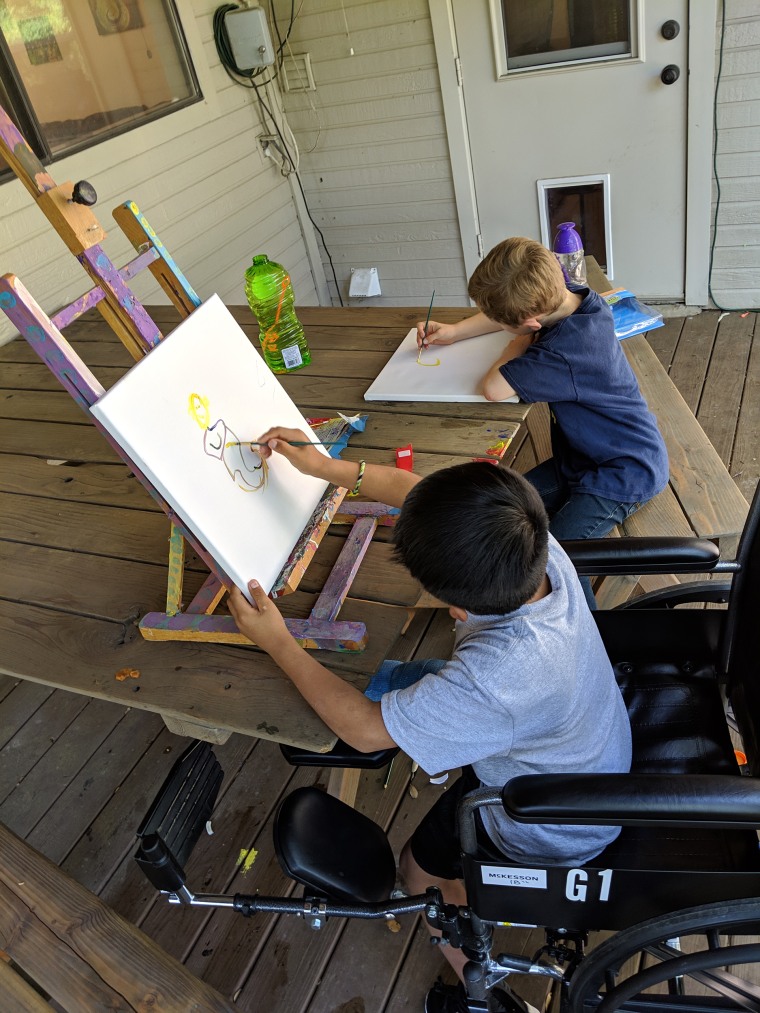 Holly Sewell said she was a stay-at-home mom, and Matthew Sewell is a software engineer. According to a court document they previously acted as guardians to a child, now an adult, of a deceased friend.
The Sewells have two other children, Winifred, 5, and Desmond, 6, at home, who she said have been "amazing" about the additional child in their home.
"I'm so proud of them," she said.
Holly said she and her husband realize they are taking on more expenses, but said: "We are privileged enough. We can do this."
Byron's father, an evangelical Christian, requested asylum for both of them. According to a court document, the father was attacked and tortured and Byron's life was threatened by gang members in 2017 because Xol preached to his co-workers about his religious beliefs and against leading a life of crime.
Authorities rejected Xol's asylum requests, separated father and son and soon after deported Xol.
"My husband and I thought this could be us at any second, and what would we want if separated" from our children? Holly said. "We want them to go to a good home and be safe and have contact with their parents."
Byron, originally from Alta Veracruz, Guatemala, speaks K'iche'. Sewell said he had to learn some Spanish while he was in federal custody in order to communicate. He was in four different facilities while he was in custody.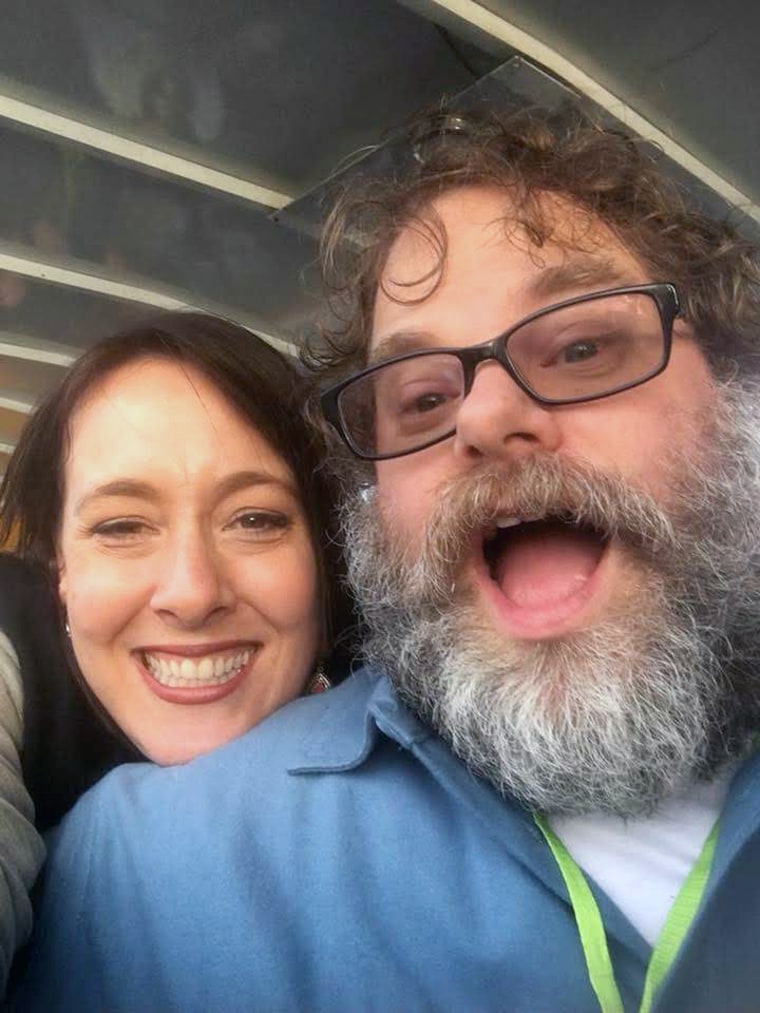 Sewell said she's using Duolingo and Babbel to learn more Spanish and her husband speaks Spanish, too. She also uses Google Translate so she and Byron can communicate. Byron's father sometimes will send texts through a web-based app, which she then translates through Google Translate, she said.
Sewell also has been trying to get Byron trauma counseling and will soon take him to choose some clothes.
"He's doing all the things an 8-year-old kid would do. He's a little sassy, pushing boundaries, cracking jokes, playing games, laughing easily and doing things you would hope an 8-year-old would do," she said.
She said she knows that there could be difficulties ahead and that there are a lot of "what ifs" by fostering a child separated from his parents. But she said there have been many advantages for her family from Byron being a part of their life.
"That lesson is, you see somebody who needs help, you help them," she said. "If you have that capability, use that capability to help them."
FOLLOW NBC LATINO ON FACEBOOK, TWITTER AND INSTAGRAM.