Esther J. Cepeda is one of the country's most prominent Latina columnists, part of a very small group that is nationally syndicated. Recently, in one of her columns, the award-winning journalist and married mother of two came out as a member of the LGBTQ community — specifically, as queer. She now identifies as queer/nonbinary/gender-nonconforming.
In a frank, wide-ranging interview with NBC News, Cepeda shared her thoughts around her momentous public announcement and what brought her to this moment.
Cepeda, a member of the Washington Post Writers Group — her byline appears twice weekly in newspapers across the country and internationally — wrote a column urging Americans to consider the mental health toll of coming out, especially for LGBTQ youth who experience high suicide rates, and to support efforts to help these youth.
She then wrote, "Over the past few months I've sought help for my own anxiety and depression, and to work through the challenges of being a married, middle-aged mom of two who has been coming out to my family, friends and co-workers as queer."
"It has not gone well," she added, citing her visit to a therapist that didn't go well, saying that if it was hard for her, it's a lot harder for younger, more vulnerable teens.
The response from readers, Cepeda says, has been mostly positive.
"I've gotten a lot of beautiful emails and notes from people I absolutely don't know, and from people I've known for years, and everything in between," she said. "I have gotten some people asking why they should care, but those are scattered, and pale in comparison to the amount of support."
Taking stock, coming out
Cepeda's coming out journey began at the beginning of this year, when she took stock of her life.
"I thought, I'm going to turn 45 this year, who am I? Where do I want to go, who do I want to be? It brought me to this idea that I need to explore those parts of myself that I had buried and put on the back burner for at least the 23 years of being with my husband," she said. "With my children grown, it seemed like a safe time to explore."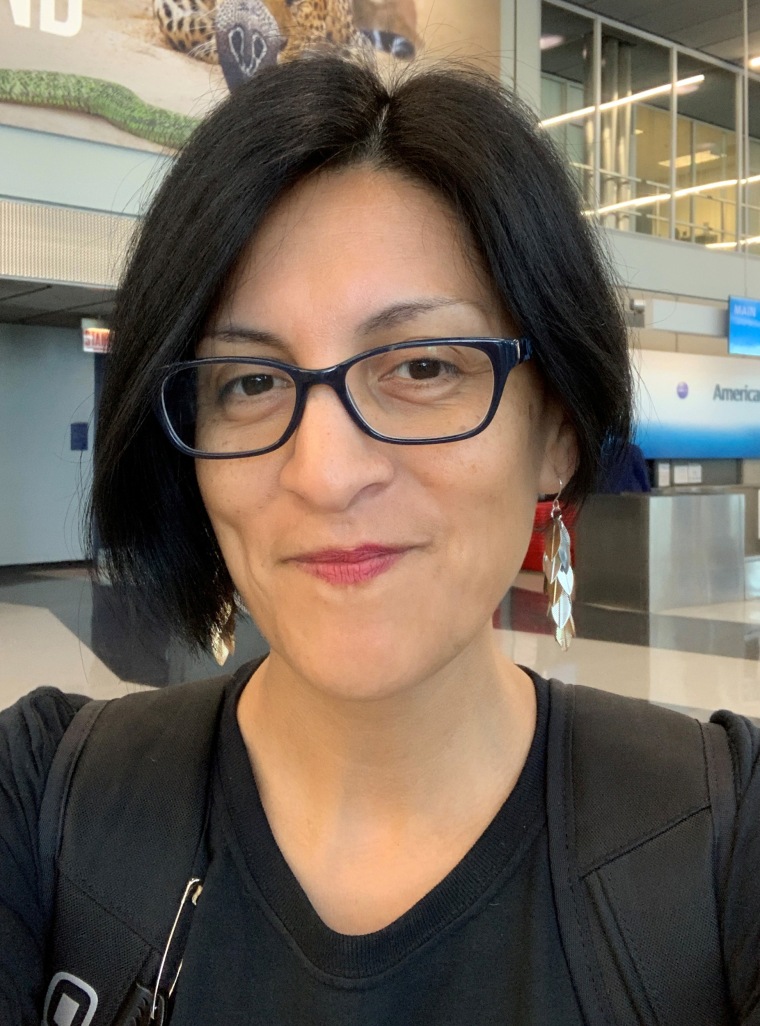 The Chicago native does not see her coming out as changing her journalism. She's been covering LGBTQ issues since 2007, she said, and having more of a connection to those topics will enable her to write about them better.
Cepeda is currently in a relationship with a transgender woman. "I've found someone who I care for. My husband gave me the latitude to do that; I am not leaving my husband. I am not sure what the future holds. I am just trying to figure this out, and I have his support."
Although June is Pride Month, Cepeda did not time her personal revelation to that celebration. She wanted to write about the struggles that young LGBTQ people experience in accessing mental health care.
In their 2019 national survey of LGBTQ youth mental health, for example, The Trevor Project found that 39 percent of LGBTQ youth considered suicide in the past 12 months, and that 71 percent reported feeling sad or hopeless for at least two weeks in the past year.
Statistics like these convinced Cepeda that there would be value in sharing her own battle with depression and anxiety.
"People have told me that my coming out is brave and courageous, but I am so privileged; I have a family and parents who love me, income, I have a support system in place. If you can, though, imagine what it is like for a young person struggling with their sexuality or gender identity — it is much worse for them. I want people to understand that those needs are there, and that they are important."
Cepeda's coming out is significant because she is an influential voice in the Latino community. Her columns appear in major outlets, online, and in small-town newspapers. While her editors have been supportive of her coming out, she worries about critics questioning whether she deserves such a national platform.
According to a 2017 report by The Pew Center, 5.4 percent of Hispanics identify as LGBT.
Despite the legalization of same-sex marriage, coming out publicly is still a big decision, said Lucas R. Acosta, national press secretary for campaigns for the Human Rights Campaign. "In 2019, it is still a courageous act to be able to share yourself and live in the public eye authentically. It is significantly easier than it used to be, but there is still more work to do, and more opportunities to engage."
Acosta believes that when a public figure comes out, it can have a ripple effect on others, especially among young people. Yet there is no "right" time to come out, he cautions.
"It is a matter of personal decision-making, more than anything else. Whether you are in high school, college, or working, none of that matters if the individual is not ready," Acosta said. "But it is always a good thing when someone feels open enough and vulnerable enough to be able to share their full selves."
Just as it is no longer shocking when a celebrity (like Ricky Martin) comes out, the same is increasingly true for journalists. Broadcasters such as Anderson Cooper and MSNBC's Steve Kornacki have come out as gay. In 2014, New York Times columnist Charles M. Blow came out as bisexual.
Monica Trasandes, director of Spanish language and Latino media and representation for the LGBTQ advocacy organization GLAAD, said that coming out is important because it allows people to be seen as their true selves. "By coming out as queer, nonbinary, or gender-nonconforming, a person is saying this is who I am, and I want to share my truth with you. It is a way of being visible, and all of us deserve to be and to be understood by people around us as who we are, not who people think we are."
Coming out can seem especially fraught for Latinos, who are traditionally close with their families, Trasandes noted. "Sometimes, it feels overwhelming when you think you might be rejected by the people you love most."
However, she points to studies showing that Latinos — like other Americans — are becoming more accepting of same-sex marriage and LGBT rights. A 2018 PRRI analysis found that 61 percent of Hispanics supported same-sex marriage, while 69 percent support nondiscrimination protections for LGBT people.
Living a "radically truthful" life
Cepeda knows that her situation — having a partner as well as a husband — may confuse some people. For now, she and her husband are polyamorous, or "ethically nonmonogamous" as she explained it. "When I was interested in using a dating app, I got my husband's consent; when I met someone and got more serious with her, I got my husband's consent."
Coming out to her family was difficult, Cepeda said. "But I raised my sons to be open-minded, and my parents still love and support me."
For Cepeda, the most important thing is staying true to herself. "I want to live a radically truthful life. I hate lies and keeping things from people. I just want to be authentic and find a path for myself, no matter where it leads."
Cepeda said she doesn't know if any congratulations over coming out are warranted. "But I am very, very happy to have the kind of support I've had."
"I am a human being who requires some ability to find herself," Cepeda says. "I am living in a time where people can do that, and I am seeing how it goes."
FOLLOW NBC LATINO ON FACEBOOK, TWITTER AND INSTAGRAM.