In the early days of "Gentefied," co-creators Marvin Lemus and Linda Yvette Chávez sometimes worked with as few as four crew members. Now, they work alongside hundreds.
How did this scrappy digital series become the basis of a highly anticipated bilingual Netflix series produced by America Ferrera? "Gentefied," which premiered Friday on Netflix, features three Mexican-American cousins living in the predominantly Latino neighborhood of Boyle Heights in L.A., grappling with gentrification as upwardly mobile Latinos move to the neighborhood.
Lemus, who is Chicano, first conceived of the idea for "Gentefied" after moving into his first studio apartment in East Hollywood, where the neighbors practicing their quinceañera dances outside and the presence of the neighborhood paleteros — popsicle vendors — would remind him of his childhood in Bakersfield, in California's Central Valley. To him, the new neighborhood "felt like home."
But as much as Lemus felt comfortable within the working class Latino community, he wondered whether he was contributing to the area's rising rents and economic inequality — and whether he was similar to the "young, more affluent hipsters" he observed moving and opening up businesses there.
"It dawned on me that the neighborhood was changing and I was part of that change," Lemus told NBC News. "Even though I had grown up low-income in a neighborhood just like it, I had moved there with a college degree and in a different situation than the family of four living in a studio apartment next door, and it made me question whether I belonged."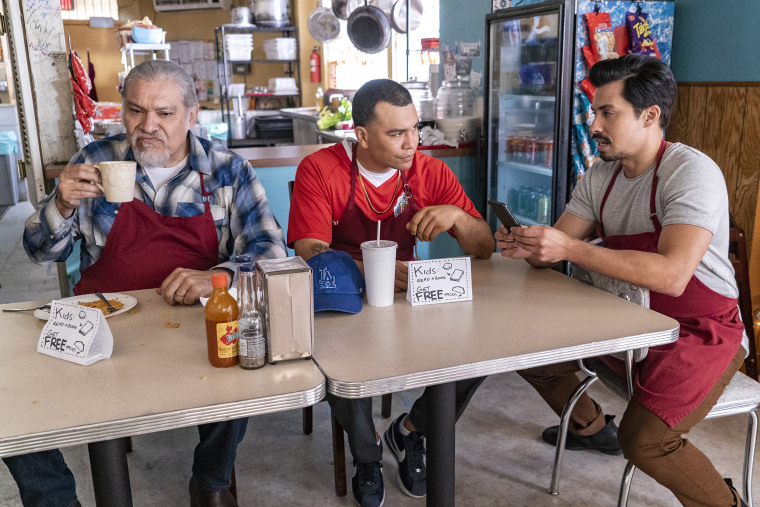 This question of belonging was not new for Lemus, who said that Mexican-Americans live in "between worlds."
"You're never Mexican enough and you're never American enough," Lemus said. "I was trying to figure that out, trying to follow my 'American' dream, but I felt I was moving more and more away from where I came from and distancing myself from my culture and I'm like, 'What is the answer here?'"
Lemus explored these questions of identity in a digital series, one that would speak to millennial Latinos, specifically first-generation Latinos like himself, who are reconciling and redefining U.S.-born Latino identity. He sought to work with a Chicana who was from the Los Angeles area and who had a background in comedy, and a contact connected him to Chávez.
"Marvin had this vision for creating something very high quality about our community, and that for me was everything I had been wanting to do for years and was fighting to do," said Chávez, who like Lemus, is first-generation. "And when he told me it was also a paid opportunity, I was like 'OK, let's do this.'"
Chávez said she and Lemus bonded over their shared identities and the fact that neither of them had felt represented on television growing up. She said that she has also wrestled with wondering how she could "pursue" her dream without leaving behind the people and culture that guided her along the way.
"How do I not become the oppressor when I've been oppressed for so long?" Chávez said. "It's a difficult thing to navigate because our parents want so much for us; they want us to live our dreams and fully actualize all the work they've put into getting us there and that's always on my mind, especially as I was working on 'Gentefied.'"
"You're never Mexican enough and you're never American enough," says one of the show's creators, tapping into his own experiences.
"Gentefied," is full of storylines about characters navigating similar issues. One of the cousins, Chris (Carlos Santos), wrestles with his clashing identities. Chris, who dreams of being a successful chef, may work at a Michelin-starred restaurant by day, but at night he's trying to devise solutions so that his family can keep their Boyle Heights taquerÍa open.
The series also stars Karrie Martin as Ana, an aspiring artist, JJ Soria as Erik, the cousin who's striving to provide for his family, and Joaquín Cosío, the abuelo who brings them all together.
"As a Latinx millennial it's a rare treat to see our lives, families and neighborhoods depicted with such humor, heart and style," Ferrera, who starred in the original digital series, said in a statement. "In 'Gentefied,' we get to peek through the lens of bold Latinx storytellers as they celebrate the lives of a Latinx community navigating self-identity, class and culture."
"All brown shows aren't the same show"
While "Gentefied" may naturally invite some comparisons to "Vida," a Starz show that is also set in Boyle Heights and focuses on gentrification, the creators say there shouldn't be one story to showcase the Latino experience.
"If there can be multiple shows about young white people in New York hanging out or multiple shows about white doctors, there can be multiple shows in Boyle Heights, and they can be different," Chavez said.
"Latinx is not a genre, and I think that's why it's confusing that there are always so many comparisons," Lemus added. "All brown shows aren't the same show; it feels a little lazy to only put the Latinx shows in one box when they're so different and varied."
"Gentefied" has even inspired a podcast titled "Brown Love," which will be hosted by Dominican-American actress Dascha Polanco and will touch upon first-generation and Afro-Latino experiences, among other topics.
"We came up with the ideas for these characters in a little coffee shop," Chávez said. "So to see the way this project has manifested has really cemented for me why it's so important to have our people behind the camera as creators, as producers making the decisions, because it's going to trickle down to every aspect of a production."
Follow NBC Latino on Facebook, Twitter and Instagram.