About three-quarters of Latinos in the United States worry that President Donald Trump's administration will use information obtained through the census against them, according to a poll released Monday.
This, despite the fact that almost 8 in 10 know the benefits of increased census participation, according to a comprehensive survey conducted by the National Latino Elected and Appointed Officials Educational Fund, (NALEO) and the polling firm Latino Decisions, which surveyed focus groups around the country.
Arturo Vargas, NALEO's CEO, challenged the federal government to directly tell Americans there won't be a citizenship question on the 2020 census. The Trump administration had tried to include a citizenship question, but it was struck down by the courts.
"None of the paid advertising by the Census says there won't be a citizenship question," said Vargas, speaking to reporters on Monday about the report.
The Census Bureau, said Vargas, cannot leave it to groups like NALEO to fix the "mess by the Trump administration." Americans need to hear from the Census Bureau that "they're an independent statistical agency collecting the information" and it will be safe and confidential, he said.
Vargas said the survey, conducted at the end of last year, found people were just as worried as when the administration first proposed a citizenship question a few years ago. The Census Bureau itself found in their initial research that a citizenship question would suppress participation.
In fact, the data released Monday found over half of U.S. citizen Latinos and about four-in-ten Latino non-citizens still thought there would be a citizenship question in their 2020 questionnaire.
Around 73 percent of undocumented immigrant Latinos who were surveyed worried that immigration enforcement agencies would use their census information against them or their families. Less than three in 10 non-citizens said they would be comfortable providing personal information such as their date of birth, for example.
Despite undercount in 2010, lagging concerns
It's been estimated that about 400,000 U.S. Latino children were not counted in the 2010 census.
The survey found a vast majority of Latinos — around 78 percent — are alarmed that their online information wouldn't be safe on the census website.
The Census is for the first time allowing Americans to fill out their surveys online. High rates of Latinos in some communities do not have broadband access and NALEO has previously raised concerns that reliance on online responses without enough workers to follow up with people who do not send in their census surveys could lead to an undercount of Latinos and others.
Census has created an app so people who access the internet through phones can complete their surveys.
For younger Latinos or those under 40, there is skepticism about the census. Over half said they are uneasy about providing names of others in their household and almost half believe the information will be used by immigration and enforcement agencies to track down people.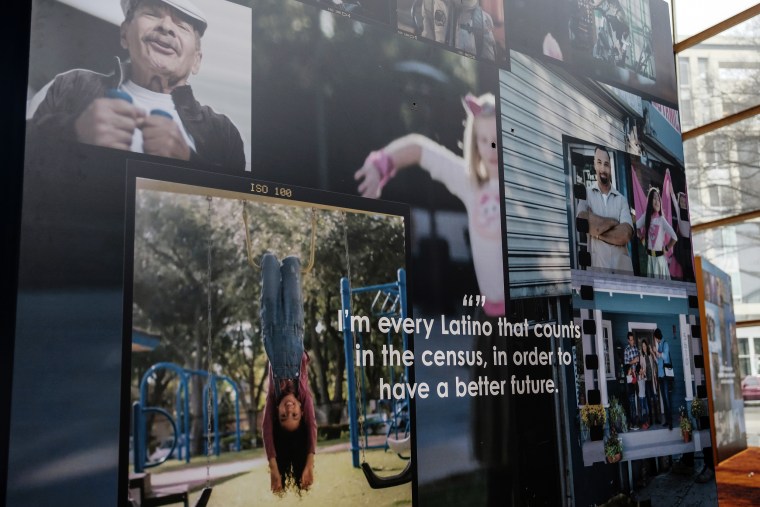 This is a concern, considering that U.S. Hispanics are younger than other groups. Latinos had a median age of 30 in 2018, while whites' median age was 44 (the highest nationally), followed by Asian Americans (37) and blacks (34), according to Pew Research data.
Outreach works
Vargas said the survey found Spanish-language media has done a very good job of informing the public, with Spanish speakers more informed about the process.
The research concluded that more information is needed about how to complete the census but it also found there are ways to encourage and boost participation.
Over 8 in 10 Latinos surveyed responded well to messages that framed the connection between census participation and local funding priorities, as well as the fact that the census is a way of standing up for one's community.
Among those that Hispanics trusted the most to give them accurate census information were Latino groups (43 percent) followed by local teacher or principals (34 percent).
Follow NBC Latino on Facebook, Twitter and Instagram.