In Puerto Rico, skepticism is growing and small protests are continuing as the island's decimated administration struggles to make an orderly transition days before the resignation of embattled Gov. Ricardo Rosselló becomes official.
"We're at a strange moment because there's no clear sense of what comes next," Alexandra-Marie Figueroa Miranda, a campaign and activism coordinator at Amnesty International in Puerto Rico, told NBC News. "There's a panorama of uncertainty."
Last Wednesday, Rosselló announced that his resignation would be effective Aug. 2 at 5 p.m. in order to "address issues that enable an orderly transition."
Critics say they are not seeing progress on that front.
"There's no indication that an orderly transition is taking place, especially when the island is in chaos," said Figueroa Miranda. "People also don't trust the promises of a governor whose governorship lacked order."
A spokeswoman from La Fortaleza (the governor's mansion) could not provide updates regarding the status of Rosselló's "orderly transition," just three days before the governor's resignation becomes official.
"We don't have access to that information," Miriam Quiñones, an administration spokesperson, told NBC News on Tuesday morning.
By law, the island's secretary of state should be the one to succeed Rosselló. However, no one has been confirmed to assume the position since Luis G. Rivera Marín, who was part of the chat scandal that led to Rosselló's ouster, submitted his resignation July 13.
Justice Secretary Wanda Vázquez is next in line.
In a press release sent immediately after Rosselló announced his resignation, Vázquez said that since his resignation was not effective immediately, they "would work together to carry out an orderly and transparent transition process."
Vázquez also added that "if necessary" she was willing to assume "the historic mandate that the Constitution of Puerto Rico commends."
But on Sunday, Vázquez slightly shifted her narrative on Twitter, urging Rosselló to "identify and submit a candidate for the position of Secretary of State before August 2" because she has "no interest in occupying the position of Governor."
Rep. Jenniffer González, Puerto Rico's nonvoting member of Congress, echoed Vázquez's words in a statement Tuesday, saying, "I reiterate that a Secretary of State must be appointed as soon as possible in order to have a person who can hold the position, give direction, stability and credibility to the Island."
Vázquez, who was appointed in 2017, is seen by many as loyal to Rosselló.
She initially described the leaked chats that sparked huge protests in Puerto Rico as "incorrect" but not illegal. She also announced she would recuse herself from participating in an investigation into whether the chats constituted unlawful behavior because it would be spearheaded by the island's Justice Department, which she leads.
On Monday night, hundreds of Puerto Ricans blocked part of a main road in San Juan's metropolitan area, chanting "Wanda, renuncia!" ("Wanda, resign!").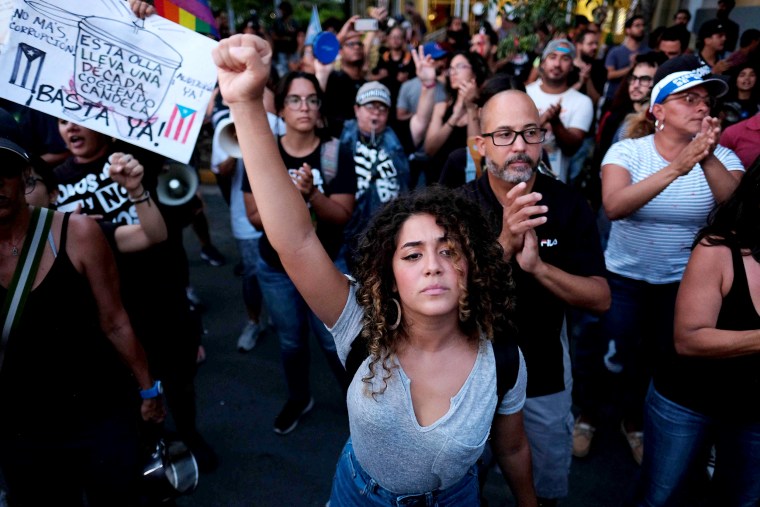 "She keeps saying that she doesn't want to be the next governor, but she also refuses to resign," Figueroa Miranda said.
People's discontent with Vázquez has been brewing since last week after the hashtag #WandaRenuncia started trending on Twitter immediately after Rosselló's address ended.
If Rosselló doesn't name a secretary of state and Vázquez refuses to step in as governor, the next person in line is Puerto Rico's 31-year-old treasury secretary, Francisco Parés. But he would be unable to take over because the Puerto Rican constitution requires the governor to be at least 35.
Education Secretary Eligio Hernandez would be next in line. If he refuses to step up as governor, the line of succession would be as follows: Labor Secretary Briseida Torres; Transportation Secretary Carlos Contreras; Secretary of Economic Development Manuel Laboy; Health Secretary Rafael Rodríguez; and Agriculture Secretary Carlos Flores.
On Tuesday evening, local media in Puerto Rico started to report that Rosselló is considering appointing former resident commissioner Pedro Pierluisi as secretary of state. But first, he would have to be confirmed by the Puerto Rican legislature.
Both the House and the Senate are reportedly planning on blocking Pierluisi's nomination, arguing it presents a conflict of interest since he currently works in a law firm that represents the federal oversight board, which monitors all of the island's finances.
Puerto Rico Rep. Manuel Natal Albelo tweeted in Spanish that "members of the House of Representatives of Puerto Rico have been summoned to an Extraordinary Session this Friday at 1pm."
"It is anticipated that the matter to be discussed will be the appointment of the Secretary of State, but the person is not identified. This is not normal," he added.
The governor's office released a statement on Wednesday morning confirming that Rosselló wants Pierluisi to become Puerto Rico's new secretary of state.
If confirmed, Pierluisi would be poised to become the next governor of Puerto Rico.
"Puerto Ricans don't seem to be as uncomfortable with the uncertainty around who will be the next governor. … Many people feel certain that whoever comes next would be more of the same," said Gabriel A. Torres Colón, a Vanderbilt University anthropology professor who is researching how people experience political life on the island.
"But the despair to tear down corruption is real," Torres Colón said.
Demonstrations, albeit smaller than last week's historic protests, have continued, even after Rosselló announced his resignation.
Figueroa Miranda said that 100 to 500 protesters gather in front of the governor's mansion daily, calling for an end to corruption on the island. This past weekend, protesters created a human chain that stretched out across several towns, including Ponce and Corozal, expressing their rejection of the Rosselló administration.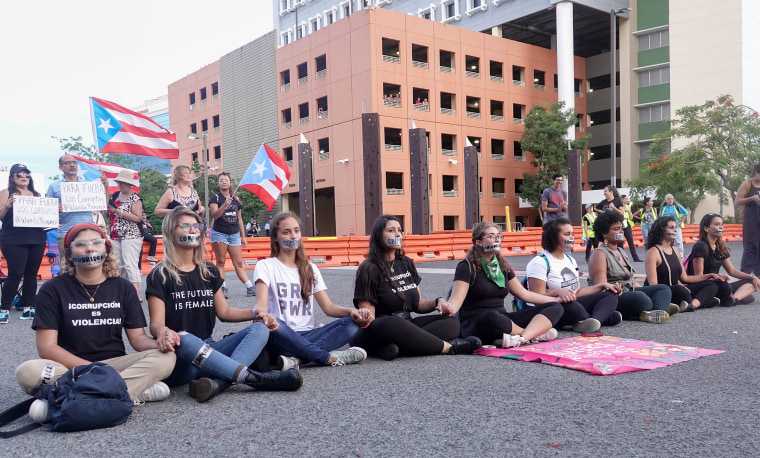 The island's Center for Investigative Journalism had published an investigation alleging that the leaked messages involving the governor, his officials and associates show glimpses of a multibillion-dollar corruption network, as well as the use of public resources to do partisan work.
A legal investigation commissioned by the president of Puerto Rico's House of Representatives, Carlos Méndez Núñez, found five possible law violations stemming from the chats — including illicitly using public resources and services for partisan purposes, as well as allowing government officials and contractors to misuse public funds.
Puerto Rico House Rep. Dennis Márquez had previously introduced a resolution to initiate impeachment proceedings against Rosselló, outlining 18 possible crimes that stem from the leaked chats.
Both efforts came on top of recent arrests of former officials and government contractors on charges that include fraud involving $15.5 million in federal funding. Investigators are still looking into possible wrongdoing such as corruption and conflicts of interest.
Follow NBC Latino on Facebook, Twitter and Instagram.