Latino voters in their late teens through mid 30's could help determine the outcome of this year's presidential election and others to come, but will many of them cast their ballot in November? Several organizations have developed apps and websites and are reaching out to this potentially powerful voting bloc to encourage them to participate in this year's election.
The National Council of La Raza (NCLR) partnered with mitú on Latinos Vote, a voter registration website and mobile app available on the App Store and Google Play. Users can learn their state's voter registration requirements and "after a few simple swipes, you can print and mail your completed application," according to the NCLR website.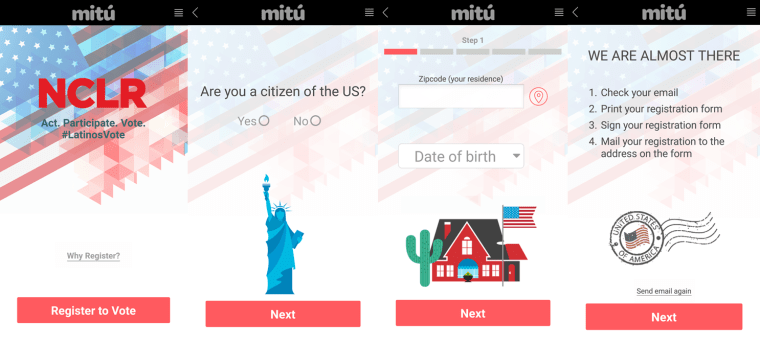 Latino millennials — defined as the generation born between 1981 and 1996 — make up 44 percent of eligible Hispanic voters, according to the Pew Hispanic Center. By comparison, 39 percent of the white population, or only four in 10, are millennials. Half the black population and 46 percent Asian Americans fit in that demographic, the Pew Hispanic Center also found. All in all, almost six-in-ten of all Latinos - or about 32.5 million young people - are either millennials or are younger than millennials.
RELATED: For 2016, Almost Half the Latino Electorate Are Young Millennials
RELATED: Young Voters Show the Potential, and Uncertainty, of the Latino Vote
One of the latest apps, Unidos, was developed by Feet in 2 Worlds in partnership with the design firm L+R. Unidos, available for download on iPhones, offers a curated news feed in both English and Spanish as well as custom emojis and videos.
RELATED: Voto Latino Launches Voter Registration App at SXSW
"Unidos came out of the work we've done during the past two presidential elections where we focused on campaign coverage by immigrant journalists from the perspective of immigrant voters," said John Rudolph, executive producer of Feet in 2 Worlds, the nonprofit news website and public radio content producer. "It was in 2008 that I first became aware of the potential power of Latino voters to shape the election's outcome, as well as the historic pattern of low Latino voter turnout."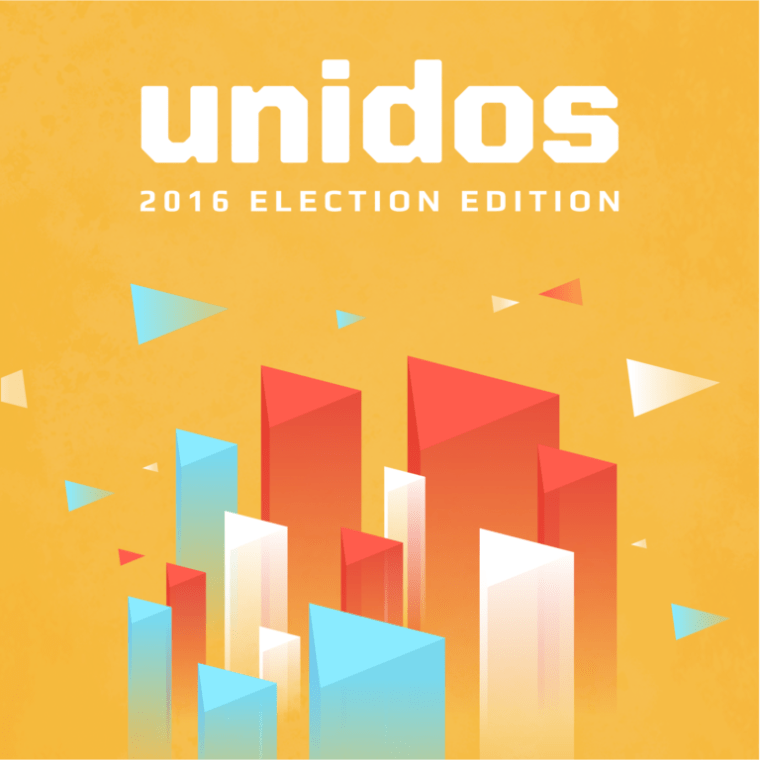 Yanet Velazquez, 21, of Gainesville, Georgia, said she is "actively engaged on social media" to learn more about local and state elections and the presidential election. "I want to make my friends aware of the things that are occurring in our communities," said Velazquez, who is Mexican American. She said the Unidos app is a great way to engage younger voters.
RELATED: As Dems' Primary Saga Plays Out, California Latino Voter Registration Surges
"They get to see videos and read on (sic) issues that they might not have been aware of," Velazquez, a student at the University of North Georgia majoring in international affairs, said in an email. Some of the issues that she said she and her peers are passionate about include student loan debt as well as immigration and the status of undocumented parents who have U.S.-born children, especially after the Supreme Court's tie decision left those who may have benefited from Obama's Deferred Action for Parents of Americans, or DAPA, in limbo.
Voto Latino, a non-profit whose mission is to empower American Latino millennials, partnered with ThinkVoting on their VoterPal appa. They announced its Brave initiative earlier this year. The campaign features VoterPal, an app that enables individuals to register family and friends through ID-scanning technology.
"The intersection of immigration, racial justice, wage equity and reproductive rights speak to millennials' experience," Voto Latino President and CEO Maria Teresa Kumar said in a statement. "Brave recognizes this unique moment and empowers this generation to define our future this election. It's not about a candidate - it's about us as Americans and our democracy."