Rear Admiral Sylvia Trent-Adams was named acting U.S. Surgeon General swiftly after the Trump Administration asked General Vivak Murthy to resign in April. Murthy had two years left on his four-year appointment and Trent-Adams was serving as his deputy.
Trent-Adams has not made any public appearances or statements since her appointment as acting U.S. Surgeon General. Based on her experience, she could be a voice for HIV/AIDS care. Trent-Adams served as deputy associate administrator at the HIV/AIDS Bureau of the Department of Health Resources and Services Administration (HRSA), managing the Ryan White Treatment Extension Act.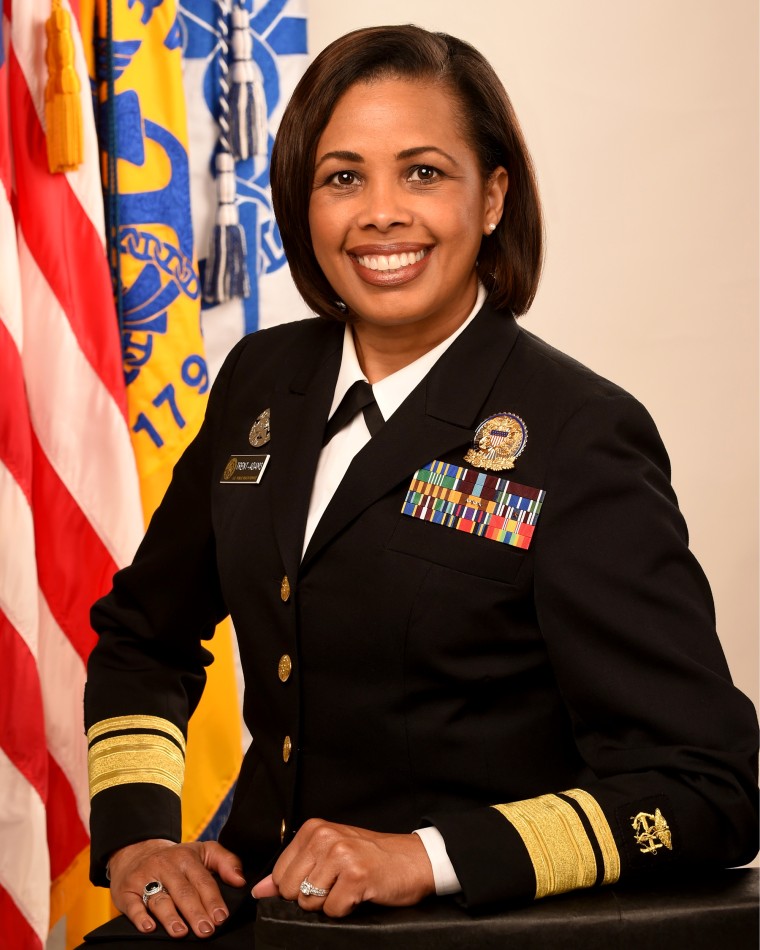 But she could also become an advocate for improved healthcare for veterans and for those currently serving in the military. Trent-Adams, was a Nurse Officer in the Army before joining USPHS.
Related: U.S. Surgeon General Vivek Murthy Replaced Under Trump Administration
Her predecessor, Murthy, fell into the public hot seat for his stands on key issues. He faced constant opposition from National Rifle Association and some Republican lawmakers, because he is a long-standing advocate for stricter gun control. His stance on guns along with his support of the Affordable Care Act may have contributed to his ouster before his term was due to end in 2018. Last year, Murthy went on the road to talk about the opiod and heroin epidemic in the country.
Here are five things to know about the woman who could officially become the next Surgeon General.
---
1. She Must Be Confirmed by Congress
Should the Trump Administration move Trent-Adams' nomination forward, she would have to go through the strenuous confirmation hearing process.
There has been no word since her appointment on whether the White House will move her nomination forward, or when Congressional confirmation hearings would begin. If she does go before Congress for confirmation, she will be the second African American Trump administration appointee to seek confirmation. Ben Carson, who is a physician, was confirmed earlier this year as Secretary of Health and Human Services.
Murthy who was appointed by President Barack Obama in 2013 had to wait for a year before he was narrowly confirmed by the Senate.
2. She's a Nurse
Rear Admiral Trent-Adams is not the first nurse to hold the position, but she is the first non-physician to hold the spot. Richard Carmona, MD, who served from 2002-2006 under President George W. Bush, was a nurse before he became a physician.
Trent-Adams does however hold a Ph.D. from University of Maryland.
3. She's the Third African American to Hold the Post
David Satcher, MD, and Jocelyn Elders, MD held the Surgeon General post under President Clinton. Elders was fired by President Clinton for her outspoken views.
Regina Benjamin, MD, was appointed by President Obama and held the post before Murthy. Trent-Adams is the fourth woman to hold the post.
4. She Understands the Front Lines of Public Health
Trent-Adams, unlike many of her predecessors, knows the ropes of public health from the inside of the bureaucracy of the federal government.
She has spent 25 years of her career in the U.S. Public Health Service Commissioned Corps (USPHS), a group of nearly 7,000 public health professionals who work within the government to advance the health of the nation. From 2013 to 2016, Trent-Adams served as USPHS's chief nurse officer.
5. She's from the DMV
On the personal side, Trent-Adams reps 'the DMV,' or DC-Maryland-Virginia set. She was raised on a farm in rural Virginia. She graduated from Hampton University and received a master's degree in nursing and health policy, and a doctorate from University of Maryland. She is married to Dennis Adams and has two daughters. She is also an honorary member of Alpha Kappa Alpha Sorority, Inc.