"Eclipsed" may very well be the Blackest show on the Great White Way.
Led by an all-Black cast, director, playwright and producing team, the play explores the true to life, daily toil of women and girls confined to a rebel compound in 2003 Liberia. Eclipsed is African women's storytelling with gravity and humor.
Though it received critical acclaim that propelled it from The Public Theatre to Broadway where it was nominated for six Tony Awards (and picked up one with Clint Ramos winning Best Costume Design), getting to Broadway was a journey.
A labor of love, written by Danai Gurira of AMC's "The Walking Dead" and directed by Liesl Tommy, the production workshopped at McCarter Theater and then launched at Yale Repertory Theater where actress Lupita Nyong'o, a new MFA student at the time, understudied the character she now plays, "The Girl" or Wife No. 4. Actresses Zainab Jah ("Maima" or Wife No. 2) and Pascale Armand ("Bessie" or Wife No. 3) both performed Eclipsed regionally, including at Yale, though the play is new to Tony Award-nominated Saycon Sengbloh ("Helena" or Wife No. 1).
For several years NYC gatekeepers were unable to envision a market for the play because of the 2009 Pulitzer Prize winner, Ruined, by Lynn Nottage which portrayed sexual violence in a war-torn Democratic Republic of Congo.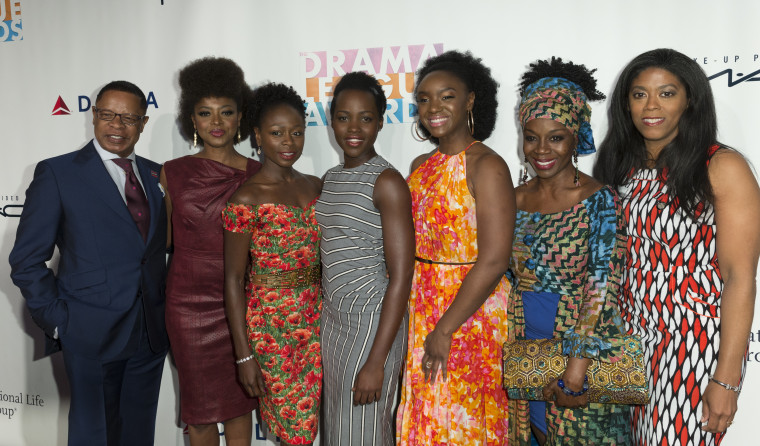 "There are so many plays about the exact same thing, which is upper-middle-class white people carrying on about their apartments and their real estate, which is done over and over and over again," said Tommy, who directed Ruined several times regionally. "[I don't believe] that intelligent New York audiences cannot imagine seeing two shows about women in Africa during conflict."
In the interim, Eclipsed was staged in South Africa, Zimbabwe and London. By 2014 Oscar winner Nyong'o was approached to do a play at The Public Theater but insisted on Eclipsed instead.
Under the stewardship of producers Stephen C. Byrd and Alia Jones-Harvey of Front Row Productions Inc., and the star power of Lupita Nyong'o, the play enjoyed a sold-out run at The Public in 2015 and became Broadway bound.
Byrd and Jones-Harvey are not only creative visionaries but also the only full-time African American producers on Broadway. It's hard to imagine in 2016, this could be the case, but it's true.
RELATED: Saycon Sengbloh Stars in 'Eclipsed', a Brutal Story of Survival and Resilience
In fact a number of the best plays of the past 10 years featuring a mostly black/multiracial cast were brought to you by Byrd and Jones-Harvey: "Cat on a Hot Tin Roof" (2008), "A Streetcar Named Desire" (2012), "The Trip to Bountiful" (2013), "Romeo and Juliet" (2013) and now "Eclipsed" (2016).
Starting their slate of productions with revivals, they are looking towards producing more musicals. As Jones-Harvey tells NBCBLK, "Broadway by design has to be more mainstream because the theaters are much bigger than off- or off-off-Broadway" and musicals have a longer life for ongoing production than dramas which often depend on talent with limited availability."
Byrd and Jones-Harvey cut their teeth in the world of investment banking and consumer products/finance, respectively. Their debut, "Cat on a Hot Tin Roof" starring Terrence Howard, Anika Noni Rose, Phylicia Rashad, and James Earl Jones was the highest grossing play on Broadway in 2008, yet they received no Tony nods. Taking the play to London's West End in 2010, another first for African American producers, Front Row garnered a Laurence Olivier Award for Best Revival.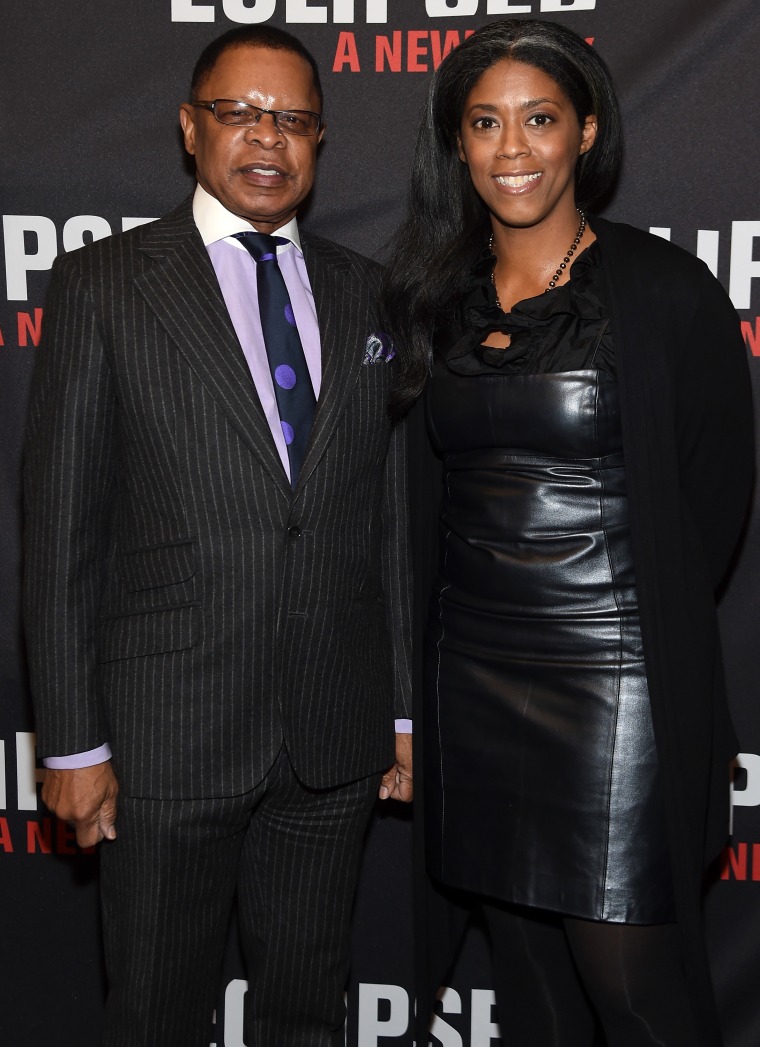 Although, as Byrd says "[producing is] a bigger challenge on the West End [since] theater owners are even more myopic than the ones here," pointing to their unfamiliarity with popular black actors.
Vibrant attendance is due to Front Row's targeted marketing strategy. For Eclipsed, they targeted social justice organizations, schools, and women's groups including their 10,000 Girls Campaign that brings in girls who may otherwise never attend a Broadway play.
As the only African American producers on Broadway and now the West End, the duo is almost singlehandedly diversifying the stage and audiences in top notch theater. Also, since 2012, Front Row plays received ten Tony nominations, including Cicely Tyson's historic 2013 win for her role as Mrs. Carrie Watts in "A Trip to Bountiful" at 89.
This year Eclipsed boasted six nominations including Best Play, Best Actress (Nyong'o) and Best Director (Tommy).
Interestingly, Front Row Productions, Inc. brought two of the three black women directors to Broadway, Debbie Allen for "Cat on a Hot Tin Roof" and "Tommy."
Eclipsed completes its run on Broadway on June 19 and is set for a 2017 production at the Curran Theater in San Francisco. As the first Broadway show to feature an all-woman cast — plus writer and producer — Eclipsed has already made history.
For Byrd and Jones-Harvey, who won't shepherd the production to the West Coast next year, they have plenty of fascinating projects ahead. Already partnered with Cirque Du Soleil on Paramour, the acrobatic company's first resident musical on Broadway, they plan to work with Cirque in 2017. That project is a musical production of "Black Orpheus" with director George C. Wolfe ("Shuffle Along", "The Normal Heart", "Caroline, or Change"), playwright Lynn Nottage ("Ruined"), and composer Daryl Waters ("Shuffle Along", "Memphis", "The Color Purple").
Also in 2017 they will launch a musical of The Wiz directed by Kenny Leon ("A Raisin in The Sun" and "Fences"), with possible cast members like Queen Latifah. Director Liesl Tommy has also moved to directing musicals, for the moment, with the current, $28 million dollar multiracial production of Disney's "Frozen" at Disneyland, which opened in May and hosts up to 10,000 patrons daily.
On June 4, following a moving production of Eclipsed, writer/activist Gloria Steinem took to the stage to commence a daily practice, coined by Nyong'o in May, with illustrious patrons naming missing girls called #KnowHerName: their names are Nguba Bura and Blessing Abana.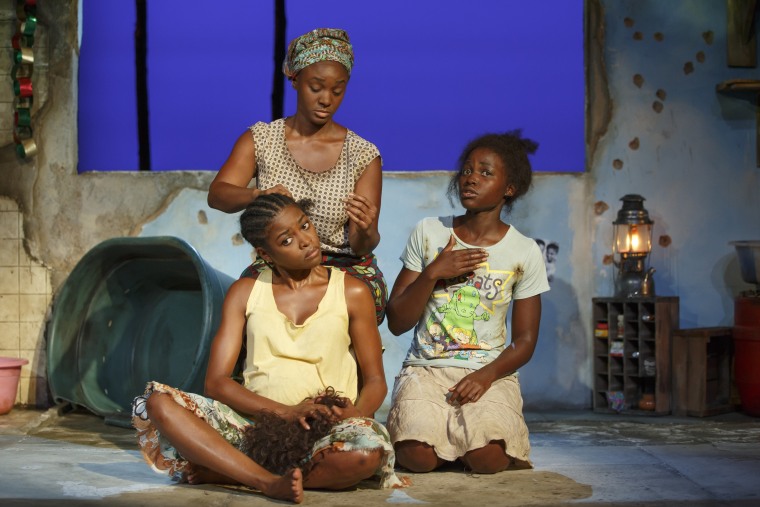 As Gurira asserted in a recent Eclipsed roundtable, "It was very important to me that this play be as much a vehicle for activism as possible...this is a living issue; it's actually something that's happening to women and girls right now."
Much like the #SayHerName campaign launched in 2015 by Prof. Kimberlé Crenshaw, in response to police brutality towards African American women, #KnowHerName reminds the audience of the hundreds of still missing girls from Chibok, Northern Nigeria kidnapped in 2014 as "wives" for extremists Boko Haram.
"[Bessie] is fighting for the same things as everyone else, but she has different priorities as a pregnant woman and sex slave," says Armand, who was also nominated for a Tony for her breakout, witty performance. "She's fighting boredom, she's fighting hunger, her hair is her armor and [her humor] is part of how she's dealing with this war."
Forced to deal with loss, sexual violence, meager rations, unwanted pregnancies and all manner of strife, Eclipsed characters grasp for normalcy through fragile community, humor and routine. The play seeks not simply to entertain, but above all, to shine a light on the unseen, whether missing Chibok girls or African women's stories.