After nearly three years of fact-finding, reports and public hearings, the California Reparations Task Force on Thursday handed over to state lawmakers an extensive report and recommendations for compensating eligible Black people of California for the harms of slavery.
The task force held its final meeting in Sacramento, where members issued final statements and made the full report public.
It is the most ambitious effort in the country to address the impact of slavery on Black people, with task force members saying they want to create a reparations blueprint for the country.
This event is over. For more coverage, check out NBCBLK.
What to know about California's reparations efforts
The statewide task force to study the effects of slavery and racial discrimination in America's most populous state formed in 2021.
Last year it released a 500-page interim report, documenting the "moral and legal wrongs" the federal and state governments have inflicted upon Black people.
The report includes more than 100 policy proposals to state lawmakers, who will then use that information to sponsor bills. Gov Gavin Newsom, a Democrat, will then need to sign those bills into law.
Caribbean Heritage Organization shows support for California reparations
The Caribbean Heritage Organization expressed support for its Black American "brothers and sisters" in an exclusive statement released following the reparations task force meeting.
"As Caribbean and Latin Americans of African heritage, we are obligated to support our brothers and sisters here in the U.S. as they seek reparatory justice," CHO founder and CEO Marva Griffiths Herman told NBC News in a statement.
Last year, the state's task force decided that only those who are direct descendants of slaves, and not all Black Californians, would be eligible for reparations.
While the report includes a "commendable" formal apology, Griffiths Herman said it is "certainly not enough" and that the state's legislature needs to put the recommendations into action. She also said CHO will meet with scholars and activists on Aug. 1 to examine the report and discuss the status of reparation in the Caribbean region.
Reparations task force meeting adjourned
In the task force's last meeting, Black California residents shared moving accounts of their families' histories reckoning with the multi-generational harms of slavery. Testimonies frequently elicited cheers, standing ovations, and comments from a captivated crowd.
The reparations task force will now hand its findings over to state lawmakers.
At the meeting, task force members and some local politicians discussed hopes that their ambitious efforts will not only translate into reparative state policy, but also serve as a model for the country: "So goes California, so goes the nation," the room chanted at one point.
California's attorney general: "This is personal to me, too."
"This is personal to me, too," said California Attorney General Rob Bonta as he held up the hefty reparations report. "It's time for California to begin to remedy the ability, economic, educational, health hardships, your monthly experienced Americans hardships we unequivocally know are the results of centuries of slavery, and discrimination from our nation's original sin."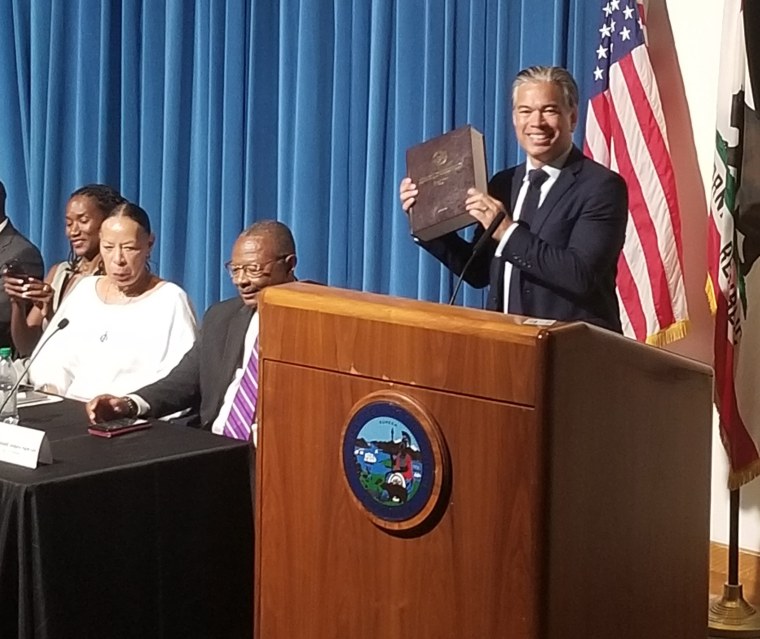 "This is my country," California secretary of state says
"I am an American with African traditions and heritage," California Secretary of State Shirley Weber said, "but this is my country."
On trips to various regions of the African continent, Weber said she would try to figure out how she fit in. Despite enjoying and embracing these quests to understand her heritage, "the reality is I am an American," she continued.
"This is it and we have to make this respond to our needs. Nobody can tell you to go back somewhere else, because there's nowhere else to go. No matter how we do ancestry.com," she said.
"Stripped from me — from day one — and my ancestors was that past. And you can learn the language, you can make the food, you can wear the clothes, but in the end this country has shaped and formed us. And we have given to it, and we have a right to be here, a right to have the benefits."
Task force member says 'reparations cannot guarantee repair'
Jovan Scott Lewis, Ph.D., an economic anthropologist and geographer, was the last task force member to speak in the public hearing.
He said that "reparations cannot guarantee repair," and that compensation is only the first step to helping Black people whose descendants were wronged by slavery.
Lewis, a professor University of California - Berkeley, said as much as Black people want to uplift their ancestors, he also wants them to think about the generations to come:
"Reparations are the compensation for the injuries of African Americans today and their ancestors are repair is the work of self-determination. Repair is the work of taking what was promised and reconstruction tools and labor, your own land and to go about the work of deciding who you want to be. So as much as we want to uplift and we need to uplift our ancestors, I want us to think about our generations to come. . . You never feel the need for repair and that's what I want for all of our children."
Why the voices of Black Californians were vital to all of the public hearings
The task force held 16 public hearings over the years, and heard from hundreds of people as they developed the report.
Task force member Reginald Sawyer-Jones said hearing from the people was a vital part of the process. He said a white colleague asked him, "How can you take them yelling at you?"
He said he told her, "I don't think you really understand what was really going on. What I heard was 400 years of Black oppression. You are testifying for every African American that was enslaved on the ships and brought here, place on slave plantations, treated like animals through force and treated subhuman. They couldn't speak out. . . You've spoken for them."
Black California residents 'spoke' for their ancestors, says task force member
Reginald Jones-Sawyer said during his closing remarks that the Black people who shared their thoughts about reparations "spoke" for their ancestors.
Those who were enslaved, Jones-Sawyer said, "couldn't speak out," and were beaten if they did. He also told the crowd how "resilient" they were for doing what their ancestors couldn't.
"You spoke for your ancestors" he said. "Your ancestors are speaking to you right now."
Jones-Sawyer's remarks prompted a man to shout from the crow, "we're with you Reggie!"
What is in California's reparations report
California's highly anticipated reparations report, released today, outlines how Black Californians can receive monetary compensation for the harms of slavery and systemic racism.
The task force proposed more than 100 statewide policies to address generations of discrimination and racial disparities. Still, the report does not issue a concrete dollar amount owed to individuals "who are able to demonstrate that they are the descendant of either an enslaved African American in the United States, or a free African American living in the United States prior to 1900."
The document, coming in at nearly 1,100 pages, offers a comprehensive look at ways that the United States and California wronged descendants of enslaved Black people through racial terror, political disenfranchisement, unequal housing and educational opportunities, and environmental racism, among other harms. It also offers suggestions for issuing a formal apology and implementing a curriculum based on the task force's findings.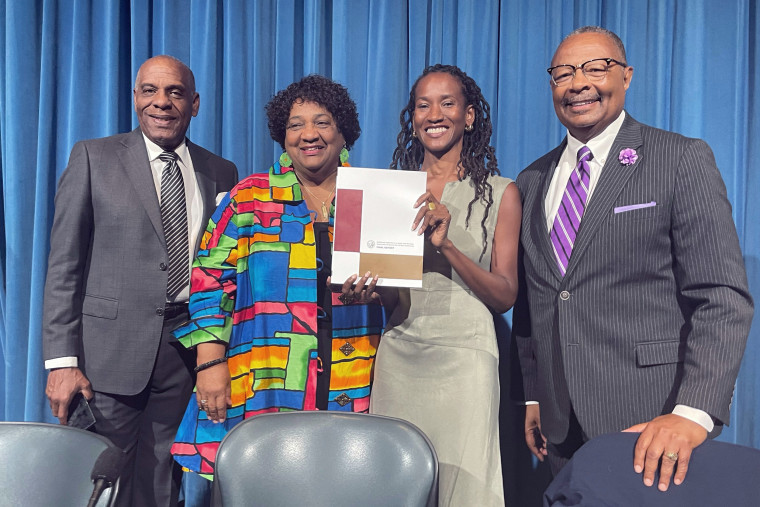 Read more about cash payments, policies, and a timeline for what's next here.
"We are not post-racial," task force member says
"I've been a civil rights lawyer for 20 years. And I say, 'Show me the statute of limitations on mass genocide,'" Lisa Holder said in response to those who may say the time for reparations has passed.
"'Show me the statute of limitations on the world's greatest crime against humanity.'"
Don Tamaki says he was 'not even close' to understanding American history before working on reparations report
Don Tamaki said he learned more about America's dark history while performing research for the state's reparations report.
"I thought I knew something about American history," Tamaki said. "I felt I was pretty well read. And after working on the report, the annual report I realize my understanding is not even close."
Tamaki also said he "did not understand" how events in the nation's history were interconnected by racism.
"Decade after decade after decade, one thing after another has the bias and the hate morphed from one version to another," he added. "And what this report is done is connect the dots."
Reparations task force gives standing ovation to the state Department of Justice
Cheryl Grills said the California Department of Justice "did not rest" and worked "tirelessly" for the past two years while working with the reparations task force.
Grills also said that the DOJ "rolled up their sleeves" and continued to work hard throughout the process. During her remarks, Grills asked the room to give a standing ovation. The room erupted in cheers and applause from both the crowd and members of the task force.
Donald Tamaki says Black people 'opened the door' for other minorities
Donald Tamaki said that Black people "opened the door and everybody else walked through it."
Tamaki, a member of the state's reparations task force, discussed an allyship between Black and Japanese Americans. He also said during his speech that the "hate" and racial bias against Black people "simply found a new target," referring to the racism Japanese Americans faced.
California senator says cost of reparations 'will be high'
State Sen. Steven Bradford addressed the cost of reparations, stating that it "will be high," but also said that the harms that have been done against Black people is "just as high."
Bradford said money to African descendants can be accomplished, and suggested the costs can be covered by the state's proposed budget, which is almost $300 billion.
"If we just put point 5% of our budget into an annuity annually, that's $1.5 billion a year," he said. "We can pay for it. . . That was done for our Jewish brothers and sisters when we helped them after the Holocaust and 30 years ago, in recognizing the harms to our Japanese brothers and sisters who fought during World War II. Our Native American indigenous people. . . they're benefiting from reparations to what we call now gaming. . . We can do this in California for Black people who deserve it."
"The final report is not the end of the work. It's the beginning," says lawmaker
State Sen. Steven Bradford, who along with Assemblymember Reginald Sawyer-Jones, will be a part of the legislature that will consider the reparations recommendations, implored citizens to remain enthusiastic about the efforts to gain redress for descendants of slavery.
"The final report is not the end of the work," Bradford said. "It's the beginning. It's now up the Legislature and governor. But you have to stay engaged. . . . as we move a comprehensive bill forward into law. . . Reparations is a debt owed. It's not a gift. It is what was promised and what is long overdue."
"We have been enslaved in this country longer than we have been free," task force chair says, in nod to author Ta-Nehisi Coates
"Through sheer terror and violence, European enslavers attempted to strip these Indigenous African human beings of their cultural heritage relying on the power to label them Negro, Black," said task force chair Kamilah Moore after listing a number of African tribes.
Moore detailed how her father's ancestors were enslaved on a Louisiana plantation, while those on her mother's side were sharecroppers in the deep South. Her mother's family escaped as "internal refugees" to the West, only to be confronted with Jim Crow segregation.
"We have been enslaved in this country longer than we have been free," Moore said, referring to a quote from the writer Ta-Nehisi Coates. She traced a history of policies and practices, including chattel slavery, sharecropping, redlining, predatory financial practices, environmental terror and mass incarceration, as reminders of the nation's legacy of slavery and structural racism.
"As I conclude it is my hope that the task force's general efforts reinvigorates the Black American community to exercise our human right to self determination."
The audience erupted into cheers and applause with a standing ovation at the conclusion of her remarks.
Monica Montgomery Steppe calls reparations a 'spiritual reckoning'
Monica Montgomery Steppe called reparations a "spiritual reckoning" prompting claps and cheers from the crowd.
Montgomery Steppe, a San Diego councilwoman, said that Black people have come such "a long way" and that the work of the task force "must not be in vain." She also demanded reparations "in all categories."
'Don't come telling us you don't have the money,' Brown says
Brown stood from his seat when he spoke of financial reparations, taking the tone of a preacher. Many opponents of eligible Californians receiving money because it is not in the budget.
"Don't come telling us you don't have the money," Brown said. "Where I am from in Mississippi, they had something called a layaway plan."
The crowd roared.
"Deficits don't last," he said. By the time he was done, the people chanted "I'm Black and I'm proud!"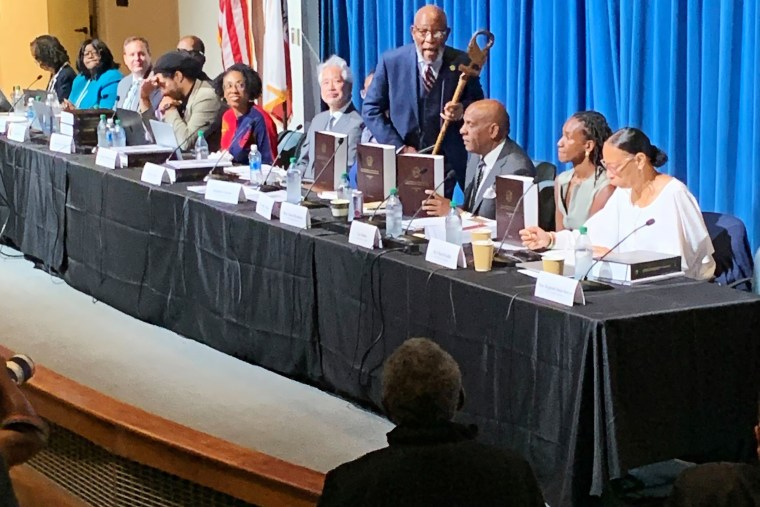 Who's that person with the top hat?
It's mainstay Morris Griffin. He has been a fixture of many reparations task force meetings.
Today Griffin held a sign reading: "No reparations, no Black vote!"
The poster encapsulates sentiments voiced by some earlier audience members towards state and national political leaders, who appear to court the Black vote without addressing concerns such as restitution for racial harm.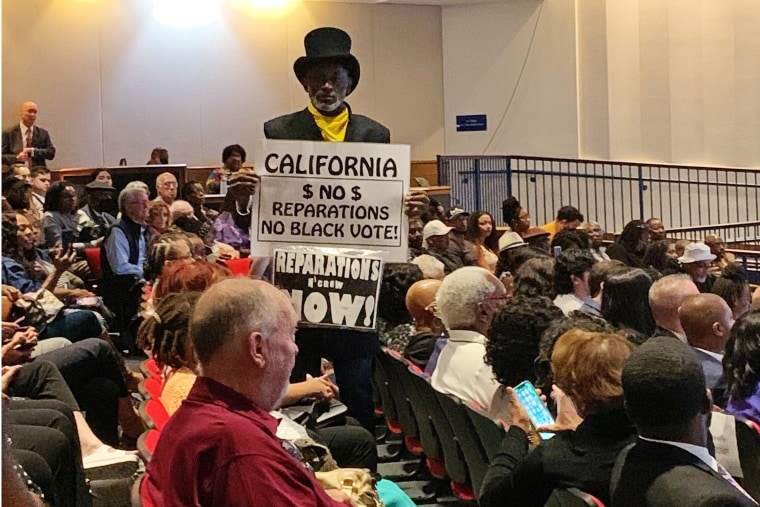 Amos Brown compares California's first governor to Donald Trump
Amos C. Brown said Peter Hardeman Burnett, the first elected governor of California, was the "Donald Trump of his era."
Brown said Burnett was "slicky and sleazy." Before becoming governor of California, Burnett was a member of Oregon's first government in 1844 and established a law known as "Peter Burnett's lash law" — an exclusion law against Black Americans that included a whipping penalty.
Auditorium appears at capacity
There are dozens of people who arrived late to the hearing and are not happy there is no room to accommodate them in the auditorium.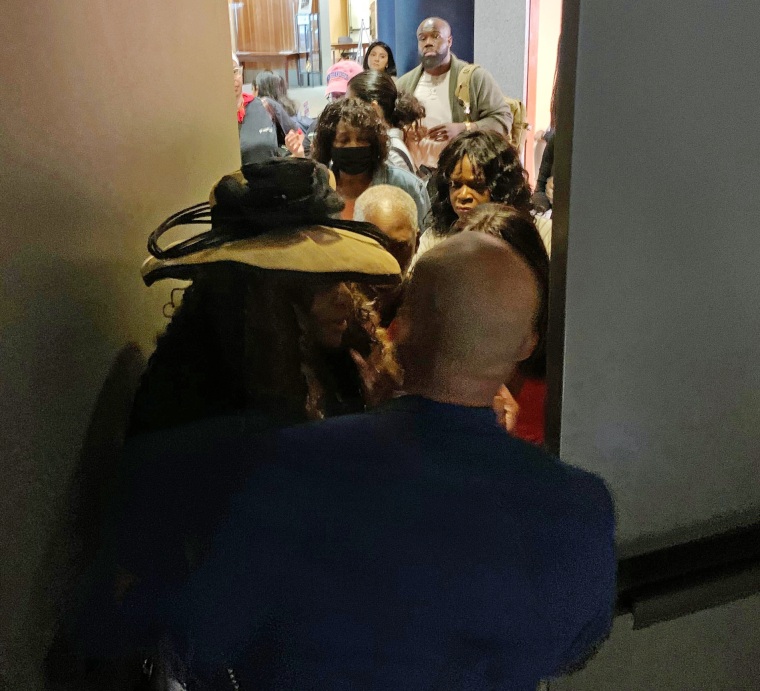 California resident shares personal story about enslaved ancestor
Elmer Fonza shared the experience of his third great-grandfather, Nelson Bell, who arrived to California as a slave in the mid-1800s.
"As I look back at my family's journey, I can only think of the hardships Nelson Bell must have endured," he said.
During his speech, Fonza said Bell was also sold two times and worth about $600.
An ask for funds to cover DNA testing to prove lineage
Yvette Porter Moore, a genealogist, shared how racism has harmed her family.
She received a huge round of applause when she recommended that the costs for DNA testing and genealogy to prove lineage for reparations be paid for as part of the reparations redress.
Black California residents share thoughts on reparations
One woman said she hoped that the state's recommendation for reparations includes Black children in foster care, who she said are subject to abuse.
"We need public oversight," the woman said at the hearing.
Other residents recounted the traumatic experiences of their Black ancestors. One man said members of his family experienced the Tulsa Massacre and added that his family has "continually" been persecuted in the state his "whole life."
Another speaker pushed for financial payments and an apology.
"Black people do not need more programs," the man said.
NBC News reporting cited by the task force
Noted: Governor Newsom's absence
Gov. Gavin Newsom was praised in many circles for signing the bill that created the task force, but he is not present at this final hearing. His attention is currently on wildfires in the state.
Jon Burgess, a firefighter whose family is seeking land taken from ancestors in Coloma, near Sacramento, made it clear that reparations, in his mind, are not about government, although it will be Newsom who signs any proposed bill into law.
"Gavin, as a battalion chief in the city of Sacramento," Burgess said, "the last thing the fires need is another politician."
Many audience members pay homage to ancestors
Many of the speakers today are speaking on behalf of their ancestors, citing the names of family members with deep roots in the state.
"I'm here today to stand on the shoulders of my ancestors starting with my father, who at the age of 14 worked at a funeral home. He was told to throw the black bodies up against the fence and wait until all the whites were processed," Gil Wilkerson said, also citing her great-grandmother, "who committed suicide because she couldn't take care of her children after slavery."
Where's the money?
The financial compensation part of reparations is a concern, evident by a woman yelling during the hearing: "It's my money and I want it now."
Key civil rights groups blast Supreme Court
Meanwhile, reactions over the Supreme Court's affirmative action ruling continue to pour in.
America's leading civil rights organizations condemned the conservative-dominated Supreme Court's decision, with one top group accusing the high court of turning back the clock on the nation's history of racial progress.
"Today the Supreme Court has bowed to the personally held beliefs of an extremist minority," NAACP President and Chief Executive Derrick Johnson said in a statement. "We will not allow hate-inspired people in power to turn back the clock and undermine our hard-won victories. The tricks of America's dark past will not be tolerated."
The mood in the room
The auditorium at the office of the secretary of state was packed, a standing-room-only crowd. Early in the public comments portion of the public hearing, the room took on the feel of a sporting event.
Reparations task force is underway
Task force chair Kamika Moore opened the momentous hearing to public comment.
Danny Brown, an audience member, invited the crowd to rise to their feet for a call-and-response rally.
"What do we want?" Brown asked. "Reparations!" the audience chanted back.
"When do we want it?" Brown asked. "Now!" the crowd replied.
Other members of the public spoke about the overdue importance of reparations.
"Reparations is about repair," Reggie Romain said.
"There's no reason for us to keep proving what has already been proven. There's no reason for you to say we don't have enough money," Lakeisha Millmain said, adding that "we have a debt that needs to be paid."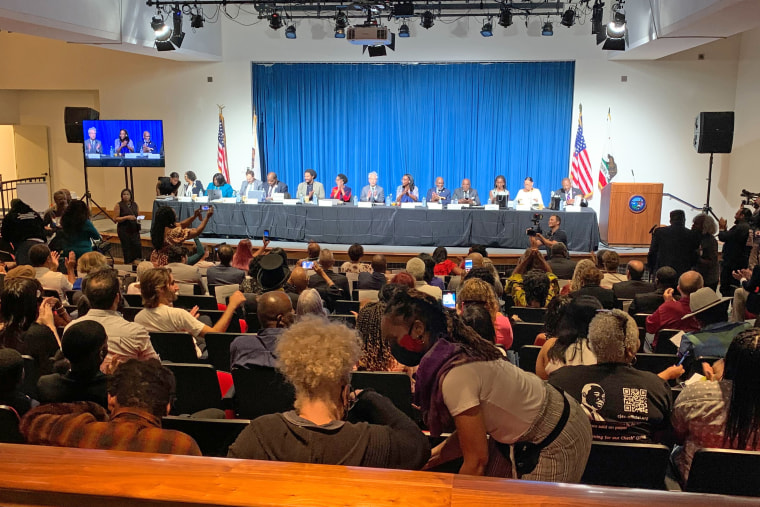 Today, reparations in California and the affirmative action ruling coincide
In case you haven't heard, the Supreme Court ruled to drastically restrict the consideration of race in admissions to America's most selective schools, which California also banned nearly 30 years ago.
Task force chair Kamilah Moore says the report will include "numerous policy prescriptions in the areas of education."
"The only note I'll say," she added, "is one of the recommendations is to provide free college tuition at public colleges and universities, for descendants of slaves, not for all Black people, but for descendants of slaves. So to that end, that recommendation remains unaffected by SCOTUS decision today because it's not a race based admissions preference."
Reparations task force member says great-great grandfather was enslaved
Amos C. Brown, a renowned civil rights leader and a member of the task force, said his great great-grandfather was enslaved in Franklin County, Mississippi, in 1821. 
Brown also referred to slavery as a "crime [that] was done against the humanity of Black people," and reiterated his support for reparations during the news conference before the final set of recommendations are released.
A hefty report
California's final report, chock full of history of Black people in the state and all its recommendations for redress, will come in at 1,200 pages. That's more than double the midpoint report the task force issued last year.
Follow live coverage of reactions to the affirmative action ruling from the Supreme Court and more.
Task force members suggests Supreme Court read their report
After two years of work, the California Reparations Task Force releases its final report today. Their hope is that their findings will set the groundwork for reparations throughout the country.
Task force member Cheryl Grills said the Supreme Court should read the report.
"The Supreme Court has decided that affirmative action is not appropriate for this country. I would encourage the Supreme Court to read the intro report," Grills said.
"I would encourage them to read the final report and to understand that the legacy of enslavement and the ongoing harms are with us to this very day. And so this country is disingenuous. First, they use race to exclude us and now they're refusing to use race to include us."
The task force added that it had prepared in advance for the ruling from the Supreme Court and it wouldn't affect the report's findings.
Meanwhile in Congress
Federal lawmakers are pursuing their own efforts to redress the effects of slavery and the generations of discrimination that has followed for Black Americans. 
While calls for reparations in America date to slavery's abolition in the 1860s, in 1989 Rep. John Conyers, D-Mich., introduced what would become H.R. 40 to study slavery, its effects and appropriate remedies. Conyers introduced the legislation at the beginning of each congressional session for nearly three decades (he died in 2019, two years after leaving Congress).  
Rep. Sheila Jackson Lee, D-Texas, has taken up the mantle in the House of Representatives by introducing an updated version of H.R. 40. It would establish a commission to study reparations and consider a national apology and other redress for the institution of slavery, as well as subsequent racial and economic discrimination against African Americans. 
Rep. Cori Bush, D-Mo., introduced the latest federal effort to support reparations last month with H.R. 414, the Reparations Now Resolution, which seeks to advance reparations at the federal, state and local levels. 
California's Secretary of State asks 'Why not?' regarding reparations for state
California's Secretary of State Shirley Weber said at a press conference for the reparations task force this morning that "the work has been difficult" to get to the point where the group is today in its efforts to recommend reparations for the state. 
Weber also said that she has been asked why California is being considered for reparations, to which she responded, "Why not?" Reparations are due to African Americans affected by slavery, she added, whether people are from the south, like in Mississippi, or the west, like California.
The interim report from last year documented a history of 'moral and legal wrongs'
Over 13 chapters and about 500 pages, the interim report's authors recount the "moral and legal wrongs the American and Californian governments have inflicted upon their own Black citizens and residents."
It noted how slavery and subsequent discrimination have exposed Black communities to racial terror and political disenfranchisement, left them with inferior outcomes in health and wealth building, and relegated them to segregated neighborhoods and schools. 
The report also highlights that historical injustices have helped fuel modern-day disparities, noting that California's stagnant rates of Black homeownership, racial disparities in police arrests and use of force, and a large gap in the average wealth of Black and white families are at least in part the results of decades of social engineering designed to exclude Black Californians from gaining access to the same political, financial, employment and educational opportunities as their white counterparts.