Tupac Shakur's sister Sekyiwa "Set" Shakur became emotional while speaking at her late brother's recent Hollywood Walk of Fame ceremony.
On Wednesday, June 7, the music icon, actor and activist was posthumously given a star on Hollywood Boulevard as family, friends and fans paid tribute to his legacy. 
Supportive cheers erupted from the crowd as Shakur's younger sister gave an emotional speech. 
"As the proud sister of Tupac Amaru Shakur, the daughter of Mutulu and Afeni Shakur, it fills my heart with honor to stand here today representing the Shakur family," she began.
The "Changes" rapper was shot in a drive-by shooting and later died at the age of 25 on September 13, 1996. Tupac and Sekyiwa's mother, Afeni Shakur, died in May 2016 at 69. 
Mutulu Shakur, who was also the late artist's stepfather, was released on parole from a 60-year prison sentence in December 2022, NBC News reported. The 72-year-old, who has an advanced form of cancer, was incarcerated for racketeering, robbery and robbery murder charges. His supporters claim he was a "political prisoner" due to his association with the Black Liberation Army. 
Sekyiwa "Set" Shakur spent the rest of her speech praising his brother for accomplishing his dreams before his death. 
"Tupac knew deep down that he was always meant for something great," she said. "And as his little sister, I had the privilege to watch that greatness unfold."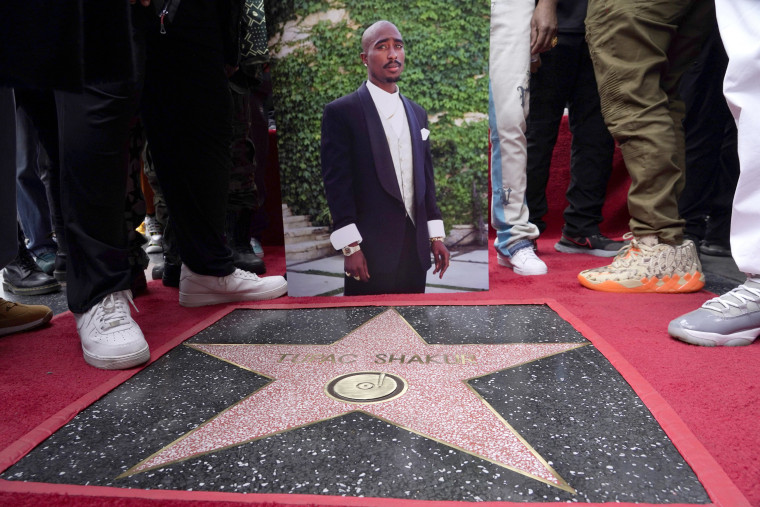 Getting choked up, she continued, "From the first time he stepped foot on the stage of the Apollo Theater at 13 years old, before anyone recognized his name, he knew he had the dream to have a star here on the Walk of Fame."
She said his star represents his mark on the music industry and "the lasting impact he's had on this world." 
"Today, we're not just honoring a star on the ground," she added, while holding back tears. "But we're honoring the work and the passion that he has put into making his dreams come true. His heavenly star will shine a little brighter today."
As the audience applauded, she concluded, "And once again, he has made us all extremely proud. We love you, Tupac."
Radio host Big Boy, who emceed the event, also delivered a touching tribute and introduced writer and activist Jamal Joseph and "Dear Mama: The Saga of Afeni and Tupac Shakur" director Allen Hughes to the podium. 
Hughes, whose FX docuseries explored the rise of the two revolutionaries, pointed out the significance of Tupac Shakur joining other legendary hip hop artists, like Queen Latifah and Snoop Dogg, on the Walk of Fame this year. 
"How fitting in the year of hip hop's 50th anniversary, that the art form's most transcendent star is finally being placed on the Hollywood Walk of Fame, right?" he said at the start of his speech. "What an incredibly complex human being and artist Tupac is."
He spoke about putting together his docuseries, which premiered in April. 
The filmmaker shared, "When making the film series 'Dear Mama,' I was desperately searching for the melody in Tupac's journey. When you look around the world and you see those murals of him in Africa, Asia, South America and Europe. Then one day it hit me."
Through the filmmaking process, Hughes said he realized that the rapper's legacy surpasses music. 
"Tupac Amaru Shakur has become a global symbol of rebellion, a symbol as visible and important as Malcolm X and Che Guevara. And an inspiration for activists today…Indeed, the entire world feels Tupac's message," he said. 
He complimented the "Keep Ya Head Up" actor for everything he achieved after his humble beginnings in Harlem. 
"I am beyond humbled and honored to be here to witness his family and loved ones receive this honor. Thank you," Hughes told the crowd.